Speeding up entertainment
It usually isn't a good thing if you see a truck speeding … but it's really entertaining when you see Shockwave, a four-tonne Peterbilt, at work. Dubbed the world's fastest truck, this "playhorse" can actually outrun a Japanese bullet train.
The method behind its speeding madness? Three jet engines, generating a mind-blowing 26 477 kW, that can propel Shockwave at speeds over 600 km/h. It now holds the world record for the fastest jet-powered, full-size truck at 605 km/h.
This astonishing speed doesn't come lightly as Shockwave burns 681 litres, of the 719 litres it holds, per performance. It is a price worth paying, however, as the super-powered Peterbilt can go from zero to 96 km/h in one second … (You should just mind the whiplash, as the thrust can reach six Gs!)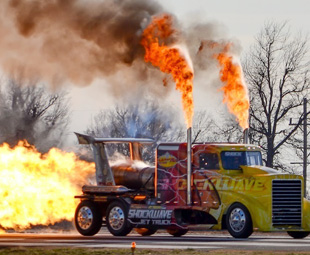 Sixty-four-year-old Neal Darnell, who bought the mechanical marvel (first built in 1984) from its original creator Les Shockley in 2012, rebuilt Shockwave with his son Chris.
Darnell's love of motorsport reportedly started at a young age when he competed in drag racing. It was around the age of 50, though, that he really got a taste for serious speed and set his sights on using jet trucks.
His son Chris also got involved from the age of five. "It started as mostly a hobby of mine, but then it really turned into a family business and it's been great. It's amazing; the crowds really love the jet trucks," he says.
Focus on Transport
October 16, 2014
Published by