Sprinter range hits 5,5 t
Mercedes-Benz Vans is expanding its Sprinter product range to include a new variant with a permissible gross vehicle weight (GVW) of 5,5 t. This represents an increase in payload of around 400 kg in all variants, attaining a record level in certain vehicle configurations.
"At Mercedes-Bens Vans, we know that some of our customers operate in weight-sensitive areas and they have often expressed a demand for a version with a higher payload. That is why we are launching a new Sprinter variant to include a permissible GVW of 5,5 t," says Vusi Vusani, product and marketing manager for Mercedes-Benz Vans.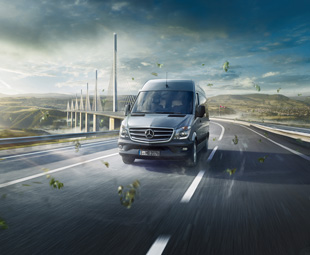 The new weight variant closes the gap between Mercedes-Benz's vans and light-duty trucks. The higher permissible GVW is accompanied by a corresponding rise in permissible axle loads.
The maximum permissible front-axle load on the Sprinter rises from 1 950 kg, for the previous reinforced variant, to a current level of 2 100 kg. The maximum rear-axle load increases from 3 500 to 3 600 kg. This provides the Sprinter with adequate axle load reserves, even in the event of uneven weight distribution.
The 5,5-t Sprinter 519 CDI engine boasts an output rating of 140 kW (190 hp). This engine is paired as standard with the ECO Gear six-speed transmission. The 7G-TRONIC PLUS automatic transmission with torque converter is available as an option.
It features Adaptive ESP, Trailer Stability Assist, Collision Prevention Assist and Adaptive Brake Assist as standard. From April 2017, Blind Spot Assist, Lane Keeping Assist, Highbeam Assist and Crosswind Assist will also be available as standard.
Also standard with every Mercedes-Benz 5,5-t Sprinter is the CharterWay Service BestBasic five-year/105 000 km, all-inclusive integrated service-plan package. This covers all items prescribed by the Mercedes-Benz service schedule for the stipulated mileage and/or period of the contract.
Focus on Transport
September 29, 2016
Published by