Start of a great love affair
In most peoples' experience, certain key events play an important role in determining the direction their lives will take. In my case, it was moving house in 1958 when, at the age of eleven, I suddenly found myself living on a road carrying all the heavy traffic into and out of the Island View oil sites on Durban's Bluff.
Until that time, my primary interest had been in aircraft; but I soon found that the trucks and tankers passing my door each day had their own appeal, being much noisier and more spectacular than the motor cars to which I'd previously been accustomed. Even better was that Lighthouse Road was also a major bus route. Our move to a new home had suddenly provided access from its front verandah to a continuous display of commercial vehicles of all types and sizes.
Our house was located at the foot of a large hill, which meant that I could compare the climbing performance of each different vehicle type. The cacophony of sound produced by Leyland, Albion, AEC, Daimler, International, Guy and ERF drivers as they made their way up and down gear and auxiliary gear shifts was a symphony to my ears! Memories of those sounds were to prove extremely valuable in later years, when I had the opportunity to drive some of the vehicles I had watched as a child and teenager, as well as their more recent models. I already knew what it meant to handle a constant-mesh gearbox requiring the synchronization of engine and road speed to avoid grating and missed gearshifts!
Although I can honestly say that it was never my ambition to make a career of truck or bus driving, I was certainly keen to try my hand! In my early driving days, I would jump into anything that had a steering wheel, an engine and, hopefully, brakes that worked! Fortunately, when I joined Leyland in 1969 as a sales trainee, I was encouraged to obtain my extra-heavy-duty licence and given the opportunity to practise driving on new chassis requiring after-assembly testing at the Mobeni factory. While I'd like to think that I wasn't responsible for too many warranty claims for prematurely-wrecked gearboxes, I undoubtedly increased the number of grey hairs on the head of my mentor, Johnny Steenkamp. Coming to terms with the delayed "full-on or full-off" characteristics of contemporary air brakes definitely presented more than its fair share of challenges; especially in the skittish Leyland Eland truck-tractor chassis, running without the benefit of semi-trailer or payload to hold it down.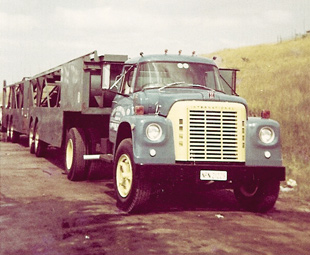 Those early years with Leyland also provided several bus-driving opportunities. I remember at least two: an Albion Clydesdale CD23 with Busaf bodywork, and an AEC Ranger 4M4R bodied by that quaintly typical Durban institution, Bobby's Coach Works! Driving a bus for the first time can be quite intimidating, especially because of its sheer size and the relatively poor rear-view visibility one has from the driver's seat. You soon learn the art of using rear-view mirrors; if you don't, any traffic lane or direction change can become a noisy, traumatic and expensive exercise!
I quickly developed preferences for driving certain types of vehicles. One of my early favourites was the four-axle AEC Mammoth Major TG8 used by Coronation Brick. With all those wheels, even a bare chassis gave an exceptionally smooth ride; and the Ergomatic tilt cab was the best Leyland had at that time. Later, when I moved to International Harvester, I sold a 1890DA truck-tractor to a car ferry company and was able to experience its combination of screaming two-stroke Detroit Diesel 6V53N engine and Allison MT42 automatic transmission. Running solo without its trailers, there were very few fast cars that could beat that animal in a dice from a robot! It made the most intimidating high-pitched bellow, as well! Then on to Nissan Diesel, where I experienced their early products with two-stroke engines and manual-shift constant mesh transmissions, which made for interesting driving. Because of their novelty value, I performed many "demos" on these units, building up considerable truck driving experience over a relatively short period.
As my career progressed, I found myself driving an even greater variety of trucks and buses. A particular favourite was the Mercedes-Benz OF1617 bus with Wilson semi-automatic transmission. Surprisingly, this was quite challenging to handle smoothly: most drivers tend to rush the gear changes, with accompanying lurches. Then there were the mid-1970s Volvo heavies with their lovely eight and 16-speed synchromesh gearboxes; a 1985 experience on Isuzu's heavily banked Hokkaido test track with various C&E Series heavy duty models; and, best of all, a London RT double-decker of 1950s vintage during a visit to Matjiesfontein in the 1990s. That first – and, so far, only – encounter with a pre-selector gearbox more than made up for my aching shoulders, leaving me with an unending respect for the drivers who used to navigate heavy London traffic without the benefit of power steering.
Sadly, advancing age and deteriorating eyesight has meant I've had to hand in that Code 14 licence, so my truck and bus driving days are over. I now find navigating modern traffic in my car quite challenging enough, so it's probably just as well I'm no longer allowed to brave the streets in maximum-length interlink combinations with 16-speed transmissions. Nevertheless, the memories linger on! 
---
Rear-view Focus is a new column by FRANK BEETON that takes a nostalgic look at the truck and bus world of yesteryear. Visit www.focusontransport.co.za to comment on the column and share your memories with us.
Focus on Transport
April 1, 2010
Published by