Still life in the old gal?
Second-hand trailer units can be an exciting proposition for smaller operators in tough times, or even for larger ones who need to fulfil a commitment in a hurry. GAVIN MYERS finds out how to spot a good deal, and what should make you consider otherwise.
Used and abused – that's the life of a trailer. Loaded, unloaded, knocked, scratched, scuffed, loaded and unloaded again … trailers withstand the kilometres of use and years of abuse that go with the territory. Best to avoid those used units then? Not necessarily …
"If a trailer is of sound manufacture, the chassis and body should stand up to abuse, despite what they land up looking like," says Gavin Aboud, sales director, Paramount Trailers. "Operator's who buy second-hand trailers are not concerned with what they look like; all trailers tend to look shabby because they work hard. The operators need a trailer to be mechanically sound."
Indeed, the unit needs to be in a roadworthy condition; tyres, suspension and axle components must be in good working order. "For example, all tyres on the second-hand trailers we sell must have a minimum of 70 mm tread," notes Jaco van der Merwe, director, Atlas Truck Centre.
Clinton Holcroft, MD of Serco, agrees: "Cosmetic repairs to a refrigerated unit are easy to take care of. Once a major repair is completed, it may actually enhance the value of the trailer."
Nonetheless, he advises prospective buyers to inspect for structural damage from previous accident repairs, as well as for any visible repairs that may be needed.
"Also check the refrigerated body is cooling properly and reaching the required set point. The cooling unit should pull down to temperature," Holcroft advises. "Low operating hours on a fridge unit is preferred, as it contributes to low running costs."
A good tip when buying any second-hand unit is to find out its history – factors such as who it worked for, where it worked and how old it is. This will give an indication of how well it was maintained and provide some sort of assurance.
Van der Merwe adds that the availability of parts and support services should also be considered before making a purchase. "Above all, make sure the trailer you are looking at is the right one for the application," he stresses.
As with most vehicles, the age of the unit is also an important factor in establishing affordability. According to Aboud, the year model is very important if finance is required – you currently cannot finance trailers older than five to seven years – while Van der Merwe adds that banks will generally require a sizeable deposit.
"Depending on the bank and customer's credit rating, a deposit of 20 to 30 percent is often required, compared to the average ten percent on new trailer deals. Loan terms might also be shorter on second-hand purchases," he says.
Aboud notes, "We do, however, get a lot of people coming in with cash and buying the older trailers."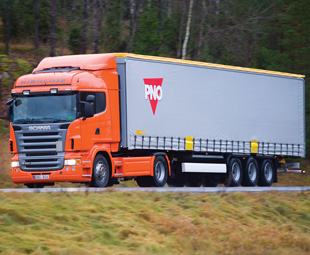 This begs the question: who typically opts for a second-hand unit? Well, everybody from young entrepreneurs to established transporters that might be under a bit of financial strain, but need to tender in such a way as to still benefit in competitive market conditions.
Says Aboud: "Young start-ups generally go for second-hand units and we find that a lot of them are put out to rent. The used market is very buoyant at the moment, especially with these entrepreneurs entering the industry."
According to Holcroft, a fair portion of the used units Serco sees end up in cross-border markets. "There is steady demand for pre-owned refrigerated trailers of good quality and in good condition. Serco is steadily building up a reputation for offering reliable second-hand refrigerated trailers."
Van der Merwe suggests that exchange rates have also had an influence: "Exchange rates and the price of fuel to get the many new components and parts imported to our shores, are costs that get pushed down to the customer, thus increasing the price of new units."
Despite the demand for used units, all the men agree that operators need to be wary as they might not actually save much money by buying used trailers. Holcroft notes that the running costs of an older trailer are generally higher and the payload is often significantly less when compared to new models.
Likewise, Aboud notes that the chance of downtime, and the added cost to the operation, will be higher than with a new trailer.
Van der Merwe says that operators will pay a bit more in smaller increments over time for regular upkeep, parts and services.
Warranties and after-sales back up for second-hand trailers is limited. In most cases, the trailers will be inspected, sent for roadworthy and handed over with a Certificate of Fitness. Certain dealers may offer limited warranties (Serco, for example, will offer up to 12 months on a reconditioned fridge motor), otherwise, voetstoets it is …
"Customers running a very efficient operation are only going to buy new trailers," Aboud adds. "A new 13-m tri-axle costs in the region of R250 000. Some of our 2014 second-hand trailers are priced from around R195 000. By spending around R45 000 more, which includes a warranty, it's probably better to buy new."
The decision, therefore, comes down to weighing up the pros and cons; taking into account the history of the unit and its intended use. Trailer specialists, such as any of the companies mentioned, will also be able to advise the buyer on the right path to take when considering a used unit.
What if you'd like to sell a trailer?
Selling a trailer can either be done through a dealer or privately.
"In most cases it is safer to sell through a dealer. It will ensure the seller gets their money and the potential buyer gets their trailer, and that all paperwork is dealt with in the correct manner," Van der Merwe advises.
"In most cases, selling privately proves more difficult and deals often fall through, due to the fact that approaching banks as an individual is more difficult. There is also a lot more red tape for both the seller and buyer.
"Most banks prefer to work with approved dealers, as this eliminates most complications and hold ups in the application and speeds up processes. In addition, the risks for all parties involved in the deal are lowered substantially," Van der Merwe concludes.
Elite Fibre becomes Africa Bodies
Keen observers of the trailer market will notice a new name on the block: Africa Bodies. The new company is born from the ashes of the Elite Fibre name.
Director Frans van Vianen explains: "The Elite Fibre Group company structure previously consisted of two separate entities, namely 'Elite Fibre Gauteng' (encompassing Denver, Centurion, Durban and Port Elizabeth branches) and 'Elite Fibre' based independently in Cape Town.
"Elite Fibre Gauteng recently came to an executive decision to buy out its Cape Town-based partners and rename the company to avoid any business trading confusion," he says.
"With new beginnings, we have established a fresh focus on our key values; committing to hard work, dealing honestly and openly and always caring about the well-being of our customers.
"Africa Bodies continues to have the most expansive footprint in Africa and is currently broadening its operation to Bloemfontein and Cape Town. Our truck bodies are proudly 'Built for Africa', tried and tested on African roads," he adds.
The business will continue to operate from the same premises, and products that have been produced and invoiced by Elite Fibre Gauteng, that are still under warranty, will continue to be covered by Africa Bodies
Focus on Transport
May 7, 2016
Published by