Style and sophistication are two things ingrained in the Citroën brand of cars. But a van-based people mover? Who says it cannot also be suave? GAVIN MYERS drives the Citroën Dispatch.
Isn't it strange how designs from different corners of the globe often have their own unique take on a singular concept? Take the motor vehicle, for example; the combination of lines, swoops and angles all draw one's eye around the same basic shape, but in a different, almost distinct-to-the-region manner.
Haven't noticed this? Yes, automakers have to make their designs appealing to a world audience – but line up a variety of vehicles of Asian, European and American origin and you'll quickly see the distinction.
It goes further too; because brands from different countries have different characters. In Europe, for example, the Italians do drop-dead gorgeous and sexy like no other; the Germans prefer smart, neat and refined; the Brits somehow manage to blend elegance, grace and aggression into their designs and the French play on suave, chic and sophisticated (sometimes even adding a little quirkyness).
What about this then: the Citroën Dispatch Multispace. It's the result of the SevelNord joint effort between PSA (Peugeot-Citroën) and Fiat, which is responsible for the Citroën Jumpy (known locally as the Dispatch), Peugeot Expert and Fiat Scudo. They are all essentially the same vehicle.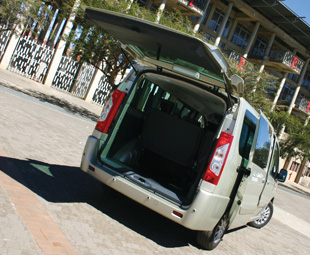 The Citroën, though, looks better than its stablemates – it somehow has more French-chic and sophistication about its appearance. For an eight-seat people-mover, that should enjoy duty as a hotel-shuttle or tour-group bus, this is a good thing. It's something passengers would enjoy being seen in.
They'd enjoy riding in it too. The Dispatch Multispace is fitted with individual overhead air-conditioning vents and three-point seatbelts for each occupant. Easy access to the rear-most row (the seats are arranged in a 2-3-3 configuration) is gained by tipping forward the split second row.
The seats themselves are comfortable and there is head-, shoulder- and leg-room aplenty. They do however lack the facility to recline, as offered by some competitors, but are removable to make full use of the
872 kg payload if so desired (six tie-down hooks are provided and the floor is conveniently moulded in plastic).
Drivers will also enjoy this vehicle. While it tends to float along in a Citroën sort of way (especially from the driver's seat) passengers did note a slightly firm ride on some harsher roads – specifically at the rear-most row, located over the rear axle.
Nevertheless, the driver has at his disposal Peugeot-Citroën's 2,0 HDi engine that produces 100 kW at 4 000 r/min and 320 Nm at 2 000 r/min. With a scant 400-odd km on the clock our test unit was not yet run in, yet the powerplant proved quiet and strong. Combined fuel consumption is claimed at 7,3 l/100 km and CO2 emissions rated at 194 g/km. It is coupled to a six-speed manual gearbox and makes easy progress at highway and town speeds.
Braking is by way of anti-lock brakes (ABS) with electronic brakeforce distribution (EBD). Braking is strong but the pedal was spongy and soft – not confidence-inspiring. The driver does get used to this, though. The Dispatch handles well and is surprisingly nimble for such a large vehicle. Manoeuvrability is enhanced by good visibility and the fitment of rear parking sensors. Audio signals and a dash-mounted colour display aid in parking.
That display also provides information readouts from the full on-board computer, navigation and map and audio system. The audio system offers auxiliary and USB input with Bluetooth hands-free and audio streaming capability. Other features fitted are electric front windows and mirrors, cruise control with speed limiter, traction control, alarm/immobiliser with central locking, four airbags, automatic lights and wipers and tinted windows.
That is certainly a lot of kit for the money – the Dispatch Multispace costing a mere R369 900. It also comes with a three-year/100 000 km warranty and a five-year/100 000 km service plan. For its aggressive price, little else on the market offers such value, space and of course, style.
Focus on Transport
October 1, 2013
Published by