Taking a stand against e-tolls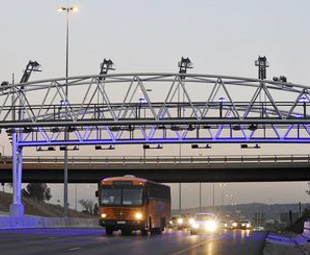 E-tolling of Gauteng's freeways is set to commence on December 3, but various political parties, religious institutions and members of the general public are sticking to their guns in opposing this system. Rob Handfield-Jones, one of the first to bring the e-tolling system to the public's attention through various articles and on Carte Blanche, speaks out.
"Having been one of the first to bring this monstrous and irrational e-tolling system to the public's attention, and having repeatedly shown why e-tolling is an awful idea – with no response from government or the South African National Roads Agency Limited (Sanral) – I look forward to being one of the first law-abiding, middle-class, employment-creating, tax-paying citizens to be arrested and prosecuted for defying Sanral's illegal and irrational e-tolling plan."

Handfield-Jones says that he will have his day in court and will insist that the magistrate consider all the thousands of pages of evidence that he says have been ignored so far.

"I will also insist that the magistrate take into account the HMKL court case that Sanral lost in 2011, and was denied leave to appeal, in which judge Bert Bam found that the planning of the Gauteng freeways wasn't done lawfully and that then Minister of Transport, Jeff Radebe, was not provided with the correct facts needed to sign off the plan," he points out.

(The HMKL case resulted in the moving of the Centurion gantry due to the lack of legal compliance with the Environmental Impact Assessment process.)

Handfield-Jones continues: "I will see the government in the Constitutional Court, if it dares to take me that far, even if it costs me the shirt on my back. I will never pay."

Click here for a summary of why Handfield-Jones and others won't pay e-tolls.
Focus on Transport
November 28, 2013
Published by