Save 11 percent on energy needs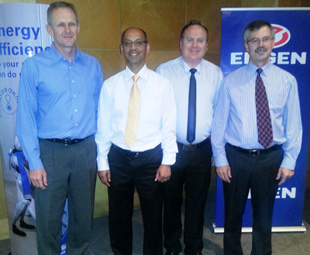 Energy saving is all the rage as it increases profits and is great for the environment … Engen Lubricants, a marketer of locally manufactured and imported lubricants, is doing its part with the introduction of Hydrokin ESF – a hydraulic fluid that cuts energy needs by up to 11 percent – to the southern African market.
Anton Allner, Engen Industrial Lubricants strategy manager, explains that Hydrokin ESF's lower energy consumption can be attributed to its better sealing performance around machine parts – including pumps, pistons and rings – at all operating temperatures, making it ideal for the mining, engineering and energy sectors.
"A better viscosity index enables the oil to stay more fluid at lower temperatures and more viscous at higher temperatures, while still meeting all its performance requirements, thereby reducing the input energy requirements of machines," Allner points out. "This 'stay-in-grade' performance of the fluid is central to its enhanced ability."
He adds that many lubricant marketers claim to have energy-saving products, but Engen's statement is based on local trials – not just additive supplier data. And it's these trials that have demonstrated the 11 percent savings in electricity consumption, as well as a 4,5 percent reduction in maximum power demand of machines.
"Hydraulic power can be a far more competitive technology choice if the fluid design is allowed to demonstrate its significant energy and cost savings for users," Allner points out.
"Engen has the innovative technology and value-based partnerships to unlock energy efficiencies in hydraulic systems without sacrificing performance, thus contributing to the success of our customers' operations," adds Allner.
Focus on Transport
November 28, 2013
Published by