Team SA wins International Spirit of Amarok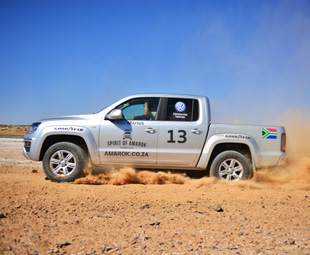 Team South Africa has once again claimed the gold medals and defended its title of international amateur 4×4 precision-driving champions in the third Spirit of Amarok Trophy, which took place in the Kalahari Desert between August 13 and 19.
The event, which saw participants contest several extreme off-road challenges using 132 kW manual 4Motion Amaroks, was judged by none other than South African rally legend Sarel van der Merwe.
The South African duo of Juan Grant and Marius Henn amassed a total of 7 212 points to be named overall winning team against stiff competition from 20 other teams from Australia, Botswana, Germany, Namibia, Russia, South Africa and the United Kingdom.
Each country was represented by three teams, that showcased their off-road driving skills in the unrelenting dunes and pans of the Kalahari Desert, referred to by one of the international competitors as "orange ice".
Grant and Henn walked away with the coveted Wolf Trophy (Amarok's namesake is the giant wolf in Inuit mythology) and each received R30 000 in cash.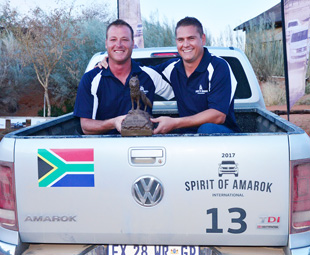 Team Namibia claimed silver with 6 246 points and Team Russia took the bronze medal with 4 797 points, sneaking onto the podium with 360 points more than Team Australia.
In the individual competition, Alwyn and Melanie Jordaan from Namibia scored 2 503 points, coming in second behind the Grant and Henn pair with their 2 652 points. Another South African duo – Joggie and Albert Otto – rounded off the top three individual team positions with a total of 2 355 points.
"Now in its third year, the International Spirit of Amarok continues to assert its status as the premier amateur 4×4 competition. The Kalahari Desert was the perfect place to demonstrate the Amarok brand's philosophy of 'Not just tough, smart'," says Jaco Steenekamp, general manager for sales and marketing at Volkswagen Commercial Vehicles.
"With Volkswagen Commercial Vehicles in Germany also as determined as we are locally to expand the event to include even more countries from around the world, the International Spirit of Amarok has become a very interesting event to follow," concludes Steenekamp.
Focus on Transport
August 25, 2017
Published by