The 34th annual Sapics conference and exhibition, which took place from June 3 to 5, upheld the event's tradition of empowering delegates to tap into the vast experience of both national and international experts. JACO DE KLERK felt enriched through all he learnt.
The annual event hosted by the Association for Operations Management of Southern Africa (Sapics), which again took place at Sun City, had "Africa, release the potential" as its theme and attracted a record number of delegates.
The near 1 200 attendees had an opportunity to see what 70 exhibitors had to offer, could attend 13 workshops on operations management topics, go to 71 presentations on a variety of related subjects or join various debates at the newly-added African Café.
"The time has come for all in Africa to unite and release the potential of this magnificent continent," said Sapics president Liezl Smith in her official opening. "It's time the world acknowledges the wealth of Mother Africa, and not only the wealth she carries in her crust, but also the wealth engrained in the potential of her children."
Smith added that it's time for everyone in Africa to harness the magic and wealth our continent has to offer. "We have seen phenomenal growth in many African countries, with money spent on both infrastructural and skills development," she continued, adding that many challenges remain, such as corruption, a lack of education and political instability.
The Sapics president explained that it is important for Africans to realise that they are competing globally and sitting on a wealth of potential in this continent. "It may seem chaotic to some, but chaos can be a huge energy that drives opportunity."
Professor Patrick Lumumba, known for his work as director and chief executive of the Kenyan Anti-Corruption Commission, confirmed the potential of this opportunity in his presentation, "Africa Arise", which tied in well with the overall theme of the conference.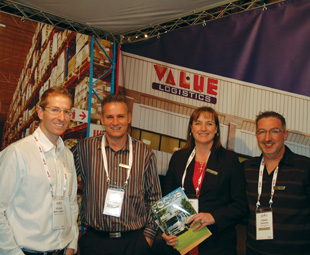 "I am confident that Africa will one day take her pride of place at the dinner table of human development for three reasons," said Lumumba. "Firstly, the encouraging signs of growth and democracy in Africa; secondly, the constructive role of business investments in expanding Africa's economy; and thirdly, the emergence of public-private partnerships in African business and social investments."
He added that our continent has strong long-term growth prospects propelled by both external trends in the global economy and internal changes in the continent's societies and economies. This is verified by the 200 percent increase, between 2000 and 2011, of trade between Africa and the rest of the globe – and the two-fold increase of African manufactured output over the past 10 years.
"The African dream is based on a continent that thrives on the cardinal creed of peace, democracy and development, which is on par with or even above the rest of the world in human and economic development," continued Lumumba, adding that the starting point towards the realisation of this dream involves the identification of the threats that stand in its way, including corruption, bad leadership, greed and general apathy. "Only then can we chart a workable roadmap to the promised land of hope and prosperity."
The passionate Lumumba went on: "All of us must arise, roll up our sleeves and be at the forefront of efforts towards establishing an Africa we all yearn for. After all, we are not the Cradle of Humankind in vain – we ignited the first fire! The time has now come for us to reclaim innovation and restore our dignity."
Many said Lumumba's enthralling presentation was a highlight of the conference. It definitely inspired delegates, as indicated by the enthusiastic standing ovation Lumumba received.
Temitope Ogunfayo, group manager at Procter and Gamble in Nigeria, also delivered a brilliant presentation – which earned him the Kingfisher Award sponsored by South African Breweries for most innovative speaker, and the Sapics Award for the best written paper from a practitioner.
Ogunfayo shared some profound yet simple and proven strategies with delegates on how to unleash their full potential by maintaining a healthy work-life balance. "Achieving a better and more personalised work-life balance is a global issue, and nothing much has been done to improve this situation," he told attendees. "We can't focus solely on time management anymore."
His tips include using one schedule for your life, because in a conflict of interest situation, the company calendar invariably wins. "Book your workouts, breaks and personal time all on one calendar," he said. "Find a coding system that works for you and list everything on the schedule you use. No-one's going to ask questions about your appointments."
One should, he said, always choose family over work when it comes to defining moments. "Your family may not mind your coming home late for dinner, but they will mind when you miss important events."
Ogunfayo explained that each person has six to 10 defining moments a year, such as loved ones' birthdays, wedding anniversaries, school plays or family reunions – so prioritising these won't have a major impact on your job. "Never ever sacrifice your family for work," he stressed.
Another award-winning speaker was Alan Milliken, senior supply chain education specialist at the BASF Group, who went on to win the Terry Smee trophy for best speaker. "I have attended countless supply chain conferences over the years and the annual Sapics conference is one of my firm favourites," he said. "It offers an excellent blend of strategic, tactical and operational topics for participants."
Milliken, a US resident, found the African milieu enticing: "The climate at Sun City always lives up to its name and the people are warm and friendly as well." He was in awe of the vast recreational activities in the area, including the opportunity to see African animals in their natural habitat. "If you are lucky, you may even have a lion or elephant walk close to your vehicle – to remind you where we humans fit in their supply chain," he laughed.
The exhibitors were delighted with the massive exposure their brands received. As BTS director Almie Visagie (winner of the award for the best multiple stand unit and sponsor) said: "The Sapics conference and exhibition enables corporates to broaden their reach, spread their message and – through increased exposure – integrate with a large variety of brands that make up our logistics management and supply chain."
In conclusion, as Smith said: "Times are tough, but we at Sapics firmly believe that big problems create an opportunity for big thinking. The time has come to harness the potential of our continent by developing skills, becoming more competitive and facing challenges head-on."
Show organiser Upavon has announced that the 35th annual Sapics conference and exhibition will take place from June 2 to 4, 2013.
Focus on Transport
August 1, 2012
Published by