Individualism expressed through one's vehicle is becoming an important way to make a personal statement. But in Asia, says FARZANA CHAUMOO, it is taken to a higher level. Trucks light up the highways and offer a driving piece of artwork to anyone who's lucky enough to see the moving highway show.
The Asians are known to be wildly creative and sometimes a little weird. Suffice it to say there is a homogenous culture of cubicle drones in Japan. Called a Dekotora, abbreviation for "decoration truck", they are owned and built by independent truckers. A Dekotora is a regular truck that is modified to look like a Las Vegas casino.
Dekotora trucks were present throughout the 1970s, but it was in 1975, when a movie called Torakku Yaro (translated as Trucker Guys) was released, that the decorated truck fad took off. The movie featured a trucker who drove his bright and boldly decorated truck all over Japan. It was a hit with the young and old alike.
The movie produced a subculture of people who transformed their own big trucks to resemble what they had seen on screen – and it took off from there, much like the custom-car craze that took the world by storm following the movie The Fast and the Furious. Dekotora communities, like car clubs, provide people the opportunity to show off their creations and interact with other enthusiasts. Prior to the movie, these trucks were restricted to the north-eastern fishing transport trucks.
The Dekotora art movement involves adding as many decorations to a truck as possible, while still keeping it operational and legal. The trucks become a moving piece of art and a light show. They are covered with massive chrome fixtures and decorated with decals, neon lights, flashy spoilers and anime artwork (often manga and kabuki). There are three main Dekotora styles – Kansai, Kant and Retro.
While making use of the ingenuity that defines the Japanese, enthusiasts have created some striking trucks in their mission to create the flashiest one possible. It is also an example of the individualistic nature of the Japanese. No two trucks are the same and owners take pride in what they have built.
These extravagantly decorated trucks light up the Japanese highways and rest stops as the owners gather to show off their designs. The light shows need to be seen to be believed and, for the best part, these trucks are actually used to transport goods.
These incredible masterpieces on four wheels have become a symbol of a Japanese subculture for decades, and the trend is still gaining momentum. When these trucks first began to appear, ready-made parts were not easily available. Parts from tourist buses and United States military vehicles were used instead. At present, parts are no longer an issue as Dekotora shops are available where artists can purchase their supplies.
Dekotora requires a huge investment of time and money from the owner. The tucks often take years to build and décor costs can run into several hundred thousand yen.
While Dekotora are commonly found in Japan, highly decorated art trucks can also be found around central Asia; for example, in the Philippines. More elaborate ones will be found in countries such as India, Pakistan and even Afghanistan; namely jingle trucks.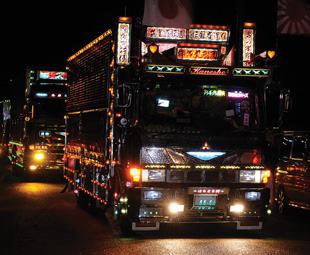 Jingle trucks feature coloured paintings of rural/country landscapes, animals, houses and vehicles. Regardless of the common look, each truck still remains unique and is meant to be a reflection of the owner's tastes and personality. One image that can be found on most of the trucks is a human eye, which is meant to ward off evil spirits.
The difference between jingle and Dekotora trucks is clear from the name. Jingle trucks are literally meant to jingle, with the signature sound coming from the trucks' bumpers, which are decorated with long chains and charms that hang like curtains. These chain curtains act as wind chimes against the callous Afghan wind, notifying everyone that a jingle truck is approaching, if they have not already noticed the giant eye staring at them.
The fascination of decorated trucks has spread from reality into the virtual world. Nintendo Wii has a game called Zenkoku Dekotora Matsuri, whereby gamers can drive around in their own Dekotora and customise it as they please. Japanese dragons or Fuji mountain landscapes can be airbrushed onto gamers' trucks.
Similar to Dekotora, tourist buses in Thailand are also decorated in this manner and feature thousands of different colours, designs and images. They are custom painted by professionals who devote their lives to the art. Nothing is too bizarre to be painted onto a bus, from Disney characters to Japanese anime scenes, loud colours and giant cartoon characters seem to be the norm.
Custom-painted buses are so common that a normal bus with a regular paint job would stand out on the streets of Bangkok. And it sure beats getting into an old white Greyhound.
*Farzana Chaumoo is the 2014 South African Guild of Motoring Journalists' bursar programme recipient. She recently spent a month with FOCUS where she was exposed to the world of transport journalism.
Focus on Transport
August 4, 2014
Published by