Grain SA pulled out all the stops to meet the expectations of the 2017 Nampo Harvest Day theme: "Unfold the Future". ANLERIE DE WET went to Bothaville, in the Free State, to see what the world-renowned agricultural exhibition had to offer
Toit Wessels, assistant manager of Nampo and marketing at Grain SA, says some positive changes were made to the exhibition this year in order for it to remain relevant to the agricultural industry. "Grain SA wants to ensure that Nampo is the agricultural sector's most relevant platform and marketplace for innovation, technology, information exchange and discussion.
"The expansions, innovations, 2017 theme and a brand-new Nampo logo confirm that the organisation is positive about the role of the Harvest Day in the future of agriculture," says Wessels.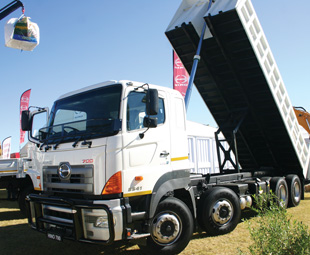 With a colourful new logo and the determination to bring something new to the platform, the four-day exhibition, held from May 16 to 19, kicked-off with a couple of new records. Wessels says that there were 713 exhibitors this year – 28 more than the record high of 2016. This increase was made possible by opening up exhibition spaces on the eastern side of the grounds.
"We doubled the number of international exhibitors this year from six to 12, of which the Canadian, British, Russian and Brazilian exhibitors were new additions. Returning international exhibitors included those from Portugal, Israel, Argentina, France, Poland and the United States.
"We believe the new international exhibitors added greatly to the increase in visitors this year. In total we had 78 648 visitors, which is 3 532 more than last year," says Wessels.
Nampo's respected Nation in Conversation agri-talkshow returned once again to provide a platform for discussion about the agricultural industry. The first round-table discussion, held on the evening of May 16, was hosted by well-known Carte Blanche host, Derek Watts on the subject of Agriculture – a positive outlook.
However, it was the women's programme – which returned to Nampo with a bang after an absence of two years – that received the most interest at Nampo, says Wessels. "The women's programme started up a lot of conversation at the show and on social media, especially the session on Women in Agriculture," says Wessels.
Suzanne Paxton, a presenter from Radio Sonder Grense (RSG), hosted the Women in Agriculture panel consisting of: Lindie Stroebel, from the Produce Marketing Association; Liesel Foster, from Dr LA Foster Boerdery; and Gloria Serobe from Wiphold.
Lindie Stroebel grew up on a farm and says farming is in her blood. "When I did psychometric tests after school I was told that if I was a boy I would be perfect for farming. I never saw myself as being different from men in any aspect. We are all equal and I think it lies in how you see yourself.
"If you want to succeed in business as a woman, you need to understand your topic and speak, not as a woman in your environment, but as a person who understands her environment," says Stroebel.
The Nation in Conversation discussion that proved to be an emotional topic for many Nampo visitors was the one entitled: The true effects of land grabs without compensation. Bruce Whitfield, host of 702/Cape Talk's The Money Show, facilitated the first session with guests Francois Strydom, Senwes Group CEO; Pierre Venter, from the Banking Association of South Africa; John Purchase, Agbiz CEO; and Mpumelelo Mkhabela from Ntambose Konsult.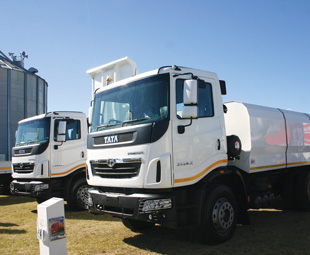 In his emotive opening statement Mpumelelo proclaimed: "Government has failed. A target of 30 percent of land was set for redistribution in 1994, which has not been achieved. Now a lot of emotional statements are being made, like redistribution without compensation.
Strydom says: "Agri business needs to stick to its business principles. That way it will remain successful and, by implication, black empowerment would be part of the business principle of success. I believe that every sector of business is open to partnerships, but it's the politicians who are creating divisions."
"The agricultural sector has debt amounting to about R145 billion. If farms are taken away without compensation I think the banks would be able to survive, but South Africa will see a collapse and fall in food security," says Venter.
The Nation in Conversation discussion entitled: The role of technology, soil health and advisors in agriculture, focused on the technological advances in the industry.
Landbou Weekblad editor, Chris Burgess, hosted the discussion with Jaco Beyers of John Deere; Martin van Zyl of Senwes; Pieter Smit of Monsanto; Etienne Schoeman, MD of Graslandand; and Dirk Strydom of Grain SA.
Beyers says: "John Deere has spent about R1,6 billion on research since 2016. We want to make sure we have the latest technology in our machines to give the producer the best advantage. An example is the use of sensors. A few years ago, sensors were used as warning devices, now they are used to detect, and even repair, technical issues and provide advice on our machines."
Van Zyl says: "Senwes decided to sell a full solution to the client and not just products. We have a 24-hour helpdesk to assist with technical issues relating to machinery."
Another big crowd pleaser was the 4×4 track. "The newly upgraded 4×4 obstacle course drew a lot of interest and was enjoyed by the leading automotive manufacturers and Nampo visitors, especially 4×4 and motorcycle enthusiasts," says Wessels.
It is safe to say that the 51st Nampo Harvest Day was a massive success. Jannie de Villiers, CEO of Grain SA says: "Although the success of the event is important, it is more important that Nampo remains the place where the agricultural family can get to know one another better, and where new partnerships and friendships can be forged."
Focus on Transport
June 12, 2017
Published by