The power to keep things cool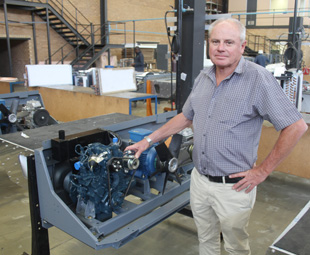 For almost 40 years, Transfrig has supplied world-class transport refrigeration equipment to a wide range of customers from South Africa, Hong Kong and Australia, to the Middle East, China and many other African nations!
For the last 30 years, Tranfrig has used only Kubota engines to power all its refrigeration units. Kubota engines are distributed in South Africa by Smith Power Equipment (SPE), which sells, on average, 50 engines a month to Tranfrig.
"You can't take chances in our game," says Transfrig owner/director Bill Wilson. "When a truckload of product worth R2 million or more is being transported over long distances, an absolutely reliable refrigeration unit is essential. That's why we choose Kubota."
Wilson says that the main criteria for choosing these engines are longevity, reliability and world-class service. "SPE has come up trumps for us in all three criteria over the years. We get 15 000 hours or more form our Kubota engines," he says.
In a bid to maximise this performance, Transfrig transport refrigeration equipment is designed for all conditions by the company's in-house engineering design team.
"We pride ourselves on our flexibility to meet customers' demands, having spares readily available and a footprint of service providers wherever we operate to ensure our clients keep running optimally. In South Africa, Kubota and SPE have been the perfect partners in our success," Wilson says.
Wally Bergmann, SPE MD, says Transfrig is one of the company's oldest friends. "It is a world-class company in every sense of the word and we are proud to have been a partner in what is one of this country's best success stories," Bergmann concludes.
Focus on Transport
November 16, 2017
Published by