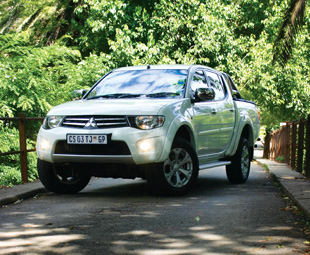 The Mitsubishi Triton has recently been refreshed with the introduction of a new 2,5-litre diesel engine. It still has something to offer, discovers GAVIN MYERS.
I remember the old Colt fondly. My sister owned a 3,0-litre auto. It was large, quite handsome, rather comfortable and it sounded great – those V6s all seemed to have some or other free-flowing exhaust fitted, didn't they?
Unfortunately, I never got to fully test its capabilities. Late last year, Mitsubishi upgraded that car's successor, the capabilities of which I did get to test …
The Triton (fourth generation in the Colt/Triton lineage, my sister's example being the third) was originally launched to South Africa early in 2007. The obvious name change and interesting new looks were talking points …
The Triton was always a well-proportioned vehicle. Its characteristic cab shape – thanks to its Reinforced Impact Safety Evolution (RISE) passenger cell – perhaps having something to do with that. In profile you'll notice the new, handsome 17-inch rims and the relocation of the indicator repeater to the door mirror.
Up front, the redesigned and sharper-looking grille and bumper combination make the vehicle's face far less gawky and more handsome. Although the design is getting on in years, it's like a kid who has come of age, grown into his looks and become quite handsome.
The interior environment is little changed. Space is good and the use of shades of pale grey make it feel light and airy. Although good-quality plastics are used throughout, some surfaces do feel hard compared to those found in some rivals, especially after enjoying the comfortable leather seats. Nevertheless, it suits the hardy character of the vehicle.
Perhaps a more important upgrade is the introduction of a new 2,5-litre four-cylinder turbodiesel engine. Available in two states of tune (for either 4×2 or 4×4 applications), the version fitted to our 4×4 test unit produces 131 kW at 4 000 r/min and 400 Nm between 2 000 and 2 850 r/min.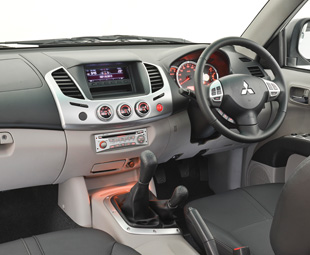 These are healthy improvements on the outgoing 3,2-litre engine, although the figures are produced quite high in the rev range. The result is a slightly-too-long wait for the turbo to spool up and the engine to climb the torque curve. However, it is strong once going and gains speed deceptively easily once moving through the gears. Mitsubishi claims fuel consumption figures of 8,6 l/100 km.
The Triton rides quietly and comfortably both on and off the beaten track. The rear leaf-spring suspension feels a bit softer than one is generally used to with a double cab. Nevertheless, it offers a 1 000 kg load capacity – the load box measuring 1 352 mm (l), 1 470 mm (w) and 860 mm (h). Four inner tie-down hooks are fitted. Towing capacity is now 750 kg, or 1 500 kg if the trailer is braked.
The Triton's list of safety and convenience features includes a driver and a passenger airbag, anti-lock brakes with Electronic Brakeforce Distribution, central locking and alarm/immobiliser, climate control, electric windows (including the rear screen – nice feature, that!), cruise control, leather seats (electrically adjustable for the driver) and a leather-clad, multi-function steering-wheel.
There is also quite a good sound system that includes Bluetooth hands-free connectivity. It's operated by Mitsubishi's Link voice-command system, which works quite well and is integrated with a multi-function display that also shows data from the on-board computer. Unfortunately, the buttons controlling the on-board computer and multi-function display are inconveniently located at the display itself.
A few more points of concern include a driver's seatbelt that would not sit over my waist properly, no matter my driving position, and headlights that seemed to have a mind of their own. This often necessitated the use of the front fog lamps for night driving. It was attributed by Mitsubishi Motors South Africa to a disturbed electronic connection caused by the fitting of the aftermarket tracking system, the company stating it has never had any lighting component warranty claims.
Priced at R419 900 with a five-year/90 000 km service plan and three-year/100 000 km warranty, the refreshed, 2,5-litre Triton double cab presents something of a strange proposition. It's solid, good looking and the new engine is decent; it is fundamentally a rather good, capable bakkie. However, it is now seven years old and that shows in certain respects. As a player in such a competitive segment, which has seen the influx of a new breed of rivals, it is unfortunately priced a little too high.
Focus on Transport
February 1, 2014
Published by