Electric was the name of the game at this year's IAA … but is it a case of too little, too late?
I'm asking this question, because the biggest logistics and delivery services company in the world was not able to source electric vehicles from any of the manufacturers – and so they've actually starting producing their own!
Incredibly, Deutsche Post DHL is producing its own electric delivery vans – in direct opposition to long-established vehicle producers. This wasn't what the company had in mind, as Dunja Kuhlmann, spokesperson for the Deutsche Post DHL Group, reveals. "Actually, the approach was taken because conventional vehicle producers turned down requests to build the electric vans in what are limited numbers by their standards," she told FOCUS.
I contacted her because I was astounded at the company's foray into the field of electric vehicles; it is – after all – a logistics and delivery services company! It is not a vehicle producer! The company's decision to produce vehicles (which I can fully understand; it's not like it had a choice) is tantamount to Daimler going into the postal business!
As Kuhlmann reveals, Deutsche Post DHL – which runs a fleet of about 92 000 vehicles and has nearly half a million employees worldwide – was sent packing (excuse the pun) … and so it had to make a plan. And it most certainly has.
Deutsche Post DHL's e-mobility journey started back in 2014, when it acquired StreetScooter, a former start-up that was committed to developing affordable electric vehicles. The first prototype of the StreetScooter was unveiled in 2012, and – in 2013 – it produced about 200 StreetScooters at its plant in the German town of Aachen.
In 2014, Deutsche Post DHL started using 20 of these vehicles in Bonn (which is also where its head office is located). It announced at the time that it would work towards converting its entire mail and parcel operations in Bonn to electric mobility.
Since then the StreetScooter project has truly gained momentum. More and more of these vehicles have been produced. A second model has been introduced – the StreetScooter Work L, which boasts eight cubic meters of loading space (double the loading capacity of the original StreetScooter Work derivative).
Deutsche Post DHL has now announced that this van, which boasts a range of up to 120 km, will be available for sale to third parties on the open market in 2017.
Some 2 000 StreetScooters will be produced this year, but mass production of the vehicle is about to commence, and up to 10 000 vehicles will be produced next year. Sources say that an annual production of 30 000 vehicles is even on the cards (this has not been confirmed by the company).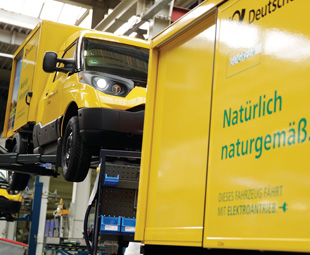 Some may say that these are not huge numbers. Maybe not, but what's startling is how the StreetScooter has grown in importance and stature; initially Deutsche Post DHL was only producing the vehicles for its own use, and now the strangely named StreetScooter (because it's not actually a scooter) has become a whole new profit opportunity.
Deutsche Post DHL CEO Frank Appel is clearly a big fan of e-mobility. He's planning to replace 30 000 delivery vans with StreetScooter e-vans, and he's even mooting the idea of electrifying the company's entire fleet. "This isn't a crazy vision. It's a reality that, in the medium term, we can drive with e-vehicles exclusively," he said recently.
Will those e-vehicles be supplied by the established vehicle manufacturers? Or, will Deutsche Post DHL plunge into vehicle production, after first just dipping its toes? Only time will tell. One thing is certain, however: when Deutsche Post DHL approached the conventional vehicle producers and asked them to build an electric van, they should have made a plan.
Focus on Transport
November 15, 2016
Published by