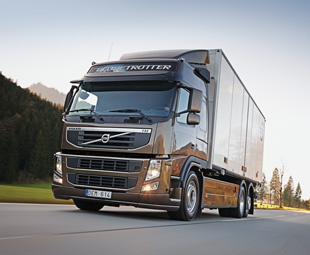 Despite adverse conditions, says FRANK BEETON, the local commercial vehicle market finished 2012 well – and there should be more to come during 2013
Given the numerous trials and tribulations that afflicted the South African and international economies during 2012 – including the multiple impacts of widespread and violent local industrial unrest, including a three-week truck drivers' strike, rising fuel prices driven by volatile foreign exchange rates and international oil prices, and continuing difficulties being experienced in the economies of many of the country's most important trading partners, particularly in Europe – the year's final market performance was particularly pleasing. Despite these disruptive and negative influences, the market held firm throughout the year, and displayed remarkable stability.
Before we get to the figures, it must be remembered that throughout 2012 Mercedes-Benz South Africa remained constrained by its overseas principals to reporting only aggregated monthly sales data for its Mercedes-Benz, Freightliner and Mitsubishi FUSO brands to the National Association of Automobile Manufacturers of South Africa (Naamsa). In turn, Naamsa estimated the breakdown of these aggregated sales to individual model and variant levels. The following analysis has processed the resulting data on the assumption that it is the most accurate reflection of the true market composition available at this point in time. Readers should please bear this situation in mind when comparing this analysis and its conclusions with previous articles in FOCUS's series of market reviews.
The South African truck market ended the year 2012 with total sales of 27 285 units – excluding Associated Motor Holdings' medium commercial vehicle (MCV) volumes, which were reported only in aggregated terms during the 2012 calendar year – resulting in year-on-year growth of 2,2 percent when compared to the equivalent total of 26 300 units reported in 2011. The 2012 market total was the best result recorded since 2008, and was also better than any outcome achieved during the 23-year period prior to 2005. However, if the AMH (Hyundai) MCV volumes are also counted, the resulting final market volume of 27 736 units grew by a margin of 3,9 percent when compared to the equivalent inclusive 2010 total of 26 697 units.
Positive influences present during the year included domestic interest rates that have continued to linger at their lowest level for four decades, vehicle availability that has now recovered to levels last seen before the Japanese tsunami and earthquake of March 2011, and the availability of South African government funding for job creation and infrastructure development, the early evidence of which is discussed in more detail in the following section. The outcomes of the ANC's elective conference held in Mangaung in December have also been positively received by the business community, and should assist in lifting the business mood going forward.
Segmentation dynamics
The segmentation picture that emerged at the end of 2012 shows that the premium payload extra-heavy commercial vehicle (EHCV) category has held on to its market leadership position, but that its level of dominance narrowed during the last quarter of the year. Its market share level at the end of the fourth quarter, at 40,7 percent, is some five percentage points off the position occupied in September, and this reflects the recent increased utilisation of the Durban-Johannesburg petroleum pipeline, resulting in reduced demand for road tanker haulage, with the consequent redeployment of under-utilised truck-tractor units to other duties. Some vehicle transportation tasks previously executed by road in and out of assembly plants, storage areas and port facilities have now also been transferred to rail, but this has been countered, to some extent, by the increased recent use of rigid EHCV models on distribution duties, notably in metropolitan areas.
While the EHCV market share declined during the fourth quarter, the performance of the remaining three segments has improved. The entry-level MCV category picked up more than 2,5 percentage points of market share in the comparison between third and fourth quarters, ending just below 36 percent at the end of the year, and this can be mainly ascribed to two significant factors. Firstly, the availability of the Japanese chassis/cab models that make up the bulk of the freight carrier applications in this category improved during 2012, allowing for the completion of frustrated orders, while the recent strong performance in integral van sales reflects evidence of the government's infrastructural investment policy to provide urgently-required supplemental units for provincial ambulance fleets.
Japanese supply recovery and the catching up of previously delayed procurement can also be identified as the main drivers behind the improved 2012 performance of the cruiserweight heavy commercial vehicle (HCV) segment. By the end of the year, this distribution-rich category of heavier 4×2 units had moved to within 0,7 percentage points of regaining its long-running market penetration level of 20 percent, which it has not occupied since 2010. The market share of heavy passenger bus sales also improved during the final quarter, to 4,4 percent – the highest level attained since the second quarter of 2011. Bus sales in December 2012 were also the highest for any individual month during the preceding two years, boosted by orders for provincially-subsidised school bus operations. Earlier in the year, this segment had been considerably enhanced by deliveries of 124 new city buses to the Ethekwini Municipality. The return of bus sales volumes to a level above 1 000 units per annum suggests that this segment has now finally shaken off the legacy of the 2010 Soccer World Cup, and can look forward to more normal growth behaviour going forward.
Within the entry-level MCV segment, the gap between the penetration levels of the two major applications (freight carriers and integral panel vans) narrowed significantly during the final quarter of 2012. While the former category retained its leadership position with 56,6 percent share, it suffered a substantial decline from the 66 percent recorded in the third quarter, while the van category increased its share in the same quarter-on-quarter comparison, from 32,2 percent to 42 percent.
Manufacturer performance
The accompanying chart illustrates the relative market performance and ranking of each participating manufacturer in the year just completed, as compared to the returns for the previous year.
Readers should note the groupings of manufacturers contained in this section of the report. The rule employed is that if a manufacturer/group sells more than one brand through its distribution channels, then all sales for those brands will be consolidated in the result for the manufacturer/group. Thus, Mercedes-Benz includes Freightliner and FUSO, Toyota/Hino contains both brands, MAN includes Volkswagen (Constellation) trucks and Volksbus passenger units, but not VW commercial vans (listed separately), and Volvo Trucks includes Mack and Renault, but not UD Trucks.
Mercedes-Benz SA
Perennial market leader, the Mercedes-Benz Group retained its traditional position at the head of the manufacturer rankings during the final quarter and the whole of 2012, with an annual market share of 26,6 percent, this being 0,4 percent less than its 2011 achievement. The Group ranked overall first in both the MCV and EHCV segments, while, in terms of the individual constituent brands, Mercedes-Benz improved its market share by 0,1 percent in the year-on-year comparison, while Freightliner slipped by 0,2 percent, and FUSO declined by 0,3 percent in the same comparison. In terms of marques, the final 2012 market shares for Mercedes, Freightliner and FUSO were established at 18,3 percent, 4,8 percent and 3,5 percent, respectively. Recent promotional activities by the group included extensive military vehicle exhibits at the AAD aerospace and defence expo, the opening of the first TruckStore specialist used vehicle outlet in Centurion, and the delivery of a FUSO Canter hybrid to Imperial Logistics for a three-month in-service evaluation.
Hino/Toyota
Progressively improving product availability out of Japan during the course of 2012, and a well-received new 300 Series MCV product range, enabled Hino Trucks to consolidate its habitual second position in the market rankings, while returning a
0,4 percent improvement in market share in the year-on-year comparison. The final 2012 result included an overall market penetration of 13,3 percent for the year just completed, with an improvement in absolute reported sales volumes in all market segments, and close second-place finishes in both the MCV and HCV segments.
GMSA (Isuzu)
Isuzu Trucks South Africa continued its upward march in the South African truck market in 2012, recording nearly one full percentage point of year-on-year penetration growth to end the year at 11,4 percent, and, more importantly, promotion to third position overall in the market at the expense of UD Trucks. Volume improvements were registered in all market segments, with a particularly strong performance coming from the N Series, competing in the entry-level MCV category. Much of Isuzu's current success at the lower and middle reaches of the market has come from the exploitation of "niche" applications, particularly in the areas of AMT transmission fitment, crew cab availability and all-wheel-drive model variants, while EHCV sales have benefited from the presence of dedicated multi-axle refuse compactor variants in the F and FX Series ranges.
UD Trucks SA
Despite having apparently suffered less from product shortages than its Japanese compatriots at the height of the tsunami/earthquake impacts, UD Trucks lost ground during 2012. It gave up nearly 7,5 percent in absolute volume and 1,3 percentage points in market share in comparison with its 2011 result, together with one market position, to finish the year in fourth place with slightly less than 11 percent overall market share. Surprisingly, this was accompanied by a year-on-year volume decline in the EHCV category, despite UD's traditional strength as the leading Japanese participant in that segment, and the advantage of a substantially renewed Quon product line-up launched early in 2012. Nevertheless, this brand took the leading position in the recovering cruiserweight HCV market segment by a substantial margin during 2012.
MAN Group
The MAN Group failed to exploit the generally improved market conditions in 2012, and consequently lost 0,7 percentage points in penetration compared to its 2011 result, achieving fifth place and 7,9 percent overall market share during the year. Absolute sales volumes in the HCV and EHCV segments were substantially reduced in the year-on-year comparison, while the group maintained its traditional leadership of the heavy bus sales category with an increased volume. However, it must be noted that this latter achievement was heavily underpinned by the sale of 172 Volkswagen bus chassis, which made up some 38 percent of the group bus total. While total volumes of VW truck chassis also improved during the year, some ground was lost by this brand in the HCV segment, despite an attractive mix of pricing and specification levels.
Volvo Trucks
The Volvo Trucks group tracked overall market growth closely during 2012, finishing with 0,1 percentage points greater market share in the year-on-year comparison to reach just more than seven percent total penetration, and retaining sixth position in the overall standings. As presently reported, the group is made up of Volvo trucks and buses, plus Renault trucks, but during 2013 this review will be expanded to include UD trucks now that the corporate linkage between these manufacturers is widely acknowledged. Renault trucks has now consolidated its position in the local market, and during 2012, contributed 305 units to the group's total sales. Volvo's new FH Series flagship was launched at the recent IAA Show in Hanover, and can be expected to reach the South African market during 2013.
Tata
Tata continued with the process of consolidating its market position during 2012, resulting in a 0,6 percentage point year-on-year improvement in penetration levels to end at 5,6 percent, and a retained seventh position in the rankings. Most of this improvement can be
ascribed to substantially increased HCV segment volumes, and an improvement in heavy bus sales.
Scania
Scania's 2012 market performance was virtually identical to that achieved in 2011, with just more than a three percent increase in sales volume resulting in 4,9 percent market share, which was equal to the previous year's result when rounded off to the first decimal point. This was sufficient for a retained eighth position in the overall market rankings. In terms of product mix, the slightly weaker goods vehicle performance in the year-on-year comparison was more than compensated for by increased bus sales, 44 units of which were included in the Ethekwini order mentioned earlier.
Iveco
Although it retained ninth position in the 2012 market rankings, Iveco enjoyed a significantly improved year in terms of units sold and level of penetration when compared to its 2011 performance.
A market share of just less than four percent reflected an increase of half a percentage point over the 2011 outcome, and this was driven by increased sales in all three goods vehicle segments. Surprisingly, Iveco recorded zero bus sales during 2012, whereas 76 units were reported in 2011. This suggests that major customer PUTCO did not place any orders on Iveco in 2012, and justifies Iveco's intended strategy of spreading its bus sales efforts wider during the years ahead. New Stralis Hi-Way and Trakker models were recently launched in Europe, and should find their way to SA in due course, and there has also been some interesting news of an Iveco front-engined ladderframe bus chassis from Brazil that appears suitable for the local market.
NC² – International Trucks
Extensive recent media coverage has been given to the difficulties being faced by NC²'s American parent, Navistar International, in recent months, and its 2012 South African market performance would not have provided any significant measure of comfort. A 32,2 percent reduction in year-on-year absolute sales volume resulted in a market share loss of 1,1 percent. NC² ended the year with an overall penetration level of 2,1 percent, and gave up one position to finish 11th in the market rankings. Recent reports of the dissolution of the Navistar/Mahindra joint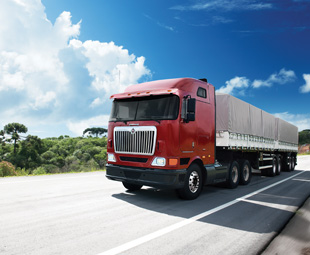 venture in India will now pose questions over the future introduction of the important MetroStar range in South Africa, which had been seen as pivotal to the broadening of the International brand's market coverage in this region. Questions also remain over the recently-adopted "NC²" branding, now that erstwhile partner Caterpillar is reported to have ended its direct participation in the formerly announced global truck manufacturing and marketing joint venture.
Powerstar
The only Chinese truck supplier that reported its sales to Naamsa during 2012, Powerstar more than doubled the sales volume and market share achieved during 2011, and ended the past year with a penetration level of 1,8 percent and 12th position in the market rankings, one place better than in 2011. At present, most local marketing activity has been concentrated in the construction sector of the EHCV segment, but future plans include migration into product suitable for linehaul applications with the new V3 model shown at the 2011 JIMS show.
Babcock/DAF
Babcock continued to tread water with its distribution of DAF trucks in the South African market in 2012. Volumes were down from 132 to 86 units, resulting in a market share of 0,3 percent, while its market ranking fell from 14th to 15th in the year-on-year comparison.
VDL
Bus chassis specialist manufacturer VDL improved its sales volume from 24 units in 2011 to 33 units in 2012, resulting in a slight rise in market share to 0,1 percent, and the retention of 16th position in the rankings.
Van manufacturers
Four vehicle manufacturers continue to compete in the MCV segment of this market with only European-sourced integral van-derived products. Of these, Volkswagen Commercials is the most significant participant, having sold 775 units in 2012, good enough for 2,8 percent of the total market and 10th position in the rankings. Peugeot followed with 185 units for 0,7 percent market share and 14th position, Fiat with 145 units in 13th position, and Citroën with 11 units in 17th and last position. Of these participants, VW held its 2011 market share performance and improved its ranking by one position, Peugeot gave up 0,2 percentage points of penetration and two market places, Fiat gained 0,2 percentage points and two positions, and Citroën gained a fraction of market share and held on to its last position.
Non-reporting manufacturers
Readers should please note that local sales volumes of several commercial vehicle brands, including FAW, JMC, Dongfeng, Foton and Ashok Leyland, are not yet reported to Naamsa, and are therefore excluded from the comments and data contained in this report. As previously pointed out, Associated Motor Holdings' reported aggregated total sales of 451 MCV segment units during 2012, but these have not been included in this detailed analysis. However, if they were to be included in an expanded total market, a share of 1,6 percent would have been achieved.
GENERAL MARKET COMMENTS
The recent stability in monthly volumes and the improving trend evident in the final quarter of 2012 should give participants in the supply industry increased confidence in forecasting the way ahead. The local economy, despite the negative internal and external influences detailed earlier in this review, did not collapse during 2012 and provided support for what was at times seen as a surprisingly robust market for trucks, vans and buses. Although the presently weakening Rand will inevitably exert upward pressure on vehicle, parts and fuel prices, prospects for asset financing, and even cash purchasing, still appear to be favourable.
This marginally positive outlook will be reinforced by the generally well-accepted outcome of the ANC's Mangaung conference, where the prospects for mine nationalisation diminished and a leadership group perceived to be generally more pragmatic and business-friendly was elected. It seems unlikely that the government's current initiatives to strengthen the freight share of rail transport will exercise a major influence as early as this year, so any growth in general business activity in the local economy should be positive for commercial vehicle sales. Thus it would appear that, with only some stabilisation in the local business environment, a final market volume in excess of 28 000 units is a realistic prospect for 2013.
Focus on Transport
February 1, 2013
Published by