Truck market continues to climb
The truck market's recent pattern of steady and consistent growth continued in the second quarter of 2012, says FRANK BEETON in his quarterly review of the industry.

As reported in our review of the first quarter, Mercedes-Benz South Africa remains constrained by its overseas principals to reporting only aggregated monthly sales data for its Mercedes-Benz, Freightliner and FUSO brands to Naamsa. In turn, Naamsa has estimated the breakdown of these aggregated sales to individual model and variant levels. The following analysis has processed the resulting data on the assumption that it is the most accurate reflection of the true market composition available at this point in time. Readers should please bear this in mind when comparing this analysis and its conclusions with previous articles in the FOCUS series of market reviews.
The South African truck market continued its recent pattern of steady and consistent growth during the second quarter of 2012. Sales reported during the final month of the quarter (June) contributed to the second best single monthly total recorded thus far during the current year, being only 40 units off the best result of 2 581 units recorded in March. The sustained momentum resulted in cumulative year-to-date total market growth of 5,5 percent, when compared to the equivalent half-year performance recorded one year ago during the January-June 2011 timeframe.
In the quarter-on-quarter comparison with the preceding January-March 2012 period, the overall truck market returned growth, in the second quarter, of 5,3 percent. This positive performance of commercial vehicle sales, despite a rather uncertain macro-economic scenario, has been significant. The cautious mood in the local economy, as reflected in the most recently published outlook of the Kagiso Purchasing Managers' Index, is understandable, given the continuing uncertainties surrounding the European debt crisis, the growth slowdown in emerging markets, continuing volatility in the rand's foreign exchange value, and the absence of firm local political direction emanating from the ANC policy conference held at the end of June.
SEGMENTATION DYNAMICS
In terms of market segmentation, the second quarter has seen early indications of a recovery in the market share performance of the cruiserweight HCV category, reflecting an improvement in the availability of the Japanese trucks that form the backbone of this segment. While this category's second quarter market share, at 17,8 percent, remains well below its long-term average of around 20 percent, the distribution sector, which purchases the great majority of the heavier 4×2 units that make up the HCV population, has been placed in a better position to pursue normal fleet expansion and replacement activities than in the tsunami-affected 2011, when some operators were obliged to defer their acquisition programmes.
However, there has also been evidence of an important shift in market dynamics which requires further explanation. While it would be accurate to ascribe at least some of the above-mentioned deterioration in HCV market share to supply difficulties, examination of anecdotal evidence and market trends over the past several years has revealed a measure of up-market migration of distribution sector purchasers into the lower reaches of the EHCV segment, where multi-axle rigid freight carriers have been assuming duties previously performed by lighter HCV two-axled models.
The trucks, vans, buses and tippers of the entry-level MCV segment currently account for 32,3 percent of total truck market volumes, which is slightly off the 36,3 percent that this grouping recorded during the preceding quarter. Some residual issues of Japanese light truck availability may still have influenced this result, as the majority of chassis/cab MCV models are still sourced from the likes of Isuzu, Toyota/Hino, UD and FUSO. The premium payload EHCV segment has extended its term as leader of the overall market, with a current share of 45,7 percent. The increased use of EHCV models in the distribution sector, as noted above, will tend to soften the impact on this segment of any migration of line haul transportation to rail as a result of targeted government intervention. Evidence of modal shifts has already been noted in the increased utilisation of the Durban-Johannesburg petroleum pipeline, and the transfer, by local manufacturing plants, of some vehicle transportation tasks to rail. If these initiatives are successful, they are sure to exert some influence on future patterns of demand in commercial vehicle sales.
It is also notable that heavyweight bus volumes have recorded a year-to-date improvement of 8,2 percent when compared to their equivalent January-June 2011 absolute volume performance, and currently account for 4,3 percent of the total market. While some of this has been driven by substantial numbers of new city buses recently delivered to the Ethekwini Municipality, the general picture for bus sales in 2012 has been more positive than in 2011, when the segment slumped sharply in the aftermath of the pre-Soccer World Cup 2010 stimulus. During preparations for that event, bus segment market penetrations of around 10 percent had been recorded.
MANUFACTURER PERFORMANCE
Please refer to Chart 1, which illustrates the relative market performance and ranking of each participating manufacturer in the quarter just completed, as compared to the returns for the immediately equivalent preceding period.
Readers should please note the groupings of manufacturers contained in this section of the report. The rule employed is that if a manufacturer or group sells more than one brand through its distribution channels, then all sales for those brands will be consolidated in the result for the manufacturer or group. Thus, Mercedes-Benz includes Freightliner and FUSO, Toyota/Hino contains both brands, MAN includes Volkswagen (Constellation) trucks and Volksbus passenger units, but not VW commercial vans (listed separately), and Volvo Trucks includes Mack and Renault.
Mercedes-Benz SA
The Mercedes-Benz group maintained its position at the top of the market rankings during the second quarter of 2012, delivering an increase of slightly more than six percent in volume when compared to the preceding quarter. This led to a market share increase of 0,2 percent, and leadership of the MCV and EHCV categories. In terms of the three individual brands, Mercedes-Benz delivered a quarter-on-quarter volume increase of 7,4 percent, Freightliner lifted its sales by 7,7 percent, while Mitsubishi FUSO deliveries were off by 2,4 percent. Promotional activities during the quarter just completed included the introduction of Mercedes' TruckMobility package, which adds substitution vehicle and financial compensation for excessive downtime elements to other FleetBoard/Charterway facilities, and the provision of Allison automatic transmission options on FUSO FK, FM and FV models.
Hino/Toyota
Hino's performance during the second quarter was disappointing, given the considerable amount of exposure generated by the launch of the very important new 300 series MCV range and celebrations marking Hino's 40th anniversary in South Africa. Deliveries fell by 3,9 percent in comparison with the first quarter, accompanied by a loss of 1,1 percent in market share, and, more importantly, demotion to third position in the rankings. The drop in MCV deliveries may well have been caused by availability imbalances during the switch-over from old to new 300 Series products, or some residual impact from last year's tsunami-related supply difficulties.
UD Trucks SA
UD Trucks reversed the loss of momentum it suffered in the first quarter of 2012 by returning 26 percent growth in its second quarter result. This led to a market share improvement of nearly two percentage points, and retention of fourth position in the standings. This manufacturer held on to its position at the head of the HCV segment standings, and used its newly-refreshed 14-model Quon range to good effect in gaining momentum in the EHCV category, where it maintained its position as the dominant Japanese-sourced brand. UD also recently introduced extended warranties across its local range of products.
Tata
Following an improved result in the first quarter, Tata failed to take advantage of the more favourable market conditions prevailing during the second quarter, and a loss of 7,5 percent in sales volume resulted in a market share decline of 0,7 percent, although seventh position in the market rankings was retained. It was notable that this Indian manufacturer has gained some traction in the local bus segment, and is now regularly reporting sales in the heavy passenger category. Some progress has also been made in restoring momentum previously lost to Tata's EHCV volume performance.
MAN Group
MAN followed its disappointing first quarter result with an improved second quarter performance, gaining 14,4 percent in volume and 0,6 percentage points in market share, and retaining sixth position in the market standings. The improvement was driven by improved MAN-brand EHCV truck sales, and the group retained its leadership position in the local bus segment, with a substantial 41-unit contribution being made, during the quarter, by Volksbus models. Volkswagen-branded truck model deliveries fell by 34 percent in the quarter-on-quarter comparison.
GMSA (Isuzu)
The success that has been achieved by Isuzu Trucks South Africa with its recently renewed product range has been most spectacular. Having overtaken UD Trucks for third position during the first quarter, Isuzu went on to displace Hino for second position in the April-June period. This was achieved through a 15,6 percent improvement in quarter-on-quarter volume throughput, and a 1,1 percent improvement in market share. The main features of this performance included substantial improvements in MCV, HCV and EHCV volumes, the latter more noteworthy because of the total absence of any meaningful line haul sector contribution from the flagship Gigamax model. This situation is surely deserving of serious attention from Isuzu Trucks SA management if they have serious ambitions of holding on to recent gains in market rankings. The success of Isuzu's product differentiation strategy through AMT and crew cab variants of the N and F-Series models has been clearly evident.
Volvo Trucks
Volvo Trucks carried the upward momentum established in the local market during the January-March period into the second quarter, with a further gain of more than 15 percent in
sales volume and an improvement of 0,7 percentage points in market share, although fifth position in the overall rankings was retained. The publicity around recent local management changes has revealed a more inclusive approach to Volvo, Renault and UD operations in South Africa, in line with Volvo's recently-announced region-based global strategy, although it was emphasised that this would materialise primarily in infrastructural activities, and would not impact on the customer interface. Renault has continued to promote its products through Construction Days, one of which was held recently at the Gerotek proving grounds.
Scania
Eighth-placed Scania also produced an improved quarter-on-quarter performance during the April-June period, gaining 8,5 percent in volume, and 0,2 percentage points in market share. While EHCV truck sales held steady, elevated bus sales benefitted considerably from Scania's delivery of 44 Euro 4-compliant low-entry city buses to Durban Transport. The Nampo Harvest Day Show held in Bothaville during May was used as the venue for the local launch of Scania's new five- and six-cylinder in-line global engine platforms.
Iveco
Iveco's second quarter result failed to consolidate the gains made in the previous review period, with a volume reduction of 11,2 percent, and a loss of 0,7 percentage points in market share, although ninth position in the market rankings was retained. Notably, Iveco has not reported any heavy buses thus far during the current year, having previously delivered substantial numbers to local operator PUTCO. However, recent improvements in EHCV truck deliveries have been driven by a strong promotional platform highlighting fuel consumption performance.
NC² – International Trucks
A disappointing second quarter performance saw International's market share fall by more than a full percentage point, accompanied by a sales volume reduction of more than a third in comparison with the brand's first quarter result. This translated into demotion from 11th to 12th position in the market rankings. Clarification of the present status of the NC² identity is still awaited, and it has been noted that references to "Navistar" as the parent entity have recently reappeared in local specialist press coverage of the company's dealer-related activities.
Powerstar
Chinese truckmaker Powerstar has continued its upward progress in the local market during
the review period, improving its volume by a further 7,4 percent in comparison with the January-March result, edging up its overall market share to reach almost two percent, and gaining one position to currently occupy 11th place in the rankings. Recent promotional emphasis has been concentrated on establishing the facelifted VX range of construction-friendly products first revealed at last year's Johannesburg International Motor Show.
Babcock/DAF
DAF endured a disappointing second quarter, with only 15 EHCV truck units delivered. This resulted in a market share loss of nearly half a percentage point, and demotion from 13th to 15th position in
the rankings.
VDL
Front-engined ladderframe bus specialist manufacturer VDL delivered just eight units during the quarter just past, down from 21 units in the preceding review period. This resulted in a market share loss of 0,2 percentage points, and a fall from 15th to 16th position in the market standings.
Van manufacturers
Four vehicle manufacturers continue to compete in the MCV segment of this market with only European-sourced integral van-derived products. Of these, only Volkswagen Commercials,
with its recently-refreshed Crafter line-up, suffered a reverse during the second quarter, with a 24 percent volume loss, and one percentage point reduction in market share, while retaining 10th position in the rankings. Peugeot, Fiat and Citroen gained market share to the tune of 0,2, 0,2 and 0,03 percentage points respectively, to finish in 13th, 14th and 17th positions in the market rankings.
Non-reporting manufacturers
Readers should note that local sales volumes of several commercial vehicle brands – including FAW, JMC, Warrior (Dongfeng), Foton and Ashok Leyland – are not yet reported to Naamsa, and are therefore excluded from the comments and data contained in this report. It should also be noted that Associated Motor Holdings (AMH) has recorded sales in the MCV segment during the review period. In line with the policy of that group, no details of the individual models sold have been disclosed to Naamsa, but from observation we can deduct that these vehicles are from the Hyundai HD Series of light trucks. These volumes are not subject to the full Naamsa verification process, and consequently have not been included in the Chart 1 database. AMH's total reported sales in the MCV segment during the second quarter of 2012 totaled 109 units. During the review period, Dongfeng launched its Kingrun medium truck series, including an MCV segment derivative; Hyundai carried out upgrades to its HD Series; and JMC introduced its "Carrying" MCV models to the local market.
GENERAL MARKET COMMENTS
With the first half of the year now in the record books, the truck market appears to be on course for a full-year total in excess of 27 000 units. Achievement of this would take the market back to the level recorded in 2005, when it was still some way off its all-time record of 37 059 units set in 2007, but considerably better than the 18 934 units sold in the depressed global financial crisis conditions of 2009. As noted earlier, the positive performance of this market appears to belie the generally conservative current outlook of local business people. However, the recovery in vehicle availability currently being experienced has resulted in the displacement of some frustrated demand from 2011 into the current year.
On the positive side, the South African Government's stimulatory programmes persist. The recent decreases in global oil prices, with the resulting reductions in the cost of fuel at local pumps, have been most welcome, and have released some pressure on the margins of transport operators. The rand's recovery from its recent lows has also been welcomed by enterprises engaged in the importation of supplies from abroad, and this has moderated fears of imminent steep increases in the local prices of imported items, including vehicles and spare parts. Financing prospects for capital goods have also remained favourable, given the continuing stability in the local interest rate scenario, and the reported magnitude of cash resources held in the private sector.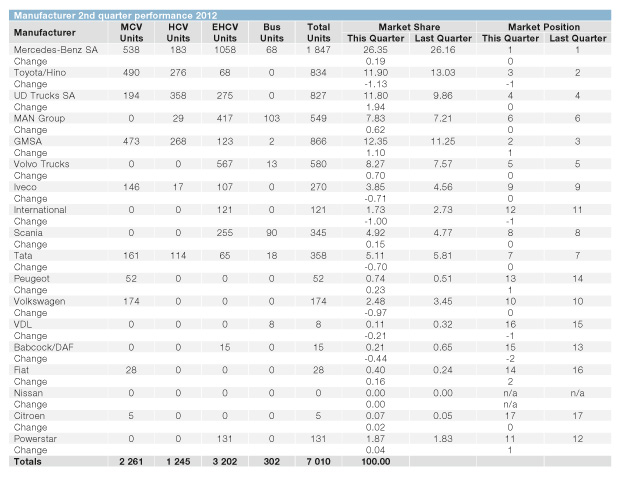 Focus on Transport
August 1, 2012
Published by