US backs green vehicle research
The land of gas guzzlers and muscle cars is changing rapidly. American vehicle manufacturers are investing heavily in alternative fuel technologies, and the United States (US) government is aiding them significantly in their endeavours.
US President Barack Obama recently announced $2.4 billion (R19.1 billion) of much-needed aid to the automotive industry in the form of grants. Importantly though, this money is specifically aimed at accelerating the manufacturing and deployment of electric vehicles.
A total of 48 projects from various American companies will each receive funding under the American Recovery and Reinvestment Act, in an attempt to stimulate the creation of advanced battery and electric drive technology.
The majority of the money, $1.5 billion (R12 billion), will go to manufacturers who produce batteries and their components, and a significant portion of these funds will go specifically towards expanding battery recycling capacity within these companies. Another $500 million (R4 billion) will be allocated to producers of electric drive components for vehicles, including electric motors, power electronics and other drivetrain components. The final $400 million (R3.2 billion) will be put towards the purchasing of thousands of plug-in hybrid and all-electric vehicles for test demonstrations in several dozen locations, the deployment and evaluation of these vehicles' performance, the installation of infrastructure to charge electric vehicles and the education and training necessary to support the transition to advanced electric transportation systems.
In addition to stimulating electric vehicle development, it is also hoped that the funding, which will be matched by the companies receiving the grants, will create much-needed jobs within the industry.
"If we want to reduce our dependence on oil, put Americans back to work and reassert our manufacturing sector as one of the greatest in the world, we must produce the advanced, efficient vehicles of the future," stated Obama during the announcement.
Obama was speaking at Navistar's plant in Wakarusa, Indiana, where all-electric delivery vehicles will be developed and built with the grant money. Navistar will receive
$39 million (R311 million) and intends to build 400 all-electric vehicles in 2010. It also expects to be producing several thousand electric vehicles at the plant annually within the next few years.
"The all-electric delivery vehicle is a concrete example of what business and government can do when we work together," said Dan Ustian, Navistar chairman, president and chief executive officer, during Obama's visit. "The future is now with this electric vehicle. In fact, we already have interested customers, including some of the most respected names in the industry."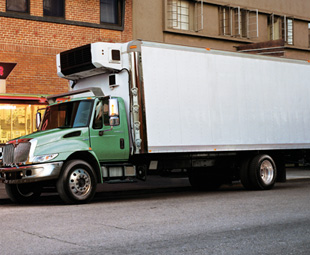 Navistar isn't new to the alternative energy environment. In November 2007, it launched the class 6 medium-duty International Durastar Hybrid, becoming the first original equipment manufacturer to enter assembly-line production of hybrid commercial trucks. The company expanded its hybrid product portfolio further in October 2008 with the launch of the class 7 International Durastar Hybrid Tractor, and again in March of this year with the class 7 severe-service International Workstar Hybrid.
In addition to Navistar, other manufacturers will also receive large grants to create electric vehicles and components. On the same day that Obama visited Navistar's Wakarusa plant, US vice president, Joe Biden, visited Detroit – home of General Motors, Chrysler and Ford – to deliver the good news.
"For our nation and our economy to recover, we must have a vision for what can be built here in the future – and then we need to invest in that vision," stated Biden. "That's what we're doing today and that's what this Recovery Act is about."
Owing to Detroit's dependence on the auto industry, a lot of grant money will be invested in this city. Together, General Motors, Chrysler and Ford will receive around $400 million (R3.2 billion) to manufacture advanced hybrid and electric vehicles, as well as batteries and electric drive components. Michigan-based component manufacturers A123, Johnson Controls, Compact Power and Dow Kokam will receive over $800 million (R6.4 billion) in grants. Three educational institutions in Michigan – the University of Michigan, Wayne State University and Michigan Technological University – will also receive a total of more than $10 million (R80 million) for education and workforce training programmes to train researchers, technicians and service providers, and to conduct consumer research to accelerate the transition towards advanced vehicles and batteries.
It is heartening to see that the Obama administration is sticking to its promise of encouraging alternative energy research. The global recession – and the effect that it has had on the automotive industry – has the potential to severely stifle research into hybrid, alternative energy and electric technologies. But by providing this incentive, the US government has ensured that this vital research will continue.
Focus on Transport
August 4, 2009
Published by