Long-haul lifestyle; long-haul attitude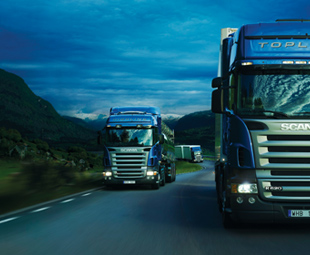 Since its re-entry into the South African market in 1995, Scania has made it abundantly clear that it is here to stay. Continued investment despite a deepening recession confirms the seriousness of this attitude, as does the manufacturer's determination to continue its market growth through a range of customer support system.

According to Christoffer Ljungner, managing director of Scania Southern Africa, professionals in the commercial vehicle industry survive because their products deliver more uptime.
For Scania, this is achieved through a combination of class-leading systems, products and service offerings that together ensure complete customer support, in both the new and used truck markets.
From the manufacturer's extensive top-end product range, to an efficient assembly plant, dedicated maintenance programmes, approved second-hand dealerships, strong new and second-hand parts support, in-house finance options, a successful training support programme and an ever-growing dealer network, Scania's core goal is to make sure that Scania trucks remain on the road – whether they have done a few thousand kilometres, or a few million.
"It is this attitude towards customer service that has ensured our continued market growth during these troubled times," reveals Ljungner. "Scania always tends to increase its market share in tough times.
"We reached a market share of 5.6% for the calendar year 2008, and this has grown to 9.7% during the first four months of this year. Our long-term aim is to maintain that extra market share we have gained during this period of recession."
Scania's current market achievements are the product of steady investments, which in itself is the product of an optimistic attitude.
"We have long believed that the African market as a whole is one of growth and a strong future," continues Ljungner. "We fully believe in the outlook of South Africa in the long term, and want to ensure we have firmly established ourselves within this market for a long and prosperous future here."
INVESTING IN THE FUTURE
In 2008, Scania spent R25 million upgrading its assembly plant in Aeroton. In addition, three new service facilities were launched over the past year, in Beaufort West, Nelspruit and, most recently, Rosslyn.
"We are steadily gearing ourselves towards being able to handle an increased product demand, which means we need to be able to handle bigger sales volumes, particularly regarding after-sales support," says Ljungner.
The strategic location of the manufacturer's branches is also designed to cater for certain areas which have previously needed to rely on dealerships further away.
For example, the Rosslyn branch will cater for the country's northern region, particularly transporters who operate in the Rustenburg and Polokwane areas. Operational since April, the branch's performance to date clearly demonstrates the need for a Scania service centre in that region, and the manufacturer will continue scouting new areas for development based on the same principals.
Speaking at the official launch of the Rosslyn branch held in early August, dealer manager Willie du Preez announced to the company's gathered client base that the Rosslyn service centre is dedicated towards making the lives of Scania customers easier.
Previously, operators within, and to the west and north of Pretoria, had to travel to Aeroton to service their trucks. The time and distance involved in this operation was too lengthy for Scania's liking, particularly as the manufacturer's key aim is to keep its trucks on the road.
"Because we are now closer to you, we are able to give you what you need sooner," continued Du Preez. "Our state-of-the-art facility is also perfectly geared towards providing you with a dedicated maintenance programme that not only ensures the longevity of your trucks, but can detect and handle potential problems before they occur, saving you from costly downtime."
Du Preez's words were not limited to the new Rosslyn branch, however. A product can only be as good as its back-up support, and Scania is intensely aware of this.
For example, the manufacturer's flagship dealer in Alrode was officially opened on 1 September 2008 after moving from its inadequate original premises near the Scania head offices in Alrode.
The move encompassed relocating tonnes of tools, gantries, lubrication systems, workshop equipment and accessories, parts inventory and other items into the new dealer's massive workshop space, as well as the relocation of the sales and finance staff and all their furniture, files and computers.
According to Dave Barclay, dealer manager of the Alrode facility, his is the largest stand-alone Scania dealer in Southern Africa, as well as the first Southern African Scania dealer to earn Scania Dealer Operating Standards (DOS) 3 approval, equivalent to an ISO operational standards rating.
"The process of implementing Scania Sweden's DOS programme took several months, but it's a coveted certification to have achieved," says Barclay.
The Alrode dealer is also home to a conglomerate of operations, including both new and approved used Scania sales teams, the Scania finance head office, and a large parts holding centre, complete with customer service counter.
The dealer's massive workshop area has 12 service bays, two with full-length pits, and depending on vehicle size, can accommodate up to 36 trucks at a time.
"The workshop staff is dedicated to the uptime cause," continues Barclay. "We have 17 qualified technicians, including a few female members, and eight apprentices, so the work gets done quickly."
To ensure quality work, a workshop manager controls two foremen and two service advisors, along with a quality controller, ensuring that service standards are never compromised.
KEEPING TRUCKS ON THE ROAD
Scania's core mission is to keep its trucks on the road, running at maximum efficiency. This is achieved in a number of ways. First, the products are designed and assembled to be class leaders.
The Scania Production System is designed and implemented in such a way that, although Scania is extremely proud of its product range, it is also always improving and expanding on that range.
"That's what makes the difference between our truck and a slightly more moderately priced truck," says Ljungner. "The Scanias we sell today are the best-performing products ever – every truck we make is better than the last one. Customers are telling us this all the time."
A well-chosen and -placed product must have after-sales support, however, which is ultimately where downtime is avoided and uptime is championed.
Scania's maintenance regimen relies on a strict maintenance schedule based on using only Scania-approved parts and checking key areas and components of the truck and its engine in order to catch and address any problems before they arise on the road.
The system certainly has its champions. According to Theuns Naude, product sales support at Scania in Aeroton, if a Scania truck is well maintained and driven properly, a set of brakes will last up to one million kilometres, such is the support that can be given to a well-designed, high-tech product.
Similarly, as BM Swanepoel of BM Hauliers and Logistics will attest to, a well-maintained Scania will certainly go the distance. Swanepoel is the proud owner of a Scania 143 Streamliner V8 truck-tractor that currently boasts 1.6 million km on the clock with no engine or gearbox overhauls. A strict service regime has been more than enough to keep what can only be termed a well-tended old lady on the road.
Which is why Scania has also launched its Approved Used Scanias division, which sells used Scanias at a reduced price to new vehicles, but still carries a maintenance plan and Scania's stamp of approval.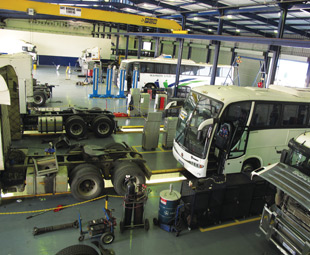 "Scania Southern Africa is the first distributor outside of Europe to launch the Scania Approved vehicle division to customers in the African subcontinent," says Leon du Plessis, Scania Southern Africa's national sales manager for used vehicles.
"We have identified a growing market across the entire region for well-maintained, used 6×4 vehicles and have therefore launched Scania Approved truck parks with dedicated sales teams at all our dealers, in order to satisfy customer demand for these vehicles.
"Fortunately, we have a supply of good quality stock in excellent condition to supply that demand, usually in the form of trade-in vehicles from regular customers renewing their fleets.
"Scania's trucks are renowned for their excellent durability, power output, reliability and fuel economy," adds Du Plessis. "And all sensible Scania owners obviously send their trucks to our Scania dealers for in-warranty servicing and maintenance. We have highly skilled technicians trained at the Scania Training Academy in Aeroton, and, of course, they use Scania parts for all maintenance and servicing."
The result is that a well-maintained Scania becomes a viable, valuable proposition when a customer wants to trade in and upgrade to a new Scania. A full service history and considerable capacity for an extended working life makes them ideal candidates for Scania's "Approved" fleet of used trucks.
"All the Scania Approved vehicles come with full service history," continues Du Plessis. "They have been maintained by Scania-trained technicians at Scania dealers using Scania parts, so we basically know these vehicles almost like family."
Another plus to this division is that it helps Scania keep unsafe vehicles off the road. If a trade-in is not worthy of the Scania stamp of approval, it is stripped down for parts or scrapped.
The benefit of this entire process is of course that trucks are kept on the road for longer, with far fewer avoidable breakdowns. For those who cannot afford to upgrade their fleet, they can hang on to their Scanias for longer, and for those who cannot afford a new Scania but need to add to their fleet, approved used trucks are available at up to a third less than new vehicles.
FINANCE
Of course, despite the availability of both new and used trucks, complete with extensive maintenance contracts, without financing there can be no trucks.
The recession, level of bad debt and rising repossession rate have forced a number of finance houses to tighten their lending criteria. The result has been a gap in the market for in-house finance houses that not only know the transport and trucking business, but are able to determine an operator's cost-per-kilometre (cpk) and whether his/her business can sustain his loan. They are also able to perform regular checks on the fleet to ensure the assets are well maintained, and because Scania offers a complete finance package, including insurance, a tight watch can be kept on all clients from a number of angles.
While this might all sound a bit Orwellesqe, the benefits lie squarely with the customer who is able to receive finance.
Scania Finance's is tied to Scania Southern Africa, but ultimate independence from any other finance or insurance houses – as well as much of the legislation, such as Basel 2, which governs the large finance houses – also allows for a large degree of flexibility.
Customers can own, lease or rent a new or used Scania through several flexible finance and insurance packages. These packages can include any number of additional benefits, such as maintenance contracts comprising the full Scania dealer network, parts support, roadside assistance, fleet management systems and driver training.
"We have our own independent funding, with no joint ventures with any South African banks," says Gerard Van Keulen, managing director of Scania Finance Southern Africa. "Scania Finance is the final decision maker, complying with our own internal policies.
"The company follows a package concept, providing a raft of finance and insurance products for any transport-related assets, including vehicles, trailers, accessories, modifications and even cargo-related liability. Part of the package is also custom-made maintenance contract packages from Scania Southern Africa to be included into our contracts to suit our customer needs.
"Although the prices of our Scania trucks differ from other manufacturers on the market, our customers are buying into a sophisticated, mature infrastructure with excellent products and superior service. Because Scania dealers are all Scania owned, internal communication channels are shorter, response times are faster and customers only have to deal with one finance person."
Van Keulen also believes that Scania Finance deals with its customers in a different way. "We don't indulge in reckless lending," he says. "We're interested in good, sustainable, profitable businesses, and adopt a synergistic approach to our clients' business needs, where one plus one equals three."
He also believes that when times are tough, the last thing a customer needs is an unsympathetic business partner. "Customers need an umbrella when times are tough," he adds. "We actively help our customers to resolve any operational problems. For example, we try to assist them in restructuring their payment plans, and if necessary, their fleets.
"We can offer to take back some vehicles, which reduces their obligation. We have even been asked to mediate with other banks on a customer's behalf, to restore trust in that company."
As Scania Southern Africa expands its dealer network into the subcontinent, so too does Scania Finance, offering customers the same excellent products and services.
PRODUCTS
"Two years ago, Scania Southern Africa's truck range was limited to long-haul tractors in a range of only eight models," says Alec Mack, Scania Southern Africa's national sales director. "The strategy has been to expand our products beyond the long-haul market for customers who need a wider variety of vehicles. Today, Scania has a wide range of trucks in 32 configurations across its P-, G- and R-Series models.
"Naturally, these include our legendary V8-powered long-haul tractors, as well as standard and long-wheelbase distribution vehicles, light and heavy construction models, and specialised ADR-compliant hazardous cargo haulers in rigid and tractor variants."
Scania also has a variety of special and public vehicle applications; fire engines with chassis and body combinations designed for various applications; and a wide range of bus and coach chassis and body combinations.
"One benefit of having a European parent is that we can supply certain Euro 4-compliant chassis to those customers that require them, in line with Scania's corporate philosophy on environmental impact," adds Mack. "An example of this is the Euro 4-compliant ADR tractor and rigid tanker models, with power outputs from 340 to 500 hp, used by Total and Unitrans to distribute fuel products."
Scania has added an array of task-specific vehicles to its heavy-hauler range, and now offers various chassis/engine combinations for construction, distribution, timber, medium tractor, fire engine and bus/coach applications.
In the last 18 months, Scania has distributed 24 assorted demonstration vehicles to its dealers around the country. "When times are good, it's easy to make money in the trucking industry. Anyone can," says Mack. "In tough times, small producers of inferior products and sub-standard service fall by the wayside. Customers go back to trusted brands with reliable products and impeccable service. That's why Scania does so well in tough times.
"We've always offered our customers a complete package; the product itself with its excellent quality, reliability and warranty, finance and insurance options, service and maintenance contracts and trade-back opportunities with excellent residual value. The basis for this revolves around an excellent product.
"The next Scania is the best ever," he continues, "thanks to our policy of continuous improvement inherent in the Scania Production System which has been implemented at our upgraded assembly plant in Aeroton. As a result of this, our warranty costs have declined by 30%, and warranty breakdowns have dropped by an impressive 60%.
"A factor that has helped us achieve a growth market share is that all Scania dealers in South Africa, and those in Botswana, Namibia and Tanzania, are owned by Scania Southern Africa. Our national sales team has expanded to 21 personnel and is highly trained. We're ready for the market share we want, perhaps 10 to 15% by 2010," adds Mack.
This year, Scania also celebrates the 40th anniversary of its famous V8 engine. After sanctions ended in post-apartheid South Africa, Scania returned to the local market in 1995 with its 143 Series 270-hp V8. Today, the V8 powerplant delivers up to 620 hp.
COMPLETING THE PACKAGE
In this month's Global FOCUS (pages 66 – 70), Frank Beeton discusses the current trend in North America of manufacturers becoming increasingly self-sufficient. In this regard, Scania is unquestionably ahead of the times. Not only has the manufacturer always maintained ownership of all parts and components – most notably its engines – it has extended this self-sufficiency to its entire value chain. The complete product support offered by Scania means that it's trucks will be on the roads for longer, which in turn means operators can do what they do best – move goods.
Focus on Transport
August 1, 2009
Published by