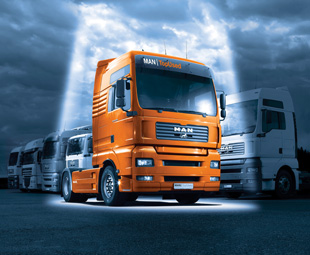 With the trend towards purchasing used rather than off-the-shelf vehicles, original equipment manufacturers (OEMs) have realised that there is a market for their "previously loved" vehicles and they have stepped up to the plate to fill this growing gap. KIM KEMP investigates the options available.
With rocky economies around the globe, fleet owners of varying sizes have taken to purchasing pre-owned vehicles rather than new ones, believing that they still have what it takes to meet the local demands. In turn, OEMs have found an outlet for traded-in stock in the growing market of fleet owners, who are counting pennies and trying to bring operational costs down by buying used vehicles.
Out are the seedy back-lots, where a second-hand vehicle salesman slides up to you, grinning wolfishly while he conjures up ways to relieve you of your hard-earned dosh, and in are sophisticated, high-tech showrooms, displaying gleaming previously owned vehicles that come complete with warranties and service plans. (Normally the sale of extended warranties follows a similar trend to the maintenance contracts on offer. They are, however, restricted in terms of the age of the truck and the mileage, as these are the major deciding factors.)
While, all too often, pricing is the criteria when purchasing a used vehicle for start-up operations looking to reduce their operational costs, there are a number of other factors also contributing to the growing trend, including the availability of affordable finance, parts and accessibility.
Jacques Carelse, managing director of UD Trucks Southern Africa points out: "When trying to sell any added-value products to a customer purchasing a used truck, there are quite a few influencing factors that play a role. These include the age, the current condition and the odometer reading of the truck. Whether the truck selected is fit for the operation in which it is to be used should also be considered."
UD Trucks Southern Africa offers three different value-added packages, which are dependent on the criteria as stated above. For example, a full maintenance contract that is only applicable to used trucks that are less than one year old with less than 60 000 km, which is normally a demo vehicle.
Carlese adds: "We offer a service contract that will cover the cost of all services over a designated period and mileage, whichever occurs first, as requested by the customer. We also, however, offer a service contract with the additional cover of a limited number of clutch and brake overhauls. Often this cover is structured according to the customer's requirements."
He adds: "Pricing is very sensitive in the used truck environment, and very often the type of customers who purchase used trucks that are already five years and older, or have mileages in excess of 650 000 km, show no real interest in any added-value products. They simply see this as additional running costs!"
UD Trucks has an extended warranty solution on offer, which may be purchased from Motorite at an additional cost. The package will be determined by the registration date of the truck and its current mileage. It will be limited to trucks that are not older than 84 months and have done less than 750 000 km.
MAN Truck & Bus AG is aiming to increase the status of its TopUsed brand in both Europe and South Africa. Executive Chairman of MAN Truck & Bus South Africa (SA), Geoff du Plessis, finds that having a buy-back agreement, signed with the supplier at the point of sale, gives the customer considerable peace of mind. Du Plessis notes that the transport industry in the southern African region is growing rapidly and its demands are unpredictable. Moreover, in a market where cost-predictability is becoming increasingly important for transport operators, MAN gains a distinct competitive edge.
MAN Truck & Bus SA has a Price Expert Panel that meets every three months to set mutually beneficial prices that are market-related and competitive. The company offers a comprehensive range of used vehicles – regardless of whether Euro 3, Euro 4 or Euro 5 – and services, aided by a handy iPhone app that hunts down the desired vehicle specs for you, worldwide.
As an extension of the MAN brand, TopUsed provides 100 percent transparency on the status of every TopUsed truck or bus. This is available so customers can be certain that the mileage on each vehicle is genuine and that every vehicle has been thoroughly checked.
The OEM also offers individually tailored services that include comprehensive leasing and financing solutions. All vehicles purchased through MAN TopUsed come with a warranty, and maintenance and repair contracts are offered as optional extras.
There are also companies that buy only pre-owned vehicles. Bertie Denyssohen, transport manager for Clotan Steel, says that the company never purchases new vehicles, as used trucks have parts "that are already run-in". He adds that comparative pricing between a new and used truck is substantial and that plays a major role in the decision. Despite the age of the trucks in his fleet, spares are still available, and so the brand also forms part of the decision-making for purchasers of used vehicles.

In order to cope with the growing demand for used vehicles, in 2012, Mercedes-Benz opened TruckStore, in Centurion, which is based on the European model. TruckStore is Europe's number one address for buying and selling used commercial vehicles, with 31 sites in 15 countries. The facility also offers a user-friendly online website where potential customers can see vehicle photos, prices and detailed descriptions of used commercial vehicles.
Offering a selection of brands, ages and types, all the vehicles are classified as Gold, Silver or Bronze according to clearly defined TruckStore standards. This classification serves as a reliable confirmation of the age, condition, mileage and service component of the vehicle. The company also offers an extensive range of services for used commercial vehicles such as finance, insurance and warranties.
According to Scania, used vehicle customers tend to concentrate their purchases during the last half of the year, when they have a clearer overview over the current year's financial means; whereas new-vehicle customers tend to concentrate their purchases during the first half of the year, which correlates with the new financial year. "Looking at the used vehicle market for 2014, we can see that, so far, it is on par with last year," says Alexander Taftman, product and marketing director at Scania.
"What all purchasers have in common, though, is the need of uptime and value-added services. Scania, therefore, offers the same range of services for new as well as used vehicles," he adds. This includes: a network of dealerships and workshops; parts availability; Scania Assistance; different warranty packages; finance and insurance solutions and service, repair and maintenance contracts.
It seems that the used vehicle trend will continue, as long as the used vehicles on offer come with the reliability and affordability being sought by the market.
Focus on Transport
July 1, 2014
Published by