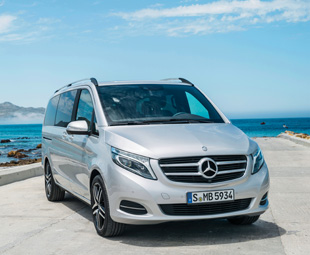 Mercedes-Benz states that it is redefining the multi-purpose vehicle (MPV) with the new V-Class. JACO DE KLERK takes a look at this youngest member of the star emblazoned people-movers
Usually a minivan is associated with the likes of a soccer mom ferrying a car full of kids to games, school and an array of other extracurricular activities as she goes about being a wonder woman in all that she does (mothers are definitely some of the greatest people on earth). But these multi-purpose movers don't just operate in the realm of private passenger vehicles, they usher various business gurus to and from their accommodation while away from home during their trade activities, or are used to drive prominent guests to red-carpet events.
And the new V-Class from Mercedes-Benz, the company's latest addition to its luxury people movers, will ensure a cool and comfortable ride for business professionals and VIPs alike.
"With the new V-Class we are expanding the Mercedes-Benz premium passenger car range with a saloon for up to eight people," says Dieter Zetsche, chairman of the board of management Daimler AG and head of Mercedes-Benz Cars Division. "Functionality is a must for an MPV. Comfort and style are the icing on the cake. The new V-Class combines both in a way that no other vehicle in this segment can offer."
And it would seem that the V-Class lives up to this statement as it has 11 driver-assistance systems to ensure driving comfort and safety. The company states that these are based on modern radar, camera and ultrasound sensors.
The standard equipment includes crosswind assist, which, as the name suggests, stabilises the V-Class in strong gusts of crosswind, and attention assist – which can warn of inattention and fatigue on the part of the driver. Optionally available is active park assist. Mercedes-Benz states that this makes parking the new MPV as easy and convenient as parking a compact car.
Other options available are a 360-degree camera, Distronic Plus proximity control with collision prevention assist, traffic sign assist with wrong-way warning, lane keeping assist, blind spot assist, an all-LED light system and adaptive high-beam assist.
The European V-Class is powered by a 2,1-litre four-cylinder turbodiesel, featuring two-stage turbocharging, and is available in two power output levels: The V 220 CDI, which offers 120 kW and 380 Nm, and the V 250 BlueTEC with a power output of 140 kW and 440 Nm of torque.
The vehicle will be available in two body lengths: a short-wheelbase of 3,2 m, which has a overhang of 1,045 m, as well as a long-wheelbase of 3,43 m with the same overhang length. The standard vehicle height is 1,88 m, allowing the V-Class to enter multi-story car parks and other areas that have height restrictions.
As for the seating capacity, the V-Class comes standard with four individual rear seats in two rows that can be moved forward to improve access and increase trunk space. An optional folding table can be installed between the individual seats in the first row.
For drivers with greater seating needs the back rows can be customised with a two- or three-passenger bench seat with individually folding backrests. Exiting the vehicle, regardless of the seating arrangement, is made easier with a rear sliding door.
But exiting isn't the only thing that's a breeze; the tailgate has easier access as the rear windshield can be opened separately – very handy for when you find yourself in a tight parking position.
Additional standard features on the V-Class include leather seats and steering wheel, ambient lighting, wood-look trim and laminated windows for additional noise reduction. This latest addition to the moving people family also offers all the gadgets and infotainment elements associated with the company's executive cars.
"The introduction of the V-Class is testament to our mandate to continuously increase functionality, comfort and style across our range of vehicles," says head of Mercedes-Benz South Africa Vans, Nicolette Lambrechts. "Its versatility and safety credentials will certainly ensure that this vehicle becomes a future icon among South Africans."
Local pricing and verification of engine ranges will be confirmed closer to the South African launch, which is expected at the end of the second quarter of 2015.
Focus on Transport
February 1, 2014
Published by