WABCO delights with more innovations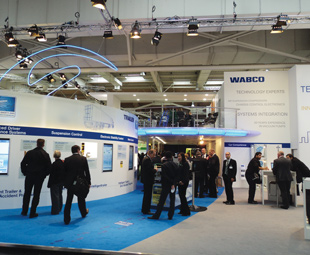 At the IAA, Wabco showcased safety and fuel saving systems which South Africans will probably see in new trucks, buses and trailers in the near future.
For over 140 years, WABCO has pioneered breakthrough electronic, mechanical and mechatronic technologies (OEMs) for braking, stability and transmission automation systems that it has supplied to the world's leading commercial truck, trailer and bus manufacturers. It showed its leadership again at the IAA Commercial Vehicles 2010 show in Hannover, Germany, where it showcased its new "suite" of state-of-the-art-technology.
A major feature was its new breakthrough OnGuardPLUS technology, an advanced emergency braking system (AEBS). Also called a collision mitigation system (CMS), it is an improvement on the OnGuard system, which it introduced in North America two years ago. The new system has been designed to meet EU requirements for AEBS systems when they become mandatory in November 2013. It will be available from 2012 for trucks and buses worldwide.
Expect these systems to come to South Africa too as OEMs offer them as standard or optional in new trucks and buses. Basically, OnGuardPLUS fully applies brakes in imminent collision situations, when reacting to moving vehicles ahead as well as decelerating vehicles that come to a standstill. It autonomously initiates emergency braking, enables maximum possible deceleration and can bring the vehicle to a complete stop. It also reacts to stationary vehicles, for example, when approaching traffic congestion.
WABCO's latest fuel-saving breakthroughs include the OptiDrive transmission automation system, recipient of the 2010 Automotive News PACE Award, the automotive industry's benchmark for innovation. By optimising gear shifting, OptiDrive improves vehicle control while enhancing the driver's effectiveness. The company claims it can also save up to 5% on fuel consumption; a major cost saving and environmental benefit over the vehicle's lifetime.
WABCO clutch compressors boost fuel efficiency by optimally disengaging a truck or bus compressor from the engine when the vehicle's air system reaches full pressure. This latest innovation, it is claimed, saves up to 1 000 litres of fuel in long haul operation, annually, while reducing carbon dioxide emissions by as much as 2 600 kg.
TRAILERS
As usual, WABCO had a number of new innovations for the trailer industry too. WABCO's straightforward, modular electronically controlled air suspension (ECAS) system for trailers, with lifting axle control, has been upgraded, benefiting both the vehicle owner and the vehicle manufacturer. Its benefits over leaf spring suspension systems – these benefits include improved operating and driving comfort, load protection and a constant chassis level – have been further enhanced by several useful system extensions.
ECAS essentially consists of a pre-wired ECU, a level sensor, a solenoid valve and a remote control unit. If combined with WABCO's Vario Compact ABS for trailers (VCSII) or the ECAS system for trailers (Trailer EBS D), ECAS facilitates easy and quick installation and a reliable diagnosis. The main ECAS functions are also included in the new Trailer EBS E Modulator, and can be easily accessed.
During the show, WABCO announced that its Intelligent Trailer Program had won the 2011 Trailer Innovation Award in recognition of its "suite" of innovative technologies that contribute to safer and more efficient trailer operation.
WABCO's Intelligent Trailer Program, available worldwide, includes its latest innovations in trailer technologies such as:
• TrailerGuard, a state-of-the-art telematics solution;
• the TailGuard system for safer driving in reverse;
• OptiTurn, for driver support when manoeuvring and steering through curves;
• OptiLoad, which automatically redistributes cargo weight to avoid trailer axle overload;
•  the Trailer Immobilizer, a security innovation that increases protection against trailer theft;
• and the Trailer Remote Control, an in-cabin device to increase safety and operational effectiveness.
WABCO also demonstrated innovations with lighter materials and engineered optimum ratios for weight and performance. Its new generation of NG22MAX heavy-duty air disc brakes now weigh 13% less than comparable products.
WABCO compressor crankcases, made  of aluminium, weigh 40% less than grey iron ones, while its single-cylinder high output compressors weigh 20% less than twin-cylinder models with equivalent performance.
With sales of US$1,5 billion in 2009, WABCO is headquartered in Brussels, Belgium.
Focus on Transport
November 1, 2010
Published by