Western Europe's gruelling 2009 sales figures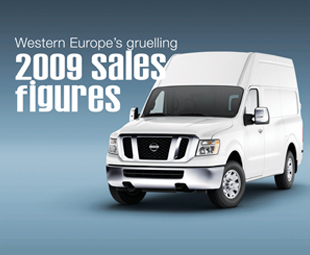 Western Europe's light commercial, medium truck and heavy truck market results for the 12-month period ending December 2009 are now available. In this context, "Western Europe" is defined as consisting of France, Germany, Italy, Spain, the United Kingdom (UK), Eire/Ireland, Belgium, Luxembourg, the Netherlands, Denmark, Finland, Norway, Sweden, Austria, Switzerland, Portugal and Greece. "Light commercials" have gross vehicle mass (GVM) ratings of between 3.5 and 6.0 t, "medium trucks" are defined as those with GVM ratings of between 6.1 and 15.9 t, while "heavy trucks" gross at 16 t and above. Because European regulations allow the heaviest two-axled models to operate up to a gross mass of 19 t, the medium and heavy truck categories make no clear distinction between two-axled and multi-axled units. However, European manufacturers' product families usually fall entirely within one or other of these groupings.
In the light commercial vehicle (LCV) category, the total market volume of 298 732 units recorded for the twelve-month period ending December 2009 was 30.6% down on the previous year's results. With a market share of 20.4%, Mercedes-Benz was the overall segment leader, followed by Ford with 14.9%, Iveco with 14.1% and Fiat (reported separately from Iveco) at 11.7%. Of Western Europe's individual national markets, Ireland's was hardest hit by the global recession during 2009, ending 64.5% down in the year-on-year comparison. With a downturn of only 14.7%, Switzerland was least affected. While Mercedes-Benz was the dominant single brand in Germany, Belgium, the Netherlands, Denmark, Finland, Norway, Sweden, Austria, Switzerland, Portugal and Greece, Ford led the way in the UK and Ireland. Iveco came out tops in Italy and Spain, with Renault the brand of choice among most operators in France and Luxembourg.
LCV manufacturers recording improved market share performance in Western Europe during 2009 compared with their 2008 results included Mercedes-Benz, Ford, Fiat and Volkswagen. Iveco, Renault, PSA Peugeot-Citroen and Nissan, on the other hand, lost some market penetration.
In the medium truck category, the total market volume for this period ended 33.1% down on the previous year at 49 197 units. Once again, Mercedes-Benz was the overall segment leader, achieving a penetration of 28.4%. With its 24.3% market share, Iveco occupied second place, followed by MAN at 17.0%, and Paccar (mainly with DAF product) at 10.3%. In the individual national markets, Ireland once again suffered the greatest year-on-year decline at 64.5%, while Switzerland was only 8.8% down on its results for the previous year. With Mercedes-Benz leading the sales listings in Germany, Ireland, Belgium, Luxembourg, the Netherlands, Finland, Norway, Switzerland and Greece, Paccar – still with a manufacturing presence in Lancashire – continued to dominate the UK market segment. Iveco was brand of choice in Italy, Spain, and Denmark, MAN dominated the segment in Austria, Volvo came in first in Sweden, and in Portugal Mitsubishi Fuso (reported separately from parent Mercedes-Benz) was the clear leader.
The only manufacturer reporting improved overall market share on the previous year's results in Western Europe's medium truck category was Mercedes-Benz. While Paccar held steady, reduced penetration was recorded by Iveco, MAN, Renault, Fuso and Volvo.
In the heavy truck category, the period ending December 2009 saw a total market volume of 149 560 units achieved; 44.1% less than the 267 355 sales recorded one year earlier. As in the LCV and medium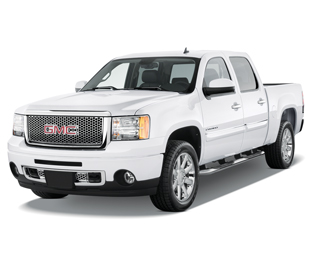 truck categories, Mercedes-Benz emerged as clear market leader with 21.3% penetration, ahead of MAN (16.1% share), Paccar (14.7%), and Volvo (13.5%). Of the individual nations, Ireland's market once again suffered the most severe year-on-year downturn at 75.3%, while Switzerland was only 16.5% off its 2008 return. The rankings in individual national markets with resident vehicle manufacturers reflected the usual strong preferences for local players. Mercedes-Benz led the field in Germany, Luxembourg, Switzerland and Greece; Iveco in Italy and Spain; Renault (reported separately from parent Volvo) in France; Paccar in the UK and the Netherlands, and MAN in Austria. Of the two Swedish manufacturers, Scania led narrowly in its home market as well as in Denmark, Finland and Norway, while Volvo took the honours in Ireland and Belgium.
Winning brands in the Western European heavy truck market during 2009 included Mercedes-Benz, MAN, Paccar and Scania, with Iveco, Volvo and Renault shedding market share.
Hyundai heads for Australia
With the Hyundai-Kia Automotive Group having quietly and steadily worked its way up to  fourth position in world rankings of motor manufacturers by number of units sold, it will come as no surprise to students of
the industry if the South Korean giant makes a very serious challenge for global leadership in the not-too-distant future. Its marketing strategy has been to provide reliable mainstream products of good value to the world's major markets, with manufacturing presences in the United States of America (USA), Eastern Europe, China and India in addition to its South Korean home base. Although primarily known for its light passenger and sports utility models, Hyundai Motor Company is also active in the truck and bus markets, with four-axled goods chassis and high-deck touring coaches as its flagship products. The manufacturer reportedly claims that its Jeonju plant, opened in 1995, is the largest bus and truck production facility in the world.
Here in South Africa, we are already used to seeing large numbers of Hyundai HD65 and HD72 trucks on our roads. With GVM ratings of 5 700 kg and 6 700 kg respectively, these fall nominally into the medium commercial vehicle segment of our local market. However, Associated Motor Holdings' regrettable policy of not fully disclosing its sales statistics to the National Association of Automobile Manufacturers of South Africa (NAAMSA) makes an accurate assessment of the impact these models are making impossible. It does nevertheless appear that Hyundai intends developing its commercial vehicle business beyond the 100 000 units currently sold annually in South Korea and 90 select export markets. A recent announcement that the manufacturer will soon begin marketing trucks in Australia – a notoriously difficult region to crack – is a clear indication of its ambitious strategy for doubling truck and bus sales volumes to 200 000 units globally by 2013.
The models chosen for Hyundai's Australian debut are the HD45, HD65 and HD75. While bearing an obvious family resemblance to those already on sale in South Africa, the images portrayed in the Australian media do tend to suggest some improvements on local product levels. Rated GVM's are 4 500 kg, 6 500 kg and 7 500 kg respectively, with all models powered by the same 3.9-litre 4-cylinder SOHC 16-valve diesel with waste gate turbocharger, air-to-air inter cooling, electronic common-rail fuel injection, and cooled exhaust gas recirculation. This somewhat enhanced emission-control specification responds to the need to comply with Australia's Euro-4-equivalent ADR 80/02 standard. Differentiated outputs of 103 kW (138 hp) in the case of the HD45 and HD65 and 110 kW (147 hp) in the case of the HD75 provide appropriate levels of power to handle the GVM ratings.
The Australian market is being offered the choice between a slim-line day-tilt cab and a 300 mm longer super cab version. The vehicle layout is entirely conventional, with a self-supporting ladder frame chassis, three available wheelbase lengths, front-mounted vertical engine, five- or six-speed overdrive-top synchromesh transmission, steel suspension, front and rear shock absorbers, rear-drive axle, engine exhaust brake and vacuum/hydraulic service brakes. There are also some notable extras provided as standard, including electric windows, air conditioning, audio entertainment, electronic brake force distribution, ABS and ASR traction control.
Hyundai's entry into the Australian market will not go unnoticed by the likes of Isuzu,
Hino and Fuso who, collectively, have a hard-won, vice-like grip on the lower echelons of this sector of the Antipodean commercial vehicle industry; one which they are unlikely to surrender willingly. In many ways, Hyundai's efforts to establish a foothold in Australia will echo the tough process Japanese brands had to follow in order to win credibility during the second half of the 20th century. In the truck industry, what goes around has an irritating habit of also coming around, as Chinese manufacturers are likely to discover for themselves as this new century unfolds.
NTEA Show highlights
Between 9 and 12 March 2010, the National Truck Equipment Association (NTEA) held its 10th anniversary Work Truck Show in St. Louis, Missouri. This exhibition caters for vehicles the Americans call "vocational trucks", a term covering virtually anything other than a line-haul rig and notably including delivery vehicles, panel vans, tippers, truck mixers, refuse compactors and specialised construction vehicles. In addition to bringing together a host of truck-related equipment at a single venue, this year's show was also used to launch some interesting new vehicles.
•  Nissan Diesel's recent name change to UD Trucks Corporation has focused renewed attention on Nissan Motors' declared intent of becoming more active at the lower end of the global commercial vehicle market. At last year's Geneva Motor Show, the Nissan NV200 front-wheel-drive 4.1 m3 panel van was launched  in seven-seat functional Combi or more luxurious seven-seat car variants powered by a choice of Nissan petrol or Renault diesel engines. More recently, Global Focus tracked the expansion of the Cabstar/Atlas light truck range up to the development of its 5.4 t GVM NT400 variant. At the NTEA Show, however, a larger, more serious rear-drive NV van series was unveiled in NV1500, NV2500 HD and NV3500 HD versions. Following Nissan's nomenclature style for categorising its commercial vehicles, the "NV" prefix stands for "New Van". The significance of the numerical designators, in terms of payload or wheelbase, is less easily fathomed. Design features include a full-length bonnet with no engine intrusion into interior space, body-on-frame non-integral construction, and optional standard or high roofs on 2500 and 3500 designated models. Inside, there is a fold-down passenger seat, centre console and optimised load space allowing upright human access on high-roof versions, with square-top wheel boxes, near-vertical sides and built-in attachment points to obviate the need for after-sales drilling into the structure. Power choices will include a 4-litre petrol V6 or a larger 5.6-litre V8 unit, both driving through a five-speed automatic transmission. Clearly influenced by the NV2500 Concept put on the North American show circuit last year – particularly in terms of its ready adaptability to real-world working environments – the new NV Series will be built at Canton, Mississippi, for the USA and Canadian markets, starting in the third quarter of 2010.
• Navistar International used the Work Truck Show to unveil its new TerraStar Class4/5 commercial truck. Although the American idea of a light truck is a little different from our own, this North American GVM class runs from approximately 6.5 to 8.5 t, making it comparable with trucks in the upper reaches of the MCV segment in South Africa. The three-person, normal control, conventional cab design is similar to that of the locally-sold 7400 Series, and is claimed to be the largest and roomiest of its class in the USA market. Power is provided by a 6.4-litre, 300 kW (225 hp) International MaxxForce 7 V8 diesel, driving through an Allison 1000-Series automatic transmission. The MaxxForce 7 has a cylinder block of compacted graphite iron construction, and utilises EGR emissions technology. The initial production version has a 4×2 drive configuration, but a 4×4 model is planned for 2011.
• Daimler Trucks North America's Freightliner Custom Chassis Corporation (FCCC) – which manufactures chassis for the motor home, delivery, school bus and shuttle bus markets – exhibited a pre-production all-electric walk-in delivery van chassis at St. Louis. Developed before the recent introduction of federal grants and other financial incentives for alternative sources of power – and claimed to be the first in the industry to offer all-electric traction – this chassis was developed in partnership with Enova Systems and is based on FCCC's existing MT-45 WIV platform. It makes use of Enova's 120 kW all-electric drive technology, is rated in the 6.5 to 8.5 t GVM range, and utilises a steel ladder frame chassis. Lithium ion batteries providing a 160 km single-charge driving range were supplied by Tesla Motors, a California-based battery-electric vehicle manufacturer in which Daimler AG has a minor interest. These batteries can be charged from the grid in six-to-eight hours, and are also used to store energy from the van's regenerative braking system. Series production of the FCCC all-electric van chassis is scheduled to commence during the first quarter of 2011.
• General Motors used the St. Louis show to launch its latest GMC Sierra heavy duty premium pick-up. For some FOCUS readers, the concept of a pick-up truck as it is understood in the North American market may be a little hard to grasp. While most of the rest of the world appears quite happy with the sort of vehicle produced by Japanese marques in their Thai factories, a great many North American buyers still prefer something slightly larger and more powerful. The latest Sierra three-quarter tonner is powered by a 6.6-litre turbo-charged Duramax diesel that puts out 397 hp (that's 296 kW) and 765 lb-ft (1 037 Nm) of torque; the sort of power more usually associated with a rig hauling around
30 t of payload. This gives the pick-up a trailer towing capacity of more than 9 t, which should take care of any owner's horse box or luxury cabin cruiser. There is also a petrol engine option in the form of a Vortec 6-litre small-block V8 rated at 360 hp (268 kW) and 380 lb-ft (515 Nm). Basically a badge-engineered Chevrolet Silverado HD, the GMC Sierra is built in Flint, Michigan, and puts its prodigious power and torque to work through a 6-speed Allison automatic transmission. Other features of the more up-market Denali version include a four-bar chrome grille, body-colour bumpers, chrome door handles, and a choice of 18- or 20-inch polished forged-aluminium wheels.
Eicher looks to Volvo to broaden distribution
Indian commercial vehicle manufacturer Eicher Motors is reportedly asking the Volvo Group to assist with the global distribution of its products. Back in 2007, Volvo formed a joint venture with Eicher, into which the Swedish manufacturer subsequently transferred its Indian truck distribution and service network business. Volvo-Eicher Commercial Vehicles, which is 54.4% owned by Eicher, has also absorbed the Indian company's own commercial vehicle business and its related component and design operations.
Eicher believes that it can play an important role in enabling the Volvo Group – whose Mack, Renault, UD and Volvo nameplates are currently perceived as premium brands – to take on cheaper competition from India and China; particularly in developing markets in Latin America, Asia, Africa and the Middle East. Historically, Eicher's product range has been deeply rooted in Mitsubishi design, so it will be interesting to see if future products are developed in such a way as to create a more obvious visible association with one or other of the brands in Volvo's global family.
---
Global FOCUS is a monthly update of international news relating to the commercial vehicle industry. It is compiled exclusively for FOCUS by Frank Beeton of Econometrix.
Focus on Transport
April 1, 2010
Published by