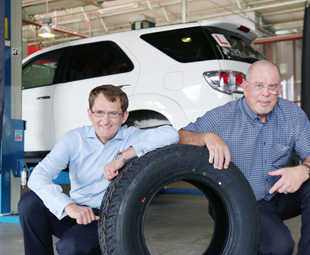 Back in 1987, André Wentzel's name was drawn, from over 63 000 entries, as the winner of the Firestone "Tyres for Life" competition. Last week he fitted a set of Bridgestone Duellers – his ninth set of tyres from the competition – to his current vehicle; a Toyota Fortuner.
"Back when Andre won his prize, Firestone and Bridgestone were separate companies," explains Bridgestone PR manager, Desirée van Niekerk. "It was only in 1997 that Firestone South Africa became a member of the Bridgestone group."
The original prize – the S211 tyre – was discontinued in favour of newer designs when Firestone became part of Bridgestone. Thus, Bridgestone has allowed Wentzel to choose any tyres from the Bridgestone or Firestone ranges whenever he needs a replacement set.
"I was driving a Volkswagen Fox in 1987," says Wentzel. "The previous sets were all for sedans – this is the first set of SUV tyres I've received."
Bridgestone CEO, Mike Halforty, was on hand to present the new set of tyres, after which they were fitted to Wentzel's vehicle at the company's Isando head office.
"We wish André many safe and enjoyable journeys on his new tyres," says Halforty, "And we look forward to welcoming him back in the future for the next instalment of his prize!" he concludes.
Focus on Transport
February 12, 2015
Published by