When 1 500 hp and 26 axles is what it takes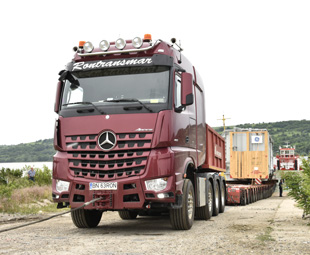 Transporting a 230-t transformer is not exactly an easy task… Just ask Rontransmar, the largest Romanian specialist transport company, which recently did just that between the Romanian port of Constanta and the city of Ploesti.
For this task, Rontransmar used a Scheuerle InterCombi vehicle combination featuring 26 axle lines – unusually large for towed vehicles.
At the port Rontransmar loaded the InterCombi platform trailers onto a barge. Using the ship's cranes, the transformer (measuring 11,4-m long, 4,20-m wide and 4,3-m high) was placed directly on the vehicles.
"In spite of the relatively steep ramp leading to the barge and the extremely concentrated load, driving off was no problem. The InterCombi modules can be controlled with a high degree of precision and, at the same time, are very robust", noted Rontransmar founder, Vlad Lechintan.
The first excitement arose when moving off the barge at the inland port of Oltenita: a challenge involving the 1 118 kW (1 500 hp) and 5 000 Nm torque of the truck tractor against the ten-percent ramp gradient, followed by negotiating a gravel track that had been softened by the rain.
The next challenge was the ring road around Oltenita. Here the Rontransmar team had to deal with a difficult slalom course in order to avoid the numerous high-voltage and telecommunication cables along the route.
When approaching the final destination, things became very tight once more. A 90° bend on a very steep stretch of road added close to half an hour to the transportation time.
Here, the InterComi platform trailers could fully utilise their manoeuvrability and directional stability, and, as a result of the hydraulic axle compensation, ensured a safe and even position of the load. The rest of the route, along with the unloading operations, passed off smoothly.
Rontransmar has been moving heavy loads across Europe for more than ten years using its fleet of Scheuerle InterCombis with a total of 35 axle lines. The modular platform trailers can be coupled in both longitudinal and transverse directions.
With a technical axle load of 45 t and strong frame construction, the Scheuerle InterCombis can be combined with a wide range of decks, load distributors, or bolsters in order to meet the operator's requirements.
Focus on Transport
September 14, 2017
Published by