When is a van not (just) a van?
The humble van is about to become so much more. CHARLEEN CLARKE attends the Van Innovation Campus, hosted by Mercedes-Benz, and discovers that the van is destined for great things…
Imagine you've just arrived from outer space and someone is chatting about vans. You have no clue what a van is; you have lots of spaceships on your planets, but no vans. Being a resourceful alien, you whip out your phone and Google "van". Chances are good that your search will tell you that a van is "an enclosed boxlike motor vehicle having rear or side doors that is used for transporting goods".
In the past, that definition certainly did apply. However, the van of the future will be anything but "boxlike". It will also do so much more than just transport goods. Here are some of the current and future personas for this amorphous vehicle:
1. Landing pad
The van of the future will be big buddies with drones (my colleague Gavin Myers alluded to this in last month's FOCUS). That's because, even though vans are fairly nimble little creatures, they do face one monster problem: traffic.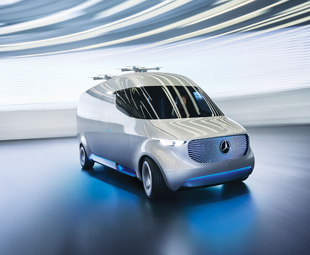 A drone, of course, doesn't have that problem. (Well, not yet, anyway.) It can whizz over the busy roads to make its delivery.
There is, however, one big problem with this scenario: where will the drone land? It could hardly land on the M1, for instance; the poor little chap would get scrunched, for sure.
Enter Mercedes-Benz Vans, which has a terribly clever so-called "future strategic initiative" known as adVANce. In terms of this initiative, it is joining forces with other companies to try to resolve practical problems such as this one.
In this case, it is cooperating with the innovative delivery drone start-up Matternet, which hails from Menlo Park, California. The two companies have come up with an innovative solution, whereby the van and drone work together, communicating constantly. Ultimately, the van serves as a landing pad.
2. Warehouse
Service technicians who work on site spend enormous periods of time fetching parts that were forgotten or not ordered (it can easily be an hour a week). What if their van could serve as a warehouse that is always stocked with the right parts? Thanks to Mercedes-Benz Vans, Sortimo International and Fischerwerke, this isn't just a pipe dream.
This is how it works: You take a van (in this case a Vito), which boasts an integrated Sortimo HD van racking system, equipped with near-field communication tags (NFC tags) as well as consumables from Fischer. The technician scans the NFC tags with his smartphone and is provided with an overview of what parts must be on the rack by the Sortimo Refill App.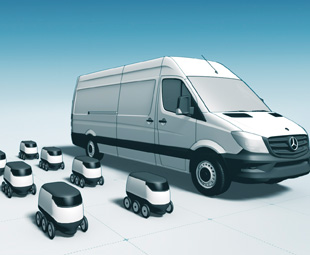 That night, the technician goes home for a nice snooze and his van is restocked while he is snoring. This is thanks to the Delivery App from Mercedes-Benz Vans, which allows the logistics company to locate the vehicle via GPS, unlock it, deliver the parts and then lock it again.
Oh, and just in case the guy from the logistics company is having a blonde moment, there's also the Mercedes-Benz Vans Driver's App, which allows the technician to check the status of his vehicle at all times. He can check the location of the vehicle (this would be an exceptionally useful feature in South Africa) and see whether the doors are locked or not.
3. Bus/taxi
Regular buses and taxis do a good job of providing public transport solutions (overseas) but they do have their limitations, such as fixed routes (in the case of the buses) and high prices (with the taxis). Enter Via, a ridesharing provider that is already operating in New York City, Chicago, Washington DC and Orange County, California.
The company, which is similar to Uber, matches, in real time, multiple passengers headed the same way with a single van. Passengers can request rides through a mobile app, and Via's system instantly selects and, if necessary, re-routes the van that best matches the passenger's route.
Via's smart algorithm directs passengers to a nearby corner for pick up and drop off, allowing for quick and efficient shared trips without lengthy detours. Via operates with fixed fares and payments are cashless (they're made via the app). The average waiting time for a van is around five minutes.
In a similar vein, there's MVMANT, a mobility platform that has already been tested successfully in Ragusa, Italy. While Via's routes are flexible, the MVMANT vans drive along specified routes, picking up passengers along the way.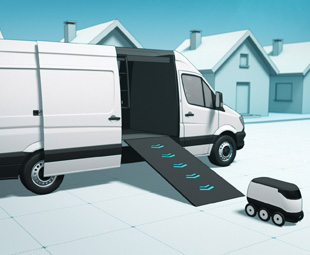 An algorithm calculates how many vehicles are required at a specific time and on a specific route. A Machine Learning engine constantly improves the algorithm by taking into account the service demand, historical traffic patterns, weather forecast, date, hour and special events. Like Via, an app is used to book the ride in the van and also for payment.
4. Robot garage
E-commerce is booming, and courier companies need to deliver packages in the shortest possible time. Enter the fabulously named Starship Technologies which, together with Mercedes-Benz Vans, is transforming the van into a mobile goods depot and a distribution centre for autonomous last-mile deliveries using robots. (Incidentally, Starship Technologies was started by Ahti Heinla and Janus Friis, the two co-founders of the Skype instant messaging service.)
With this scenario, the van is home to Starship robots, which live in their very own robot garage within the vehicle. They enter and leave the vehicle via ramps. At designated delivery stops, the van's driver loads the robots and then sends them on their merry ways. The Starship robots, which can cover a range of up to three kilometres, move along the pavement at a speed of roughly six kilometres per hour. They are able to detect (and avoid) obstacles en route. Once they've completed their deliveries, they return to the robot garage.
This scenario is already possible; we witnessed a demonstration at the Van Innovation Campus. The future is even more thrilling; one day we will see a free-floating robot fleet that does its own thing – and will leave and return to the van autonomously. Importantly, the van will be essential to the smooth running of the operation; the robots will always require their garage.
Even aliens are bound to be impressed when they see what "an enclosed boxlike motor vehicle having rear or side doors that is used for transporting goods" will be capable of in the future…
Focus on Transport
November 3, 2016
Published by