GERHARD HORN, a connoisseur of fine whisky and fine vehicles, takes the Ford Ranger Wildtrak for a spin.
Forgive me for being a little biased, but I've always been a bit of a Ford boy. It may have something to do with my younger years spent in a mining community, (yes, I did indeed have a mullet at one stage) but I like to think it's actually because they make such great vehicles.
Now let me state from the very beginning that I've nothing against mining communities. They are the heart and soul of small-town South Africa and I had a ball growing up in one of them, but you can't deny the fact that they're infested with double cab bakkies. To them, a bakkie is a status symbol. It's the automotive equivalent of a bottle of Johnny Walker Blue Label. The rest of the townsfolk may consume cheap, unbranded whisky, but not you. No, you are simply not content with anything but the finest blend of malts that Scotland has to offer.
The Ford Ranger is one such status symbol. If you buy a run-of-the-mill Ranger, the neighbours will ooh and aah as they try to stare, unnoticed, over the fence. If you really want them to turn the colour of your perfectly manicured lawn, you need something like this: the brand new Ford Ranger Wildtrak.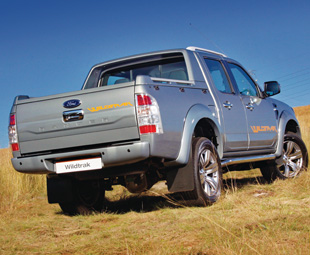 The Wildtrak is the last hurrah before the new Ranger arrives next year and only 400 will be made available to the public. It's basically a standard Ranger with various bits of bling pasted on, but here's the thing: it's actually the kind of bling you'd want on a bakkie. The extras don't consist of chromed bullbars or rollover-bars, like other manufacturers fit to their special editions, but actual useful fixtures that make a lot of sense.
Take the lockable Armadillo load cover as an example. It works a charm. The cover is made from sturdy material and any criminal will have a hard time breaking through it. The loading tray is kept in place with robust straps that can only be reached if the top cover is removed. I have no idea why this concept hasn't caught on in crime-riddled South Africa. It's definitely one of those things that should be standard fitment straight from the factory. Sure, there are people who will use their bakkie for transport duty, but the cover is completely removable when you need it to be.
The ranger is, however, not all work and no play. A number of stylish features make this Ranger far more desirable than a standard model. The cladding on the exterior gives it a mean, don't-mess-with-me look. Smaller vehicles will definitely scamper out of your way when you barrel down on them. Turn indicators and lamps are incorporated in the side mirrors and parking sensors add some spice to the rear. While all of this is not strictly necessary, it does send out the message that the Ranger is a quality product.
Except for one thing; the awful yellow decals on the doors and tailgate. They are big, ugly and make the Wildtrak look like a cheap imitation import from China. Moreover, they seem to shout too loudly about this bakkie being better than the rest. People don't like a braggart and that's exactly what the decals are doing.
The decoration on the inside is easier to swallow. The seats have the word "Wildtrak" stitched in the same awful colour, but since you sit with your back to them, it won't be a problem. Serious off-roaders will also enjoy the multi-meter setup on the dashboard. It supplies the driver with valuable information on the incline and decline angles as well as sideways tilt action. Naturally, a compass and temperature readout are part of the package.
All of this is very nice, but there are two features that stand out above the rest. The engine/gearbox combination and the 18-inch diamond cut design alloy wheels. These wheels, though not perfect for off-road excursions, completely dominate the exterior of the Ford. In a good way. They're not overly flash, so nobody will think you're a rapper, but they do give the Ranger a smart sophisticated edge.
The real gem in the package must certainly be the 3.0 Duratorq turbo-diesel engine. The 115 kW (154 hp) engine delivers 380 Nm peak torque at 1 800 r/min. These figures seem impressive, but they don't tell the whole story. It's the way the vehicle surges forward, pushed by the mountain of torque, that really impresses. Whether in town, or on the highway, the Ranger never runs out of breath.
I'm glad to report that you can take it mountaineering too. You still need to put it in low-range the old fashioned way; with a separate gear lever. Some may see this as pragmatic, but let me tell you, it's a welcome relief from the modern push-button systems in most modern 4x4s. People laud this new "modern" approach to off-roading, but since one let me down recently (stuck for six hours in ankle-deep mud), I'm not so sure anymore.
All Ford Ranger models come with a 5 year/90 000 km service plan and a 4 year/120 000 km warranty. Services are scheduled at 10 000 km intervals. A 4×2 double cab city-slicker will set you back R375 990. Leaving the beaten track will cost you a cool R421 870. Nobody ever said a bottle of Johnny Walker was cheap…
Unfortunately it's not the only whisky on the market. Volkswagen recently released its own wonderful distilled alcoholic beverage in the shape of the Amarok. This motoring journo is happy to report that VW's first foray into the bakkie market is excellent. However, the biggest thorn in the Ranger's side is something old and faithful to the South African public. The Toyota Hilux, or Jack Daniels if we're holding on to the whisky metaphor, is as much a legend as the Flying Dutchman.
Here's the thing though; all of them are equally brilliant. The margins between them are so small that you can't possibly make an objective choice between them. It all comes down to personal taste. Me? I've always been partial to the smooth liquid inside a bottle marked Walker.
Focus on Transport
December 1, 2010
Published by