A high-strength lightweight in your corner
As an art and a science, vehicle and trailer manufacture calls for easy-to-form materials that will result in a durable, high-strength end product. Add lightweight, safe and eco-friendly, with comprehensive technical support, and you probably don't expect to hear the word "inexpensive" too.
The full package is precisely what Swedish steel maker SSAB offers through its local subsidiary.
SSAB was formed in 1978, and is a global company employing some 8 500 people in more than 45 countries.
The company's niche is high-strength steels. It's a global leader in this field – and the field is widening, because replacing traditional steels with high-strength steels results in an end product that is lighter, stronger and more durable, with broadened versatility.
Since entering South Africa in 1996, SSAB has enjoyed total majority share of the high-strength steel market, primarily with its Domex steel.
Domex is made from clean iron ore sourced from northern Sweden and coal sourced from Australia. It is produced in giant blast furnaces fuelled by oxygen.
What gives Domex its incredible strength is the clean iron ore, low carbon content and quenching process – this is where the plates of steel are rapidly cooled to room temperature in a matter of seconds. This quenching gives Domex amongst the highest yield strength of available steels in its weight range.
Domex can be used in many applications, from truck chassis and container frame structures to steel bridges, chimney cases, cranes, earth-moving machines and heavy duty trailers. Domex can be applied anywhere one might require lighter equipment made from a high-strength steel.
Building trailers from Domex saves on weight, which means that there will be an increase in payload capacity and an overall enhancement of transportation economy.
Domex has excellent weldabilty, forming and cutting characteristics. The benefits are less material being needed and workshop methods staying the same when switching to Domex High Strength Steel.
"Domex is very workshop-friendly," says Nico van der Westhuizen, area technical manager SSAB EMEA. "Customers will find it a pleasure when working with this steel as it is consistent from plate to plate, day after day."
Domex High Strength Steel plates and coils can be ordered in different lengths and thicknesses ranging from 2 to 12 mm.
SSAB Shape
Of course, not all customers are able to buy expensive laser and plasma cutters – which is why SSAB offers SSAB Shape – a value-added service. Says van der Westhuizen: "We will cut all parts as per customer drawings and specifications."
SSAB South Africa prides itself on the Shape initiative, and on the readily-available experts at the company's Knowledge Service Centre in Sweden. Experts with degrees in metal fatigue, welding and cutting answer any questions the customer or end user might have.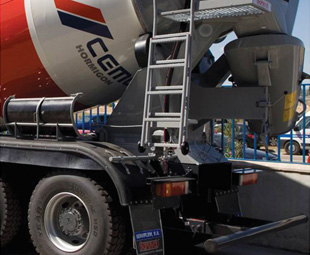 SSAB's website provides links to the Knowledge Service Centre, with downloadable handbooks available. The site also features formulae to help users work out which grade of Domex is best suited to the intended application, and there's plenty of technical information.
"There will always be someone on hand to help answer questions or point customers in the right direction," says van der Westhuizen, adding that all SSAB staff are trained in Sweden and are familiar with all SSAB products.
Domex at a glance
Domex is a range of advanced high strength steels from SSAB developed to provide companies in the heavy transport industry with stronger, lighter, more sustainable products.
Domex MC grades
These modern, low alloy structural steels for cold forming are renowned for their high strength, excellent formability and good weldability. The Domex MC range is available in South Africa in two grades. Domex 550 with minimum yield strength of 550 N/mm² and Domex 700 with minimum yield strength of 700 N/mm².
Domex MC features:
• Tighter minimum bending radii
• High yield strength/tensile relationship
• High impact toughness
• Widths ranging from 800-1 600 mm.
Domex Corrosion Resistant
Domex Corrosion Resistant steel corrodes in exactly the same way as ordinary carbon steels, but a uniform dense oxide film (patina) soon forms on the steel surface. The oxide film remains firmly in place and prevents moisture from penetrating it and causing corrosion of the steel. The Domex Corrosion Resistance range is available in two grades and is produced in two strength levels with guaranteed minimum yield strengths of
550 N/mm² and 700 N/mm².
SSAB strives to not only provide the highest quality steel, but to work side by side with its customers, sharing knowledge and building a long-term relationship. The company calls this "shared strength", saying it supports its customers and does everything in its power to help them realise their potential and gain a competitive advantage.
"Domex has fantastic surface properties due to the state of the art rolling process," says van der Westhuizen. "It requires no surface treatment, like shot-blasting, for example."
There are guarantees in place on all Domex products, with SSAB guaranteeing its yield strength and impact properties. "We are the steel maker," says van der Westhuizen. "We guarantee our steel because if there are any problems, we can trace things back through the entire steel-making process – should there be a problem with a certain batch or a certain cast, we have all the information we need to address the situation promptly."
Steel that is environmentally friendly?
SSAB's Swedish steel mill is considered to be the cleanest in the world. It recycles most of the water it uses, and even uses the hot water from the steel-making process to heat up the neighbouring towns. Most of its employees live nearby, and SSAB is passionate about keeping the area clean and healthy. Further, slag, a by-product of steel making, is cleaned from the giant furnaces and used to build roads in Sweden.
But probably the best environmental spin-off of Domex is that, with a lower weight vehicle, there is more opportunity for increased payload. And increased payload can translate into fewer trips. With fewer trips comes lower fuel consumption and less tyre usage. This means fewer carbon emissions – and environmental success.
Focus on Transport
May 1, 2012
Published by