"Green" pressure mounts on fleet operators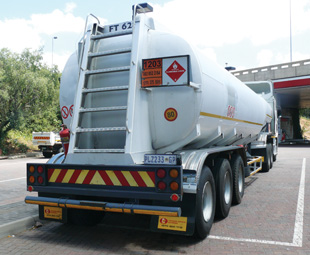 The international call on industry to become more involved in preserving the environment against pollution, has also placed pressure on South Africa's chemical and allied industries to clean up their act, not only in the production of dangerous goods, but also in the transportation of hazardous substances by road and rail, writes Udo Rypstra.
In a move that many experts see as a reaction to pressure from Government, Transnet has announced that it would see a 60% reduction in the number of road tankers with the completion of its new pipeline. The announcement, on which Transnet was to provide more detail, has met with a degree of skepticism by some fleet operators. They believe it will only affect long distance transport, and that the proposal did not seem to consider market growth, especially with regard to petrol station deliveries.
But already, the call has been responded to by the Chemical and Allied Industries' Association (CAIA). Earlier this year it called on its members to be more involved in the path to a greener society with its Responsible Care initiative, which it launched in 1994 in South Africa to respond to public concerns about the manufacture, storage, transport, use, and disposal of chemicals.
"Greenhouse gas emissions (GHGs) are emitted in the manufacturing of chemical products, whilst at the same time the use of many of these products enables significant reduction in global emissions," Dr Laurraine Lotter, executive director of CAIA, said. "In line with Responsible Care principles, the chemical industry recognises its responsibility to contribute to efforts to mitigate climate change through its own emissions by improving its processes and encouraging the use of chemical products that create a net emission reduction, along the value chain," he added.
CAIA signatories have, for several years, laid down strict codes of practice for the transportation of fuel. These codes also apply to fleet operators specialising in fuel transportation. These codes are already more stringent than requirements under the country's dangerous goods regulations.
Damages
An increasing trend by municipal, provincial, national and toll road agencies to sue operators for damages from road spillages and other damages, has made operators even more conscious of the legal requirements than before.
Hazchem Regulations promulgated under the Hazardous Substances Act of 1973, and which controlled the transport of dangerous substances by road tankers since 10 January 1987, were replaced on 3 August 2001 by a set of regulations made under section 54 (Chapter VIII) of the National Road Traffic Act of 1996.
With the implementation of these regulations this control passed from the Department of Health to the Department of Transport and was extended to include the transport of all dangerous goods in packs or bulk. As the list of these goods and substances is substantial, it affects many operators — some of whom may not realise that they are transporting dangerous cargo.
The National Road Traffic Act, 1996 makes it an offence for dangerous goods to be consigned, transported or received, except as prescribed in Chapter VIII of the National Road Traffic Regulations (Regulations 273 – 283).
Incorporation of the South African National Standards (SANS, previously SABS) Regulation 273A provides for the minister of transport to include a number of SA National Standards into the regulations, which he did on 30 December 2001 in Gov Gaz 22872 of 30 November 2001:
SANS 1318 "Road tank vehicles for petroleum-based flammable liquids" (since withdrawn by the SABS and replaced with SANS 1518);
SANS 1518 "Transportation of Dangerous Goods – Design requirements for road tankers" – this standard now calls for compliance with vehicle and portable tank design requirements under the European ADR regulations governing road transport of dangerous goods;
SANS 10228 identifies and classifies dangerous substances and goods;
SANS 10229 lays down packaging of dangerous goods for road and rail transportation in SA;
SANS 10230 lays down inspection requirements for road vehicles transporting dangerous goods;
SANS 10231 specifies operational requirements for road vehicles transporting dangerous goods; and
SANS 10232 deals with emergency information documentation, systems and emergency action codes.
Any vehicle used for the transport of dangerous goods must have a transport emergency card (Tremcard) for each dangerous goods item in the load. Tremcards are intended for use by the driver of the dangerous goods vehicle, but might also be required by the emergency services in the absence of other information, or in support of available information.
Hazardous substances have been listed in nine UN classes:
Class 1 – Explosives
Class 2 – Gases (compressed and liquefied)
Class 3 – Flammable liquids
Class 4 – Flammable solids
Class 5 – Oxidising substances
Class 6 – Poisonous (toxic) substances
Class 7 – Radioactive substances
Class 8 – Corrosive substances
Class 9 – Miscellaneous
A popular guide to the transportation and warehousing of dangerous goods is the Orange Book, published by Foresight Publications. There are also consultancies that are well qualified to teach operators how to become compliant with dangerous goods legislation.
Leading experts are Dangerous Goods Legislation Consultants, trading as EC Logistics, which was launched in 2001 by Eddie Crane, a member of the SANS Technical Committee for Operational Requirements and part-time lecturer on dangerous goods legislation at North West University, Potchefstroom. In 1999, he became involved in the development and implementation of Chapter VIII of the Road Traffic Act 93 of 1996 and its amendments.
Dangerous Goods Legislation Consultants can assist any individual, company or entity to become compliant with new legislation regarding the transportation and warehousing of dangerous goods.
The client database started with seven but has since grown to over 2 000 and is growing daily. The company prides itself in being able to offer the full range of courses, seminars, audits, documentation and emergency information, vehicle accessories and systems. Another service offered is the supply of correctly created Tremcards, while the company also has a commercial licence to produce the Tremcard.
It has two fully functional offices in Johannesburg and Durban.
Focus on Transport
December 1, 2010
Published by