Afrit takes time for clients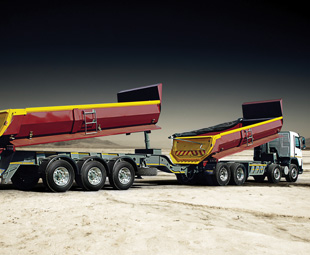 Afrit is a well-known brand in the South African trucking industry and certainly needs no introduction. But that didn't stop the company from hosting a two-day expo to show off its wares and give its customers a voice. SEAN NURSE attended
As one of the largest trailer manufacturers in Africa – supplying to customers in Zambia, Uganda, Kenya, Mozambique, Botswana, Democratic Republic of Congo and several other African countries – Afrit may not be in dire need of exposure. This did not stop it from hosting a two-day expo in July, however. The expo was centred on attracting its current and potential customers to view the Afrit range while being treated to some hospitality.
The Pretoria-based family-run business had its full team of sales personnel and experts on hand to answer all product-related queries. As head of marketing for Afrit, Rynhardt Steenkamp says: "We are a customer-orientated organisation. Our aim is to listen to our clients and spend time with them. We weren't getting enough opportunity to do this, so we decided that the expo would be the perfect opportunity to do so."
The first day of the expo was hailed a success by the Afrit team. An impressive number of customers made their way through the gates of Afrit's Boksburg branch, in Gauteng. "We have found this invaluable; we have had clients stay as long as three hours talking about our products, while explaining their company's requirements and helping us to help them come up with the best solution," says Steenkamp.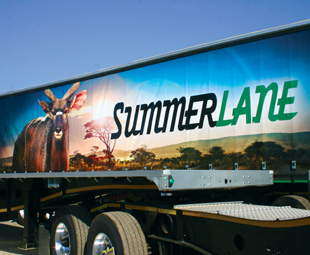 He notes the importance of expos and shows like Nampo and the Johannesburg International Motor Show (JIMS). He believes that an expo such as this will help attract more visitors to JIMS. "We want clients to come to this expo and have a good experience, so that when they see our stand at JIMS they will approach us and spend more time with us," he adds.
In terms of Nampo, the Afrit team believes that this year's show was successful. "Nampo is always great for us. This was our sixth year," Steenkamp explains. "We started out in our first year with a gazebo, a brochure holder and one trailer. This year we had a massive tent with seven trailers, so Nampo also allows us to show how we have grown as a company."
There were many different products on display at the Afrit expo. "Our aim was to provide as much variety as possible," notes Steenkamp. The products on display included:
• the 6/12M TA/TA Axle Side-Tip Interlink Combination with 1,2 m high dropsides and a payload of 33 800 kg;
• the 4 m3 TA/TA Axle Side-Tip Interlink Combination with top covers;
• the 38 m3 Tridem Axle End-Tip Semi Trailer with a stabiliser mechanism;
• the 15,4 m Tridem Axle Refrigerated Semi Trailer with an Elite Fibre refrigerated body;
• the 6/12M TA/TA Axle Interlink Combination with Sliding Curtains;
• the 65 m3 Tridem Axle Semi Trailer with Moving Floor; and
• the 6/12 TM/TM Axle Lightweight Flatdeck Interlink combination – which is one of Afrit's top sellers.
The lightweight aluminium trailers that Afrit offers are interesting as the entire industry appears to be moving towards lower emissions with Euro-6 compliancy on the horizon.
Locally, the trucking industry appears to be getting "on board" with the lower emissions legislation. Companies like Aero Truck and now Afrit are offering aerodynamic and/or lightweight solutions to lowering fuel consumption and emissions.
"As a trailer manufacturer, we have a certain responsibility to the truck manufacturers who design lower-emission vehicles. At the end of the day, our trailers need to be as lightweight as possible with the best payload possible, to ensure that we fulfil that responsibility," Steenkamp says.
The pricing of Afrit's trailers differs significantly depending on the needs of the customer. Afrit encourages clients to contact the company if they require a specific trailer, so that a solution can be found that takes into account their preferred price and specification.
A positive aspect of Afrit's trailers is that almost all of the parts used come from Afrit's own manufacturing division, which means lower costs and faster production.
Steenkamp notes that Afrit wanted to be a part of this year's Truck Test: "We really wanted to be a part of the test again, but the time frame we had to design and build a good quality rigid trailer was simply not enough. We are hoping that next year the Truck Test will include trucks that make use of link trailers so that we can put our products to test again."
Focus on Transport
August 1, 2013
Published by