The IAA International Motor Show is done and dusted, but the vehicles and products it showcased are still the talk of the town. FOCUS discovers that while Thermo King is keeping things cool, it's certainly not cooling down .
Thermo King, manufacturer of transport temperature control solutions for a variety of mobile applications – distributed locally by GEA Refrigeration Africa – launched a variety of fresh innovative solutions at the IAA Commercial Vehicle Show in Hanover during September.
The aim? To respond to customers' needs by driving energy and operational efficiency while providing precise, low-noise temperature control. Thermo King's answer? Well the company presented quite a few, with some being truly revolutionary. These include the T-500R single-temperature nose-mount and the SLXe trailer refrigeration units.
Thermo King's first solution, the T-500R single-temperature nose-mount refrigeration unit, is an extension of its T-Series platform of self-powered truck temperature control systems. This latest edition to the T-Series family demonstrates that efficiency isn't reliant on size as it has the cooling capacity and airflow to handle truck bodies up to 5,5 m in length – impressive considering that this mini-unit is only 632 mm high and 1 676 mm wide.
The T-500R meets industry needs for a lighter-weight unit with greater fuel efficiency, increased capacity, lower lifecycle cost and greater sustainability. It's perfect for any urban distributor that has to keep things chilled, whether they are delivering fresh dairy or deep frozen foods, and can handle temperatures right up to 55°C. Take that, sunny South Africa!
This capability of handling high temperatures has been made possible by a new up-sized micro-channel condenser coil, which added other benefits as well. The T-500R has up to 28 percent more cooling capacity and is capable of consuming 12 percent less fuel than its predecessor. This also makes it greener as less fuel consumption naturally means fewer CO2 emissions.
And it doesn't just have environmental appeal. Its E-coated frame makes it ideal for our tough operating conditions. An immersion electro-coating that uses an electrical current to attract paint to metal – and is on par with automotive standards – ensures complete coverage and total corrosion resistance. All steel components are also galvanised, painted and baked to protect them from the elements.
The unit's external plastic panels too are completely corrosion proof and fibre reinforced (reassuring for those accidental collisions), helping to ensure that the unit retains its mint appearance.
It has an X214 compressor, with a deep sump two-cylinder reciprocating design, 10 000-plus hours service intervals and is field repairable – ensuring more uptime. Its GreenTech TK270 two-cylinder diesel engine can go 1000 hours between oil changes and delivers a 65 percent reduction in particulate matter. The engine also delivers a 55 percent reduction in noise levels compared to previous models, and this can be reduced even further with the optional Whisper low noise kit.
Thermo King's new T-500R unit will be replacing its MD-100 range, the phasing out of which began at the end of September. The T-Series now includes eight units offering both single and multi-temperature options for operators' diverse needs.
The company also used the IAA to introduce its new SLXe range of trailer refrigeration units, which provide even greater energy and operational efficiency as well as enhanced driver comfort.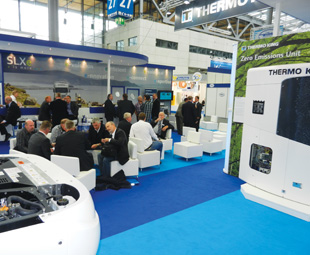 While the SLX was Thermo King's most fuel-efficient solution in this category, the majority of SLXe multi-temperature models now offer electronic throttling valve (ETV) technology, which was previously only available on the single-temperature version of the SLX. This ETV technology increases the fuel efficiency of the multi-temperature models by eight percent while offering seven percent greater refrigeration capacity.
The SLXe's frame has also been E-coated and enhanced for greater rigidity, which leads to lower vibrations levels as well. This reduces the mechanical stress on the unit and the trailer, resulting in greater comfort for the driver.
It also has fleet tracking capabilities through Thermo King's latest SR-3 controller, which uses the TracKing system. This web-enabled system provides end-to-end visibility of the refrigerated vehicle, ensuring that operators always know where their assets are.
The SLXe is one of the industry's first units to provide dual-mode cellular and WiFi monitoring capabilities and has a telematics device that is factory-installed and supported. It furthermore has a USB port as standard to allow easy and rapid diagnostic retrieval using a flash drive.
Despite all this, the unit uses many common components, reducing the time required to attain parts needed. The unit is also 99,7 percent (by weight) recyclable, adding to its green status.
It's clear that Thermo King isn't only keeping its customers' interests at heart but also doing its part for the environment on various fronts. Transport operators will definitely be able to keep a cool head knowing that Thermo King and its range of new offerings are enabling them to save money, spare the environment and keep their produce fresh, frozen and perfectly chilled.
Focus on Transport
November 1, 2012
Published by