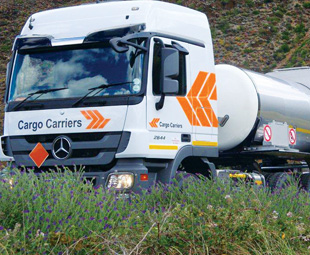 There is no room for error when transporting petrochemicals or other hazardous chemicals. We speak to John van Heerden, driver training instructor, Chemical and Steel Division, Cargo Carriers, about how the company's best practice keeps its risks low and customers happy
There are certain compounds, substances and articles of a dangerous nature that require a lot more finesse in transportation than your average flatbed load. Road transport is extremely risky without an experienced and competent transport company that has an excellent track record – especially where transportation of dangerous goods is concerned.
"When it comes to dangerous chemicals, you have to know what you're dealing with, as accidents come with dire consequences; not just for your drivers, but for your clients, the environment and the surrounding communities."
It takes a high-calibre transporter to safely and efficiently transport these, often lethal, materials. "If you are in the business of dealing with hazardous chemicals and gases, then it is absolutely critical to partner with a logistics expert with the right credentials, experience, and resources," Van Heerden elaborates.
In transporting dangerous goods, Cargo Carriers insists on proficiency in four key areas: accreditation, drivers and training, the vehicles and equipment used, and emergency reaction.
Accreditation
Dangerous goods must, by law, be treated with a degree of extra care and attention. There are certain bodies and institutions in South Africa that require compliance in order to safely and legally carry any hazardous materials.
Cargo Carriers is affiliated with the Chemical and Allied Industries Association (CAIA) and the company's Sasolburg branch has been rated as a "preferred haulier".
Cargo Carriers consistently undergoes extensive audits by the local and German-based DEKRA-ITS and all branches are ISO 9001:2000, ISO 14001:2004, and OHSAS 18001 accredited. All new contracts and branches are prepared for accreditation within the first year of operation.
Drivers and training
Driver training is, arguably, the most important issue when handling and transporting dangerous goods.
"If your drivers are not top notch, then the risk is substantially increased." says van Heerden.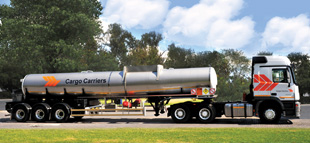 Before drivers are even selected, they are required to fulfil certain criteria. They need to: pass a literacy and numeracy test; have a sturdy knowledge of road traffic ordinance laws; have sufficient tanker experience; and complete and pass a road driving test.
Once this process is complete, drivers are then trained at the company's fully fledged in-house training facility in Sasolburg. The training includes an induction course, a first-aid and firefighting course, the nationally approved Dangerous Goods training, and further coaching by Van Heerden. Drivers are then retested every year.
"Tanker driving proficiency is difficult to achieve. The load is live and is, therefore, constantly moving. We have to make sure that the drivers we use are of top calibre and, through our training initiatives, we know that they are," says Van Heerden.
Vehicles and equipment
A tanker is not just a tanker. Different hazardous chemicals deserve different technical attention.
"You can't just use any tanker for any chemical," says Van Heerden. It is important that the tanker used is compliant with the chemical being conveyed, therefore tankers are purpose built to suit specific chemical composition.
Cargo Carriers also utilises on-board monitoring equipment in order to maintain the kind of safety levels required from each hazardous goods client.
Emergency reaction
Sometimes preparation and training are not enough to avoid accidents. The biggest fear for any company that deals with hazardous goods is that their product is involved in an accident. This can have disastrous effects on the environment, the surrounding communities and the company the transporter represents.
"In the hazardous goods business, the ability to react to emergencies can, literally, mean the difference between life and death. It is vitally important to have contingency plans in place so that any emergency can be taken care of quickly," says Van Heerden.
Nevertheless, the threat remains constant. In the event of a road spill, or spillage at the loading or offloading point, Cargo Carriers has a contract in place with an accredited spill-reaction company to expertly handle all incidents with respect to containment, clean up and rehabilitation.
Cargo Carriers has built its reputation of best practice in the area of hazardous goods on the back of an excellent record in the areas of safety, health, environment and quality (SHEQ).
"It's no exaggeration that today our ability to compete in the fuel, gas, chemicals and mining industries depends upon our high levels of service, and on operating at the highest possible levels of SHEQ," says Van Heerden.
The company's track record and accolades are surely proof of this.
Focus on Transport
September 1, 2015
Published by