Curbing sky-high emissions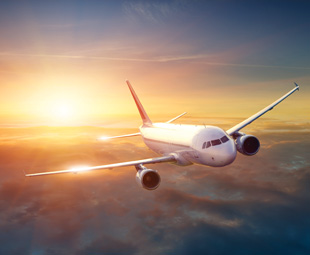 Road transport is definitely doing its part to curb global warming, but can the same be said for air transportation? We take a look at one of the biggest CO2 emitting industries and what it is doing to help the environment.
According to the Air Transport Action Group (ATAG), a not-for-profit association that represents all sectors of the air transport industry globally, over three billion passengers were carried by the world's airlines last year. The association adds that, out of the 34 billion tonnes of carbon dioxide produced in 2012, 689 million tonnes came from air traffic.
If aviation was treated like a country, it would be the seventh-largest source of carbon dioxide emissions globally, as it produces around two percent of the world's human-induced carbon dioxide. ATAG points out however, that aviation is responsible for 12 percent of the carbon dioxide from all forms of transport, compared to 74 percent from road transport (this includes everything from trucks to cars and bikes).
But the land-bound operators and original equipment manufacturers are doing their part to control emissions as more fuel-efficient vehicles and stringent regulations are becoming an everyday part of road transportation. International aviation, by comparison, has been running "rampant" for some time now, without a universal set of measures to tackle this mode of transport … until now.
At a meeting of the International Civil Aviation Organisation (ICAO) – a specialised agency of the United Nations – in Montréal, Canada, a significant development in climate change issues took place when delegates, representing 191 countries, agreed on a resolution to tackle aviation's climate change impact. This resolution, which charts the way forward, followed two weeks of tense negotiations and 16 years of discussions.
"This is clearly an historic resolution," Paul Steele, executive director of ATAG, points out, "showing the leadership of governments, of both developed and developing countries, in driving the first comprehensive agreement on climate change, for any global sector."
He adds that the aviation industry has been advocating for such a scheme since it developed the first global industry targets five years ago. "We now have agreement on a global scheme, with a timeline and some of the building blocks to deliver it."
The resolution commits governments to develop a global market-based measure (policy instruments that use markets, price and other economic variables, like taxes and incentives, to reduce negative environmental externalities) for aviation emissions from 2020, to be decided at the next ICAO assembly in 2016.
This gives the parties three years for technical discussions to take place, while countries work on the design elements of the scheme; including standards for monitoring, reporting and verification of emissions.
Steele notes: "Importantly, the resolution also highlights the significance of continued work on the so-called 'basket of measures', recognising that a market-based measure is just one of a suite of important tools needed to reduce aviation emissions. New technology, more efficient operations and infrastructure improvements also need to be pursued."
He adds: "The industry stands ready to assist countries to develop the proposals needed for a 2016 sign-off." Testimony to this, is the long-term research partnership entered into by the European Aeronautic Defence and Space Company (better known as EADS) and Siemens AG, to introduce a new electric propulsion system. Together with their partner, Austrian-based Diamond Aircraft, the companies showcased a second-generation, serial hybrid electric airplane at Le Bourget Airport in Paris last year.
EADS CEO, Tom Enders, Siemens CEO, Peter Löscher and Diamond Aircraft owner, Christian Dries, signed a Memorandum of Understanding to set the course for their future cooperation on electric aircraft development. Enders says: "Today, aviation goes electric as we embark on the journey towards future electric propulsion. Electric aircrafts are a key element in our research for the future of aviation."
He continues: "We will learn, over the decades to come, where the journey will take us and what shape and form electric propulsion will take … But we know we have no time to lose in terms of testing alternatives to fossil fuel."
Löscher adds: "Only through innovation can we solve the conundrum of rising fuel costs, rising passenger demand and rising environmental regulations. Innovations used in this hybrid aircraft will be instrumental in making transport more sustainable in the long run, whether in the air, on land or at sea."
The research partnership aims to ultimately introduce hybrid drive systems for both helicopters and large aeroplanes, while the airworthiness certification of full-electric and hybrid aircraft (in the general aviation category) is to be achieved within the next three to five years.
Siemens recently developed an integrated drivetrain for the second generation of a hybrid motor glider – DA36 E-Star 2 – which made a successful one-hour maiden flight at the Wiener Neustadt Airport in Austria. The aircraft consists of two main components: the electric drive and a generator, which is powered by a small Wankel (rotary) engine.
Dries points out: "The serial electric propulsion allows us to design aeroplanes with totally new characteristics. Vertical take-off and high-speed cruise can be realised in a much more efficient way. The DA36 E-Star 2 was the next step to prove this technology and, through its positive results, to continue with further developments."
It is said that the new propulsion technology will also lead to drastically reduced noise emissions during take-off and will cut fuel consumption and overall emissions by about 25 percent, compared to the most efficient aircraft drivers currently available.
The aviation industry and governments of various countries are definitely doing their part to curb air transport's emissions to ensure a more sustainable future … It will be very interesting to see what the 2016 ICAO meeting delivers and what potential electric and hybrid aircraft will hold.
Focus on Transport
February 1, 2014
Published by