The Daimler stand has always dominated the IAA in terms of size and technological innovations – but this year, as CHARLEEN CLARKE discovered, it also rocked the show!
I am not using the term "rock" frivolously. While it was clear that some companies had tightened their IAA belts (there weren't nearly as many dancing girls as usual at this year's show), the Daimler stand was a technological and audible delight. I say this not purely because of the 70 trucks, vans and buses spread over 10 000 m². Daimler also tossed BossHoss into the equation!
Now I know I have you wondering: is the BossHoss a new van, truck, bus or coach? None of the above. BossHoss is an über cool German country rock band – I urge readers to go to www.thebosshoss.net and read all about them (they're like the Chuck Norris of country rock bands; when they go to sleep, sheep count them). At the top of each hour, the band took to the stage to treat their fans to a rendition of their song "Truckstar", which is dedicated to the new Antos. Also in the spotlight were the two stars of the show – the new Actros and the new Antos – along with four delectable dancers. It was a stroke of marketing genius. The Daimler stand at the IAA is always packed with visitors, but BossHoss introduced a really fun element this year.
Of course, the IAA was about more than fun. It was also about making money – and Daimler exhibited a number of vehicles that will help operators do just that.
CITAN STARS AT IAA
Speaking of making money, the new Mercedes-Benz Citan was referred to as "an economic miracle" at the IAA. Yes, I concede that the reference came from a member of the Daimler team (and, as such, some might say he was slightly biased). I'm not sure about that: it really is a remarkable vehicle that should sell extremely well when it's launched here in South Africa next year.
Why do I make this statement? Well it is a really good package: it offers up to 3,8 m³ of load space, a maximum payload of 800 kg and frugal running costs (it sips fuel at a mere rate of 4,3 litres/
100 km). Equally impressive are the Citan's compact dimensions (it's terrific for inner-city deliveries and tight parking lots) and impressive levels of driver comfort (we haven't hopped behind the wheel yet but European journalists at the show were raving about the levels of comfort). Oh, and the van is as green as Kermit – it emits just 112 g/km of CO2.
The Citan comes with a choice of four Euro-5 engines overseas (we don't know what's coming here yet). They are three 1,5-litre turbodiesels (55 kW/180 Nm, 66 kW/200 Nm and 81 kW/240 Nm) and a 1,2-litre turbocharged petrol engine (84 kW/190 Nm).
VITO E-CELL CREWBUS: WORLD FIRST
As could be expected, there was huge emphasis on the environment at the Daimler stand, and one of the world premieres in this regard was the Vito E-CELL Crewbus (it's the world's first seven-seater vehicle to make locally emission-free mobility possible ex-works).
It has an operating range of around 130 km – so it's ideal for environmentally sensitive areas such as pedestrian areas, inner cities or spas. Its range is optimally designed for short distances with numerous stops (airports would be terrific too).
It's powered by a permanent magnet electric motor (60 kW/280 Nm) and its top speed is limited to 89 km/h. The batteries of the Vito E-CELL are charged at 380/400 V outlets in five hours – tops.
WORLD PREMIERE: SPRINTER E-CELL PROTOTYPE
Visitors were also fascinated by the Sprinter E-CELL prototype, which made its world debut at this year's IAA – and Daimler executives were eager to receive their feedback (I was told that, if there was enough positive feedback at the show, series production could certainly result). It is suited to chassis cab applications, and also for use in conjunction with various bodies.
The permanent-magnet synchronous motor of the Sprinter E-CELL can reach a constant output of 70 kW (short-term peak output of 100 kW). Due to the design of the motor, the 220 Nm torque (short-term 270 Nm) is available in its entirety from a standstill, thus ensuring dynamic starting performance. The
Sprinter E-CELL draws its energy from two lithium ion batteries, each with 93 cells and a combined capacity of 35,2 kilowatt hours (kWh). The particularly powerful charger of the Sprinter E-CELL supplies 22 kW at a current of 32 amps. When connected to a 400-volt power source, the batteries can be charged in less than two hours. The top speed of the Sprinter E-CELL is limited to 80 km/h (this was done in order to extend the range, which is about 135 km).
SPRINTER: EVEN BETTER THAN BEFORE
A number of enhancements to the Sprinter were announced at the IAA. Of these, a new transmission is the biggest news; the Sprinter is the first van in the world to be available with a seven-speed torque-converter automatic transmission. The advantage of this new transmission is the wide spread between the lowest and the highest gears combined with closely spaced ratios. In practice, this means that the Sprinter's low first-gear ratio ensures that it can pull away dynamically. However, at high speeds, the van is economic, produces low emissions and runs quietly with a low engine speed. At the same time, there is a gear for every driving situation and the shifts in engine speed between the different ratios are small.
TRUCKS FOR THE WORLD
The world has become a very small place – that much was evident on the Daimler stand, where the company displayed a huge range of trucks suited to conditions and applications all over the globe. Of course there were the well-known and loved Mercedes-Benz trucks (more about those later), but there were also a number of interesting and unusual truck exhibits.
The most "in your face" display was definitely that of a Western Star 4900 EX that goes by the name "Wanted", with its bling-bling chrome. Not nearly as glam but just as interesting were two trucks from the company's new Indian brand, BharatBenz: the LDT 914R platform truck and the HDT 3128 dumper. We'll continue to follow the progress of BharatBenz with great interest within the pages of FOCUS …
The greenest truck on the Daimler stand was the so-called "Aerodynamics Truck and Trailer" – an articulated vehicle consisting of the new Mercedes-Benz Actros and an Aerodynamics Trailer that manages to achieve fuel savings of about 4,5 percent in long-distance transport. As such, it results in annual savings of around 2 000 litres of diesel per articulated vehicle, corresponding to almost €3 000. At the same time, annual emissions are cut by more than five tonnes of CO2.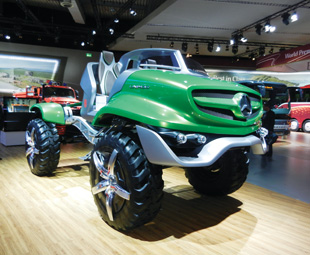 The sexiest truck on the Daimler stand was definitely the Unimog design study. Oh what a truck! It was almost impossible to get close to this desirable creature as IAA visitors scrambled to pose with the truck and photograph it. Based on the U 4000/U 5000, it was painted bright green. The colour was inspired by the poison dart frog which, just like the Unimog, is also extremely mobile both in water and on land. It was also selected as a tribute to the rather more subdued green of the first-ever Unimog created 61 years ago. Also in keeping with the early days, the design study boasted an open cab.
But back to the here and now – we won't see that Unimog on (or off) our roads in the very near future. The same certainly cannot be said of the new Mercedes-Benz trucks; Andreas Renschler, member of the Daimler AG Board of Management responsible for Daimler trucks and buses, was clearly pleased as punch when he addressed the very first IAA media conference this year, commenting that he was "very satisfied" with the performance of his brand over the first eight months of the year.
"Our worldwide truck sales have increased 20 percent through the first eight months of the year," he told the world's top transport journalists. Furthermore, Renschler predicted solid long-term growth for the commercial vehicle sector and, therefore, for Daimler trucks, buses and vans: "Gross domestic product worldwide will rise by 30 percent between now and 2020 — and we all know that when a country's economy grows, the demand for transport services also increases. As a result, global demand for medium and heavy-duty trucks alone will expand by around 50 percent over the next 10 years," he said.
And there is no doubt that Daimler will be poised to meet demand, with its extensive truck range. Naturally, the full Daimler range was on exhibit, but we will focus on three specifics: FUSO, the new Antos and the new Actros.
MASSIVE FUEL SAVING WITH FUSO
Firstly FUSO. There were eight FUSO trucks on the Daimler stand, but the highlight was definitely the FUSO Canter Eco Hybrid, which consumes 23 percent less fuel than its diesel variant.
We all know the massive benefits afforded by hybrids – fuel is a huge cost for operators (diesel fuel already costs European transport companies more than a brand-new truck over the lifespan of a vehicle). Hybrids are a solution – but the challenge has always been developing hybrids that make cents (literally). Renschler reckons that, with this hybrid, Daimler has achieved what some thought to be impossible (for now). "We're offering a very clean solution that will pay off for our truck customers for the first time. With the FUSO Canter Eco Hybrid, customers will be able to recoup the relatively moderate additional cost for the model's hybrid drivetrain technology in three to four years during normal driving conditions and distances," he announced at the media conference.
The new FUSO Canter Eco Hybrid was introduced in Japan in May 2012 – to much acclaim (five to 10 percent of Japanese customers have opted for this truck). The IAA marked its European launch. "And so now, for the first time, European customers will have an alternative drivetrain option that pays off," Renschler declared. The vehicle will be produced in Tramagal, Portugal, which is where the regular Canter is already manufactured.
The FUSO Canter Eco Hybrid is powered by a turbocharged four-cylinder three-litre diesel engine, which delivers 110 kW and 370 Nm, and a synchronous motor with an output of 40 kW. The batteries – which have a capacity of 7,5 amp hours (Ah) and only weigh 63,5 kg – are particularly interesting. For example, in the event of an accident, the entire high-voltage system shuts down immediately thanks to a crash sensor. The battery container can withstand a head-on collision at 40 km/h and a severe side impact on the battery side of 50 km/h.
ANTOS TAKES A BOW
The premiere of the new Mercedes-Benz Antos, the first specialised truck series for heavy-duty short-radius distribution, also took place at this year's IAA. We've already written about this vehicle in FOCUS, so regular readers will probably be aware that the truck's trump cards include a wide range of Euro-6 engines, a fully automated transmission and a user-friendly cab. Furthermore, visitors expressed their delight at the fact that the truck is well-organised, easy-to-operate, economical and boasts low emissions.
ACTROS REIGNS SUPREME
Naturally the Actros reigned supreme on the IAA stand – which is precisely what is happening out on European roads. "Thanks to the new Mercedes-Benz Actros in particular, demand remains stable even in the contracting western European market. Around 10 000 new Actros trucks are already on the road, one-third of them as Euro-6 variants," Renschler noted with pride. Visitors were treated to the new and more economical Loader and Volumer versions of the Actros at the IAA.
GOING BIG WITH BUSES
The big news on the bus front was the launch of the Mercedes-Benz Citaro, world's first production urban bus with Euro-6.
It is powered by the OM 936 and OM 470 in-line six-cylinder units with displacements of 7,7 litres and 10,7 litres respectively. These engines are extremely fuel efficient (five percent better than their predecessors) and boast long service intervals for the particulate filter
(120 000 km or two years). But they're also very driver friendly; there's lots of low-down torque up for grabs, so the response from standstill is perky, to say the very least.
Thanks to the beefy performance on tap, it was possible to lengthen the final drive ratios compared to the previous engines in almost all cases. The result is a considerable reduction in both engine speed and noise levels. Furthermore, the optimum shift points occur at low engine speeds, enabling a smooth, fuel-efficient driving style with fewer gear changes for even greater comfort.
Both engines employ the BlueTec 6 exhaust gas after-treatment technology from Mercedes-Benz; a closed particulate filter is combined with selective catalytic reduction (SCR) system.
Focus on Transport
November 1, 2012
Published by