Every king deserves a crown. It's not surprising that people are adorning their long-distance royalty with that which they love … Get ready to curtsy as we feature some extra-special, extra-heavy commercial vehicles (EHCVs).
EHCVs have been crowned kings of the long-distance road as they are used and admired by industry players the world over. All admiration isn't equal, however, as some operators adore them more than others …
A Rihanna celebration and a dream come true
A case in point is Alexander Parisot, featured in the Welcome To My Cab series – on the Volvo Trucks YouTube channel – which highlights some of the coolest Volvo trucks on the planet.
When Parisot celebrated his 40th birthday, his wife abandoned the idea of a joint trip to the United States (US) in favour of fulfilling her husband's childhood dream – to drive a motif-painted truck. The truck is a shiny red Volvo FH that celebrates Parisot's favourite music idol – Rihanna.
"I had a big birthday party and, as a present, I wished for money for a trip to the US. At the last second, however, my wife and I decided to paint the truck instead. For me it's a childhood dream come true," Parisot told Volvo Trucks Magazine (VTM).
This online publication reports that it had already been decided that the truck – a Volvo FH13 with more than 370 kW (500 hp) – would be red. "As both Parisot and his wife are big Rihanna fans, the choice of subject for the motif was easy," states VTM. "Today, five different portraits of the pop star adorn the truck, a glistening dream in red and stainless steel."
Parisot continues: "I love her voice and her music. She is truly the best artist right now."
The VTM report points out that the truck elicits many reactions. People of all ages often show their appreciation when Parisot drives by. "Many people are surprised by how lifelike the pictures are," the proud FH owner relates.
The vehicle is framed all around by 74 LED lights, and a row of four extra spotlights has been installed above the cab. "For me the truck is at its best at dusk," Parisot points out. "In the evening, when all the lights are on, it almost feels as though the truck is a concert venue. It is so nice that it brings tears to my eyes."
An entirely customised Volvo FH16 750 from Austria
Another enthusiast, and Welcome To My Cab star, is Erhard Lettner who wanted power and beauty. "I wanted the most powerful truck on the market," he relates.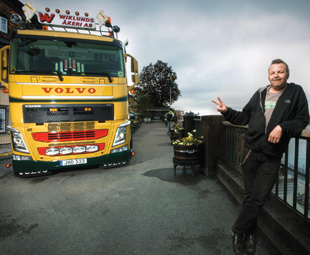 The VTM reports that the door handle is just about the only thing that hasn't been modified. A chromed bull bar, exhaust system, grills, rims and 180 LED lights (both inside and outside the truck) are only a few of the modifications.
"It's important for me to have a unique truck as I like pretty things," Lettner points out – adding that it is more fun to drive for 14 hours a day in a good-looking truck than in one straight out of the factory.
He used an interesting method to select his colour scheme … "The truck is purple because we absolutely didn't want a white one," Lettner explains. "We didn't know what colour to pick, so we just closed our eyes and pointed at a colour chart – and purple it was." The elks represent the company's logo.
A modern truck with an old-school look
You don't have to be quirky to be unique, however, as Swedish truck driver Gustav Berggren (also known as Gurra) demonstrates with his retro customised Volvo FH. The VTM states that some say the style is influenced by the Dutch way of customisation, but, according to Gurra, the truck has an old-school retro look with some Dutch elements.
He points out: "I've tried to build my truck in an old retro style, with some touches of Dutch style – like the roof rack and the round roof sign." Gurra also had the rims done in two tones to make the truck look old.
He opted for a "classic" gearbox. "I have a manual shift. I like stirring the juice myself," Gurra explains. "Shifting is driving a truck, otherwise you're just steering it."
A MAN TGX PAYS HOMAGE TO the legendary Porsche-Martini racing cars
A MAN TGX has been modified by Porsche Centrum Gelderland, in the Netherlands, to resemble its aristocratic cargo. This special transporter's paintwork matches the colours of the legendary "Martini Racing Team" – renowned as multiple winners of the 24-hour Le Mans races of the 1970s.
Porsche Centrum uses the MAN TGX 6×2 to collect customer cars. Accordingly, the transporter is equipped with special low-profile ramps and full air suspension allowing for fine adjustment of vehicle height.
This enables even very low-built sports cars, historic Porsches or racing cars to be loaded onto the truck.
These kings really do live to serve …
Focus on Transport
September 1, 2015
Published by