The annual Nampo Harvest Day is one of the biggest agricultural shows in the world. It's one that should never be missed – and this year will be no different.

If you haven't done it already, set aside May 12 to 15, for South Africa's premiere agricultural trade show – the Nampo Harvest Day. Like every Nampo show before it – since its inception in 1967 – the 2015 instalment promises to be bigger and better than ever.
Nampo Park, located just outside the Free State town of Bothaville, is again expected to host in the region of 70 000 visitors (last year's show attracted 69 644) and upwards of 650 exhibitors on its 187 690 m2 of exhibition space.
For exhibitors – of which the transport and commercial vehicle industry makes up a considerable percentage – the benefits are clear … Statistics provided by Nampo organiser Grain SA show that 88 percent of visitors say they attend to view new products, 61 percent to actually buy products,
52 percent to make buying decisions and 52 percent to build networks.
And don't think it's just a few farm animals and tractors on display either … exhibitors include our industry's own commercial vehicle original equipment manufacturers, the aforementioned agricultural machinery, banking and financial institutions and information technology providers.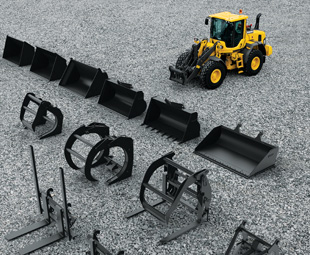 One such company is Babcock, the exclusive distributor of Volvo and SDLG construction equipment in southern Africa. It will be exhibiting a range of machinery at its 900 m2 stand including the Volvo EC300DL tracked excavator, Volvo backhoe and wheel loaders, as well as SLDG wheel loaders and graders.
"We were very excited about the response we received from visitors to Nampo last year, and, based on this success, we've invested even more into the displays on our 2015 stand," says David Vaughan, sales director, equipment. "In this area, our main customer sectors are agriculture and diamond mining, and we're focusing on providing them with a wider range of choices."
Exhibitors from Argentina, America, Israel, France, Italy, Brazil, Denmark and China (60 exhibitors at this stage) will also show off their wares.
The show will also provide a full array of entertaining activities, including: interactive tractor and implement demonstrations, a plough competition, judging of farmer's patents and 4×4 vehicle demonstrations.
According to Wim Venter, Nampo Harvest Day administration officer, the success of the event can be attributed to the networking opportunities it provides and the platform it creates for new and improved technology in the agricultural market.
"And, we mustn't forget the fact that agriculture is, after almost 50 years, still the main focus of the show," he boasts.
That doesn't mean it's the same thing year after year, either … "For the first time, we will have seed plots on the terrain where seed exhibitors have an extension of their product," Venter explains.
Getting around the venue will also be made easier this year as a transport system will be available for the public. "We are looking at three routes on the terrain with two trailers on each route," Venter explains.
As usual, gates open at 07:00 and close at 17:00, while tickets will cost R90 on the Tuesday and Friday and R100 on the Wednesday and Thursday. For the first time, exhibitors and the public can also buy tickets online through TicketPro.
Focus on Transport
May 16, 2015
Published by