In with Telligent Maintenance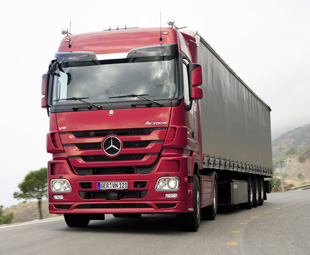 As of May 1, Mercedes-Benz Trucks has increased its value offering on all Actros models, sold with a CharterWay contract, to include a new maintenance package utilising the Telligent Maintenance System.
The System, possibly putting the "telligent" in intelligent, allows the vehicle to determine service intervals, telling you exactly what needs to be serviced and when – effectively putting an end to fixed service intervals.
"Mercedes-Benz South Africa is the first truck manufacturer to offer this product in South Africa," says Clinton Savage, divisional manager for Mercedes-Benz Trucks. "We first proved that the Actros, fitted with the Hypoid axles, can save up to five percent in fuel. We are now pleased to advise that, with the effective usage of Telligent Maintenance, an additional saving of up to 14 percent in service costs per kilometre can be realised."
But how does the Telligent Maintenance System work? In short, it takes cues from the actual wear and tear of the vehicle – calculating service dates for the engine, the transmission and the axle oil-change intervals. It also determines the dates for general service components such as air filters, fuel filters and brake pad wear – based on the operating conditions of the vehicle.
Mercedes-Benz reiterates that an Actros simply needs to be activated, on either a CharterWay Best Basic or a CharterWay Service Complete contract, to qualify for Telligent Maintenance.
Vehicles sold prior to May 2014, on a CharterWay Contract, are eligible to be converted to a Telligent Maintenance contract – backdated to January 1, 2014.
Focus on Transport
May 15, 2014
Published by