Making a multi-billion industry move
With a global population of more than seven billion, and counting, the social and environmental impacts of food and beverage transportation can be astounding … JACO DE KLERK submerges himself in the world of pre-packed provisions and drinks, other than water, to see just how astounding.
As the world's population has grown so has its need for food and beverages (let's face it – what would life be without coffee, Coke, beer and wine) to the point where this sector contributes US$1 162 billion (R12 595 billion) to the global gross domestic product. And this mind-boggling amount of food and beverages is all in need of transport, which has a massive effect on our planet.
According to the publication Managing Environmental Sustainability in the European Food and Drink Industries: Issues, Industry Action and Future Strategies, published by the trade association FoodDrinkEurope, food transport represents around 29 percent of France's total transport industry when looking at tonnes per kilometre. And, in the United Kingdom, it is estimated that food transport accounts for 25 percent of all heavy-vehicle kilometres travelled.*
The article states that the food and beverage industry has experienced an increase in transport operations over the past decades, both in volume and distance. The main reason behind this is structural changes that are affecting supply chains in the global economy. "Over the past decades the food and beverage industry has moved towards fewer and more efficient production centres that reduce overall costs and improve resource efficiency," notes the trade association.
"Regional distribution centres (linking factories with supermarkets) have also been created and the industry is adapting to retailers' growing expectations for 'just-in-time' deliveries and the fulfilling of short-term orders." FoodDrinkEurope continues: "And changes in lifestyle, diets and the globalisation of the food supply base have led to a demand for more products to be available throughout the year."
All of this really sounds wonderful, right? Well, it is – for economic growth and end-user satisfaction, but not for the environment … The "more efficient production centres" are usually some distance away from where the end product has to be and from the regional distribution centres. Short-term orders and "just-in-time" deliveries are putting less products into more trucks – which means more CO2. And then, in addition, controlled-temperature units also contribute emissions. However, with all the innovative players within the world of transport, this story needn't be all about doom, gloom and environmental desolation …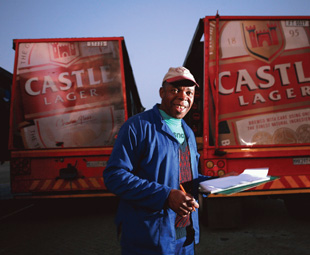 Enter Thermo King, a brand of Ingersoll Rand and a manufacturer of temperature-controlled transport solutions for a variety of mobile applications. Its products are distributed locally by GEA Refrigeration Africa.
The company offers a variety of environmentally friendly units, but its CryoTech range stands out. Thermo King states: "The liquid carbon dioxide, or R-744, refrigerant used in the CryoTech system, is sourced from recycled waste gas captured during the production of fertiliser, bio-ethanol and other chemical compounds. It is commonly used for carbonating soft drinks, food processing and water treatment."
The company adds that there is no cumulative global warming effect caused by the use of R-744 in a CryoTech system because the refrigerant is a by-product, which would otherwise be released into the atmosphere. "Small amounts of greenhouse gases are created due to electricity consumption during the CO2 liquefaction process, but this is significantly less than emissions by similar systems running on nitrogen or, indeed, in the refining and use of conventional fossil fuels," the company points out.
The system also offers fast temperature recovery, which makes it ideal for the distribution market where the cooling unit is often interrupted as drivers deliver goods at multiple locations.
Thermo King's step towards a more sustainable future hasn't gone unnoticed as its CryoTech range has won the European Transport Award for Sustainability 2014, in the category vehicle cooling and heating systems.
The awards are organised by German publishers Hussverlag GmbH and its magazine Transport – Die Zeitung für den Güterverkehr to honour companies in the transport and commercial vehicle industry that take sustainable actions and help to better anchor the principles of sustainable development.
"It's inspiring and encouraging that our innovative CryoTech range is recognised as a sustainable solution," says Duygu Seker, commercial leader of CryoTech systems for Thermo King. "This solution represents sustainable transport refrigeration for the future, providing fleet managers with maximum load protection while delivering high efficiency, low environmental impact and reduced noise levels."
The jury at the independent European Transport Award for Sustainability 2014 included representatives from the business and scientific world as well as trade associations and media. The jury's decisions were based on various carefully specified criteria. These included ecological balance in the use of the product; protection of environmental resources and the environment; and the use of the solution with focus on ergonomics, safety and health.
The transport industry is clearly embracing environmental sustainability as industry players are doing all they can to bring innovative solutions to one of the biggest sectors. However, with the continued growth of humanity, it will be interesting to see what comes next in the world of food, drink and the transport thereof.
* FoodDrinkEurope is a trade body that represents the European food and drink industry – the largest manufacturing sector of the European Union (EU) in terms of turnover and employment – formerly known as the Confederation of Food and Drink Industries of the EU or CIAA. It aims to promote the industry's interests to European and international institutions.
Focus on Transport
February 1, 2014
Published by