In his monthly review of global news for local truckers, FRANK BEETON reports on extensive media speculation regarding the future of Navistar International, details an increased Volvo shareholding in engine manufacturer Deutz, and looks at some interesting exhibits that appeared at the Melbourne Truck Show.

As these words are written, there is considerable speculation in the global media on the future of the Navistar International Corporation. As pointed out previously in Global FOCUS, the South African perception of this company, as primarily a manufacturer of extra heavy trucks, is somewhat skewed by its local operation, which, traditionally, has mainly concentrated its efforts in this category. This tends to ignore Navistar's significant presence in the lighter payload segments of the North American market, and its leading position as a global manufacturer of diesel engines. During November 2006, Navistar launched its current MaxxForce-branded range of diesels, covering the displacement spectrum from 4,5 to 13 litres, and offering power ratings from 37 to 355 kW (50 to 475 hp).
In December 2008, Navistar dedicated a new factory in Huntsville, Alabama, to build the MaxxForce "big bore" range of 11- and 13-litre engines derived from a strategic component manufacturing alliance with Germany's MAN Nutzfahrzeuge AG. Then, in 2009, the company and Caterpillar announced the formation of truck joint venture NC² Global LLC, and this opened up an opportunity to obtain a 15-litre powerplant from Cat's previous line-up. Work started immediately to apply Navistar's Advanced Exhaust Gas Recirculation (A-EGR) technology to the basic C15, and the group was subsequently able to launch the EPA 2010 compliant MaxxForce 15, with power outputs ranging from 325 to 410 kW (435 to 550 hp). Navistar has aggressively promoted the benefits of EGR as the best technology for emission reductions, in the belief that operators would find the need to manage competitive urea-based Selective Catalytic Reduction systems, with their required regular refills of diesel exhaust fluid, expensive and inconvenient.
The Navistar Engine Group also includes the South American diesel engine manufacturing concern MWM International, and, in addition to producing engines for its own trucks and buses, Navistar also supplies a number of other prominent original equipment vehicle manufacturers, and provides power units for numerous agricultural, industrial, defence and stationary power applications. The present company and its predecessors claim to have built more than 15 million engines during their corporate history. However, it has recently been reported that some of Navistar's A-EGR engines have not yet received EPA 2010 certification, and a legal battle has erupted in which competing engine manufacturers have challenged the US Environmental Protection Agency over its authorisation of Navistar to sell non-compliant engines while paying a fine of nearly US$2 000 (R16 244) per unit. This challenge was subsequently upheld by the US Court of Appeals in the District of Columbia, so, if this issue is not resolved, and Navistar exhausts the emission credits it gained prior to EPA 2010 implementation, it will be obliged to cease shipments of non-compliant engines to the detriment of both its profitability and market share.
Inevitably, the uncertainties caused by the events described above have caused turbulence in the stock market, and activist investors have been taking positions which may have suggested an imminent hostile takeover. This prompted the company to protect its position against any individual shareholder taking control of 15 percent, or more, of its shares. There have also been reports that major international groups, namely Fiat and Volkswagen, may be interested in buying Navistar in an effort to increase their North American and global footprints. Fiat recently announced a proposal to merge its Fiat Industrial SpA operation with CNH Global NV, the Netherlands-registered industrial vehicle manufacturer, to create the world's third-largest capital goods company, which is to be listed on the New York Stock Exchange. This conglomerate would embrace products from Iveco, New Holland, Steyr (tractors), Kobelco and, interestingly, Case-IH, which is the successor to International Harvester's erstwhile agricultural products business. Entering such a grouping would, arguably, provide a firm base from which Navistar could consolidate its North American business, and broaden its global footprint.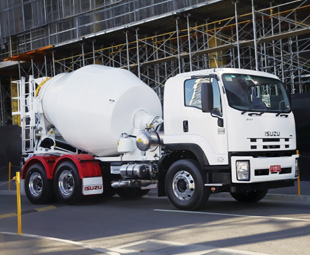 Volkswagen, on the other hand, is hell-bent on global motor industry leadership, and would, presumably, relish the prospect of challenging Daimler's prime position in the commercial vehicle league. Neither Scania nor MAN have any substantial presence in the important North American market, and are unlikely to develop dedicated conventional (bonneted) models that would be immediately necessary to make a significant entry. The arrival of Navistar in their midst would instantly provide both the product and infrastructure to progress both objectives, while the existing engine co-operation between MAN and Navistar could, presumably, smooth the process. In a recent management reshuffle, the Volkswagen Group installed Leif Östling, previously CEO of Scania, in its Group Board of Management to oversee the Commercial Vehicles portfolio, and moved the Volkswagen Commercial Vehicles operation into the same umbrella structure as MAN and Scania.
The danger with writing this article with a deadline in mind is that events may have overtaken it before it is even published. There is sure to be considerable pressure to keep Navistar in American hands, given that it and PACCAR are the only two remaining major truck builders still under US control, while Fiat and Volkswagen are facing their own devils in a struggling European market. However, the importance of the subject matter demands that these events be recorded, and that their possible consequences be evaluated, or we would be failing in our mandate to keep South African readers informed. Watch this space!
Volvo ups Deutz Stake
It has been announced that Volvo AB has increased its shareholding in German engine manufacturer Deutz AG from 6,7 percent to 25 percent plus one share. Volvo's relationship with Deutz was initiated in 1998, through a contract for the supply of diesel engines for construction equipment, trucks, buses, marine and other applications, and this was followed by the purchase of the initial shareholding. In the latest transaction, Volvo has taken over the shares previously held by Italian tractor manufacturer SAME Deutz-Fahr, and this has made the Swedish manufacturer the biggest single shareholder in the engine builder.
Deutz' primary contribution to the Volvo Trucks family has been in supplying the 4,8-litre four and 7,15-litre six-cylinder diesel engines currently used in European-market Volvo and Renault mid-range models. However, from the 2013 implementation of the Euro-6 emission standard, these engines will be replaced by the Group's own "medium-heavy" global engine family, as developed by Volvo Powertrain in Ageo, Japan. These engines, designated GH5 and GH7, were initially launched in UD Trucks' new Condor MK and LK series, and are also to be used in Volvo's FE and FL models from 12 to 18 tonnes GVM, Renault's Midlum and Premium ranges from 14 to 26 tonnes GVM, and some models in Volvo' bus and coach range.
Production of this new engine family is set to be carried out by VE Commercial Vehicles (the Volvo-Eicher joint venture) in India, at Venissieux in France, and Ageo. This strategy seemed to suggest a potential loosening of ties between Volvo and Deutz, but it should be remembered that the Volvo Group also includes a number of other operations dealing in construction equipment and marine propulsion. In the announcement confirming the increased Deutz shareholding, Volvo noted that the companies intended to extend their long-term co-operation through the development of medium-duty engines for off-road applications. There are also plans to establish a joint venture in China to manufacture engines for these applications.
On show in Melbourne
The International Truck, Trailer and Equipment Show was held at the Melbourne Showgrounds over the period March 15 to 17, 2012.
Considering the many similarities between the South African and Australian truck markets, the following review of exhibits should be of interest:
• Iveco revealed the new 7800 Roadtrain version of its indigenous bonneted PowerStar truck-tractor. Powered by a Cummins Signature 600 engine, this model has a new, square front end carrying a massive 1930 square inch cooling package, and comes across far more aggressively than its "friendly" standard PowerStar sibling. A GCM rating of 140 tonnes and 1 800 litre fuel capacity positions this new model firmly at the sharp end of the Australian truck market.
• So far, Caterpillar-branded on-highway trucks have only appeared in North America and Australia. Whereas the American models are aimed at the "vocational" market segment, the Aussie Cats are intended for general freight haulage use. The original CT610 and CT630 bonneted 6×4 units were launched into the Australian market in early 2011, and have now been joined by the CT630LS, with air-conditioned luxury sleeper cab, and the CT630S, which comes with a day or integrated sleeper cab. Both new models have a 90 tonne GCM rating, and are powered by a dual diesel particulate filter version of the Cat C15 engine, which reportedly complies with current Australian emission standards. Caterpillar also exhibited its new ADR 80/03-compliant CT13 engine, derived from Navistar's MaxxForce 13-litre, which will replace the current C13 ACERT power unit in the CT610 truck model later this year.
• Daimler's Melbourne construction-themed exhibit included all family brands except Western Star, which is distributed independently in Australia. Mercedes-Benz was represented by its Actros SLT eight-wheeler range, which is available in 8×4, 8×6 and 8×8 configurations, and can accommodate GVM ratings of up to 250 tonnes. One of the major attractions, however, was Freightliner's CL112 10×4 chassis, fitted with truck mixer superstructure. Since the 2009 discontinuation of its Sterling brand (née Ford Louisville), Daimler has been developing models in its other ranges to service the Australian tipper/mixer market in which Sterling had been active. The new CL112 variant is powered by the Cummins ISLe5 diesel with power outputs ranging from 240 to 300 kW (320 to 400 hp).
• Isuzu has been the dominant manufacturer in the overall Aussie truck market since 1989, but is always looking at ways to strengthen its performance at the upper end. Its latest introduction is the FVY 6×4 agitator (truck mixer), powered by the 7,8-litre SiTEC 295 engine developing 221 kW (296 hp), driving through an Allison six-speed full auto to a set of Meritor tandem-drive axles riding on Hendrickson airbag suspension. Cab features in this dedicated model include driver's airbag, Isringhausen air suspension driver's seat, electric windows and mirrors, automatic climate control, central locking, and a multi-media unit incorporating satellite navigation.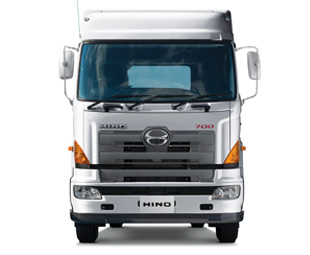 • Hino Australia used the Melbourne opportunity to announce AMT versions of its 500 Series medium trucks. Known as Proshift 6, Hino's two-pedal six-speed AMT is to be made available as an option on its FC 1022 and FD 1124 models. Higher up the payload spectrum, a locally-developed load-sharing twin steer assembly has been added to the 700 Series FY 3248 eight-wheeler chassis. This model is offered with a choice of mechanical or airbag rear bogie suspensions, and ZF 16-speed automated or Eaton 18-speed manual transmissions.
• After an unsuccessful attempt to enter the South African market a few years back, Chinese truck manufacturer JAC is now making a concerted effort to become established in Australia. Distributed by the quaintly named White Motor Corporation, the initial range will consist of the J45 (4,5 tonne GVM, Cummins 2,8-litre ISF Euro-5 engine/ZF five-speed transmission), J65 (6,5 tonnes GVM, Cummins 3,8-litre ISF engine/JAC manual transmission), and the J75 (7,5 tonnes GVM, specification otherwise as for the J65). The two heavier models employ full air-braking, and all variants feature EBD, ABS, power windows, air-conditioning, audio systems and remote locking. WMC is also planning to introduce SAIC Maxus and JAC integral panel vans to Australia.
• It's not only in North America that global manufacturers are trying to wean truck operators off the "kit-truck" concept, and sell them in-house integrated drivelines. Despite long-running dominance of the premium payload HCV segment in Australia with Kenworth using bought-in drivelines, Paccar has now launched its DAF XF105 "thoroughbred" into that market, and is reported to be testing a Kenworth T403 locally fitted with the DAF-developed MX engine. However, attention is still being paid to the top-selling Kenworth K200 cabover, and a further set of in-cab refinements was on show in Melbourne.
FOOTNOTE: On July 6, Navistar announced that it was planning to launch its new In-Cylinder Technology Plus (ICT+) in early 2013 to ensure full compliance with the US Environmental Protection Agency (EPA) 2010 regulations. This ICT+ technique will be combined with urea-based emissions after-treatment, which marks a radical shift from Navistar's earlier position championing A-EGR technology. The company says it will "continue to work with the agencies (the EPA and the California Air Resources Board) to ensure that our customers receive uninterrupted deliveries in all 50 states during this transition".
---
Global FOCUS is a monthly update of international news relating to the commercial vehicle industry. It is compiled exclusively for FOCUS by Frank Beeton of Econometrix.
Focus on Transport
August 2, 2012
Published by