Super Group scoops Transport and Logistics award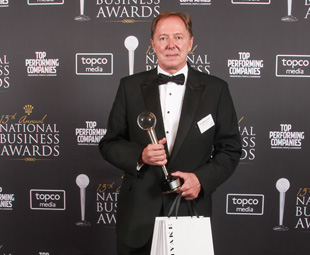 Super Group received the Transport and Logistics sector award at the 13th Annual National Business Awards during November.
About 100 companies, with a collective turnover of more than R300 billion, entered the awards this year in a number of different categories.
"We are delighted to have won this award. It means that we are succeeding in our strategy to build world-class competencies in logistics and supply chain management for our clients," says CEO Peter Mountford.
Companies are acknowledged on the basis of innovative business practices, product development, enterprise, sustainability and the overall success of the business.
In addition, they are recognised for their social and environmental contributions, commitment to customers, ethical behaviour and environmental sustainability.
"As CEO, my biggest achievements have been the turnaround of Super Group from the significant losses and balance sheet leverage of the 2008 era, and creating a socially equal working environment that is not impacted by race, colour or creed," adds Mountford.
Focus on Transport
December 3, 2015
Published by