Tata upgrades workhorse bakkie
Tata's 207DI EX2 single-cab, one-tonne bakkie has been refined with several visual and practical improvements.
While the exterior improvements are mostly cosmetic – a practical cab protector has been added – the big improvement inside the cab is the fitment of comfortable, cloth-trimmed bucket seats.
"We have managed to retain the selling price at a very competitive R169 995, despite the added specification, as part of our aim to offer value for money to buyers of Tata vehicles," explains Larry da Costa, general manager sales and operations of Accordian Investments (a subsidiary of Imperial), which markets and distributes Tata passenger cars and light commercial vehicles in South Africa.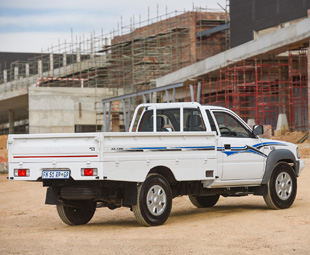 Good news is that it still retains its load-capable, drop-side load box, which has a flat floor, and the three-litre turbocharged diesel engine. This produces 52 kW of power and 225 Nm of torque and drives a live rear axle through a five-speed manual gearbox.
This workhorse has been a mainstay in the Tata LCV line-up for years. It is aimed squarely at the business community and has no pretences about being a transport alternative to a passenger car. It is covered by a three-year/100 000 km factory warranty plus roadside assistance.
Focus on Transport
December 1, 2016
Published by