Teaching advanced tricks of the 4×4 trade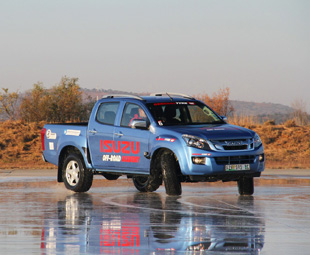 You definitely need a certain skill set when you want to go off the beaten track … To help drivers hone their abilities, the Isuzu Off-Road Academy has upped its ante. The off-road "school" now offers a new two-day Advanced 4×4 Driving Course, providing additional tutoring for those who want to rough it in the bundu.
"We have received numerous requests, from people who have undergone popular basic 4×4 training in the past, for the introduction of a longer, more challenging module," explains Isuzu Off-Road Academy lead instructor, Grant McCleery. "We have responded with the introduction of the new two-day Advanced 4×4 Driving Course, which will offer more intensive training for experienced drivers and avid off-road enthusiasts."
The new course, which complements the existing one-day programme, covers vehicle recovery, mechanical knowledge, correct vehicle packing procedures and driving and towing techniques (with trailers and caravans).
Although it is primarily based at the Gerotek testing facility, west of Pretoria, the Isuzu Off-Road Academy is able to train candidates anywhere in South Africa. It also offers its services to neighbouring countries – where training is a vital tool for the safety and well-being of the people who drive off-road vehicles, as well as for the environments in which they operate.
McCleery continues: "Since its inception in 2010, the Isuzu Off-Road Academy has successfully trained almost 3 000 4×4 enthusiasts, who now have a heightened understanding of how their vehicles operate and, indeed, how to make best use of the various 4×4 systems available to them."
Mlungisi Nonkonyana, Isuzu brand manager at General Motors South Africa, adds: "The knowledge and experience gained through the Academy is vital to the safe operation of any 4×4 vehicle when off the beaten track; where vehicle preparation, driver education and environmental knowledge are key factors for safe journeys. With the new, extended programme, a challenging and more practical setup will prove most effective in producing safer and more experienced drivers."
Focus on Transport
May 15, 2014
Published by