Imagine if the transport industry's two worst nightmares – vehicle breakdowns and the ever-rising cost of fuel – could be made less nightmarish. Well, they can. The silver lining can be seen in the "wonderful trapeze performances" that more and more fleet managers are putting on with the help of two key sectors of the industry. JACO DE KLERK reports.
First up, Volvo Trucks' new GSM-based system. Developed by the company and scheduled for release in Europe in 2013, it allows the workshop to remotely monitor a truck's condition, keeping a watch on brake and clutch wear, as well as the state of the battery and air drier filter. It promises increased overall uptime and lower maintenance costs.
Gone are the days, or they soon will be, where fleet managers have to wait for vehicles to return before they can check their condition.
These new remote services are made possible by the latest version of Volvo's in-truck communication unit known as the Telematics Gateway (TGW). It allows the Volvo workshop to monitor a vehicle's wear and condition in addition to reading fault codes remotely using the GSM network.
"With these new communication facilities on board the trucks, the workshop receives continuous information about wear on a number of components," explains Christian Gustavsson, service manager at Volvo Trucks.
The new system also allows the workshop's service technicians to check how much mileage the truck has covered and how quickly the various components are being worn out. "If the workshop can see the actual wear to a component, it can postpone or advance the next service to suit the individual vehicle's actual needs," says Gustavsson.
"This will increase uptime and minimise the risk of unplanned stoppages by the roadside, which promotes security and reduces administration for the haulage firms at the same time, as their customers can count on high reliability."
However, should standstills occur, the TGW enables the service technicians to get to the truck correctly prepared for the problem at hand – ensuring the swiftest possible return for the vehicle to its intended purpose.
The remote link also makes it possible to send information to the truck. Among other things, various parameters can be adjusted remotely, such as calibration of the fuel consumption measurement or activations of the load indicator.
"Everything you can now do via a cable at the workshop, you will be able to do remotely in the future," says Gustavsson. "This means that a truck won't have to go to the workshop to have its updates installed – and it will be possible to upgrade an operator's entire fleet, irrespective of where the various trucks happen to be located at the time."
Initially the system will include a limited number of parameters, but within a few years – as Gustavsson points out – Volvo Trucks will develop a wider range of such facilities, with the aim of improving haulage companies' uptime and reducing operating costs.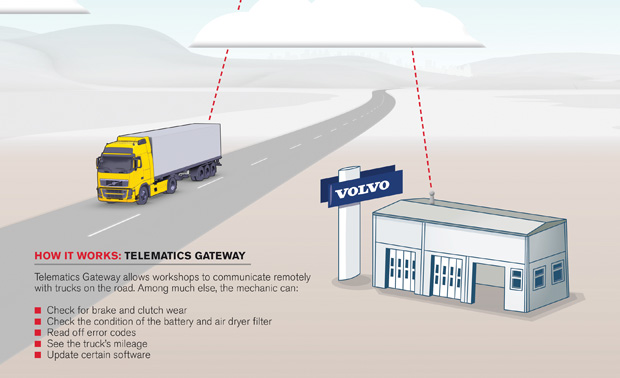 For now, or in the not too distant future, this remote communication between the truck and the workshop will be able to harmonise the vehicle's service schedule with actual conditions. This will be extremely beneficial for trucks that are driven differently from how they were originally intended to be driven, which can result in service intervals that are too frequent or too far apart. The workshop will be able to use the data about the actual wear rate to adjust the service intervals to suit the truck's real needs.
"Many of the parameters are, however, difficult to calculate," Gustavsson points out. "A truck driven in tougher than average conditions wears out certain components more quickly, while a truck operating in 'calmer' conditions may still have a lot of wear left in the same components when the scheduled replacement date arrives." He says this in turn can add to uncertainty and wasted expenditure for haulage firms.
Gustavsson explains that the replacements can, for example, be alerted to brake pad wear. "As a result, the worn pads are replaced in time, and can't give in when you're out on a long-distance trip," he adds. "It's a win-win situation, and it's far more efficient for both the haulage firm and the workshop."
Despite the amount of effort that goes into keeping a truck on the road, fleet managers remain under pressure to further cut costs and improve bottom-line profits – and with the price of fuel continuing to increase, they must do a delicate balancing act to keep on driving productivity.
South Africa's dependence on road transport for the delivery of goods and services may also be putting even more strain on fleet managers as they are expected to deliver profits that reflect the potential of the industry.
"This is despite being impacted virtually immediately by the fluctuating oil price," says Raymond Abraham, commercial technical manager of Shell South Africa. "Because oil is extremely sensitive to developments in the Middle East, local fleet managers' profits are continually under threat due to fuel price volatility. This makes it difficult to project – and maintain – margins."
He says more and more fleet managers are putting on wonderful trapeze performances – combining original equipment manufacturer (OEM) products with fuel technologies to improve efficiencies. "Although introducing more fuel-efficient vehicles is part of the solution, matching the correct fuel to the vehicle is equally important as this is where operators are able to extract 'extra kilometres' from their fleets – as well as reduce maintenance requirements, CO2 emissions and smoke."
In selecting diesel for one's fleet, Abraham notes that fleet managers need to consider not only the individual product's composition, but also the detergent, anti-corrosion, anti-foaming and anti-moisture agents it incorporates.
"The technology in the diesel should complement that of the OEM vehicle," says Abraham. "As such, it should prevent fuel system corrosion, reduce any fall-off in engine performance, prevent an increase in fuel consumption, lower emissions and reduce maintenance costs. It should simultaneously reduce foaming when refuelling – saving drivers and the company time on the road."
Abraham explains that because companies like Shell conduct extensive research through their collaborations with vehicle manufacturers, the latest generation products are designed to address cost and technical challenges. That's why they should be considered as part of one's holistic fleet management system.
"In the case of Shell Diesel Extra, for example, the product is designed to deliver fuel savings of up to three percent compared to regular diesel without the fuel-economy formula," he explains. "It's additionally been designed to avoid rising fuel consumption over the lifetime of the vehicle by helping to keep the engine running in accordance with the manufacturer's specifications."
A good example of what can be achieved through such collaborations is Shell's recent involvement with Daimler, assisting the manufacturer to set a new world record in fuel efficiency. "Using Shell Diesel Extra with its fuel-economy formula, and Shell Rimula R6 LME engine oil, Daimler's most economical truck, the new Mercedes-Benz Actros, used as little as 19,44 litres of fuel per 100 km in perfect conditions," says Abraham.
"This is a significant achievement when one considers that, under typical conditions, including traffic jams and challenging topography, trucks can use between 30 and 35 litres of fuel for the same distance."
While wind resistance, driver behaviour, age of the vehicle, engine technology, maintenance, traffic and road conditions all play a part in determining ultimate fleet efficiency, new generation diesel fuels have proven to benefit all diesel machineries. Abraham says that: "By understanding the benefits of the fuel and lubricant products in use, and appreciating that vehicles operate and respond differently based on the fuel and lubricants used, one can leverage these to create a more effective and cost-efficient fleet management system.
"In this way, complementary vehicle and fuel technologies can be matched – and provide a means of mitigating fuel price volatility."
We may be living in a fast-paced world and facing ever-trying times, but technological breakthroughs are giving fleet managers some respite – from the remote monitoring of vehicles to better fuel technologies. We have entered the age of the techno fleet – and the great thing is that being a fleet management trapeze artist doesn't involve working at heights!
Focus on Transport
November 1, 2012
Published by