The new FH: worth the wait
It's been a long time coming, but the new FH is here. Well, almost … It will only come to South Africa in about September next year! Here are five reasons why we believe it's worth waiting for:

1. Fuel savings
We all know that the fuel price is going through the roof and so too are operators' costs. Volvo is making some pretty fancy claims when it comes to fuel savings with the new FH – in fact, it reckons that operators will be able to shave 10 percent of their fuel bills (versus the previous FH).
One of the contributory factors to this fuel saving is I-See, a new software package for the I-Shift gearbox which controls the gears, accelerator and brakes. It's a really clever concept that essentially remembers the roads on which the truck has travelled. For instance, before a truck starts an uphill climb, the engine will automatically build up speed in order to ensure that the truck climbs the hill in the highest possible gear. Once on top of the hill the truck allows a lower speed because it knows that a downhill is coming.
FOCUS editor Charleen Clarke was chatting to engineers at the worldwide launch and they told her that, assuming that I-See is used all the time, a five percent fuel saving is possible. And huge inclines and declines aren't a prerequisite for maximum benefit for I-See. According to Anders Eriksson, head of I-See development, the best results are achieved on regular routes with recurring uphill and downhill gradients, preferably one after the other. "In an undulating landscape, I-See can propel the truck for long distances almost entirely without using the engine," he revealed.
A second factor contributing to fuel saving is aerodynamics. The cab is larger (more about that later), but it's still aerodynamic.
A third factor is a programme called Fuel Advice. We all know that driver training is hugely important and beneficial, but what happens a couple of months or years later? Yip, some  drivers forget all those valuable tips. That's where Fuel Advice steps in – it's a bit like a nagging spouse, but instead of telling you to come home earlier and sober, Fuel Advice tries to help drivers slash their fuel bills – and Volvo is promising "a lasting fuel saving of up to five percent" as a result.
It comes with an add-on cost, but – given the promised benefits – it does sound worthwhile. Each transport operator is allocated a personal coach who analyses the driving style of the various drivers in the fleet. Then he comes up with nifty suggestions and advice regarding ways of reducing fuel costs. The coach can also respond to specific questions. In addition, the transport operator has access to what is known as a "Toolbox" that monitors fuel consumption, and ongoing driver training.
2. Improved safety
Naturally, that training should minimise the chances of accidents occurring – which, humanitarian benefits aside, translates into less downtime. And driver training is only one of the noteworthy safety features; we all know that Volvo and safety go hand-in-hand, much like Julius Malema and controversy, or fish and chips.
We attended an extremely moving safety briefing, during which we listened to one of Volvo's professional test drivers, who'd had a massive accident in a FH. He spoke with huge emotion about the accident; it was clear he was very close to tears. But he and his co-driver survived virtually unscathed – because of this Swedish company's obsession with safety.
This obsession is, of course, brought to life in the new FH, which boasts an armoury of safety features (Lane Keeping Support, Lane Changing Support, Adaptive Cruise Control and Driver Alert Support to name just a few). However, one of the most unusual – and perhaps simplest – is its emergency escape hatch. The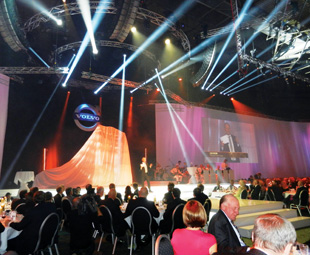 new FH is the first truck in the world that comes with this feature as standard and, even though it's a simple concept, I reckon it's a stroke of genius. It looks like a sunroof (an added benefit is the extra light that is showered into the cab), and it enables the driver to leave the vehicle in the event of the truck rolling and the doors being unserviceable.
And as they say in the direct marketing ads, that's not all. As Carl Johan Almqvist, traffic and product safety director at Volvo Trucks, pointed out, this is the world's safest Volvo.
He can make this claim thanks to the use of high-strength materials, such as dual-phase steel, that have been used in the collision-absorbing beams and doors. The cab also uses the strongest steel available today for body panelling – ultra-high-strength, press-moulded boron steel.
"Using these new grades of steel, we can build a stronger cab without increasing its weight," explained Robert Ritzén, head of materials in the new cab. "This way, we enhance safety without compromising on payload capacity."
3. Better technology
Okay. Stop reading this newsletter for a minute and click on volvotrucks.com/fh or youtube.com/VolvoTrucks. You will see something amazing. Promise. And it's real.
For those of you who cannot tear yourself away from this newsletter, we will summarise. Essentially, there are two new FHs rumbling down a highway in Croatia, and Faith Dickey (a world-record-holding slackliner) walks a slackline between the two vehicles. It's both crazy and riveting – Dickey also walked a line over our heads at the gala banquet; I kept worrying that she would land up in my venison.
The film was produced to demonstrate the road handling of the new FH – and it does so inimitably.
One of the reasons for the truck's road manners is the fact that it is optionally available with individual front suspension on left-hand drive models (making it the world's first truck with this feature). Individual front suspension has long been fitted to passenger cars and, for some time now, even to buses. And, as FOCUS readers know, it increases both comfort and stability – since one wheel's movements don't affect the others'.
The next technological leap is within the field of drivetrains. Like it or loathe it, Euro-6 is soon to become a legislated reality in Europe. Manufacturers and operators aren't exactly jumping for joy at the prospect – the former have had to invest billions of Euros (and we know those are in short supply nowadays), while the latter have had to bear the brunt of price increases.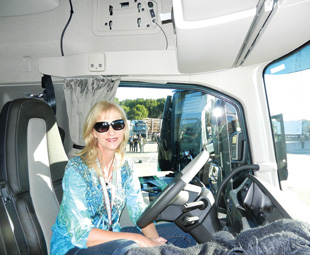 The challenge with Euro-6 is that it's incredibly hard – and expensive – to engineer a new engine that even comes close to Euro-5 economy levels. One reason is that Euro-6 motors are often heavier. But with Volvo Trucks' new I-Torque Euro-6 driveline – production of which for the European market will get under way in their autumn 2013 – the company is promising even better economy. "Volvo I-Torque reduces fuel consumption by up to four percent," Claes Nilsson, president Volvo Truck Corporation, told us. "Together with I-See and other minor improvements, the result is that fuel consumption drops by up to 10 percent. This corresponds to 4 100 litres of fuel a year for the average truck." At current fuel prices, that's a seriously big saving for operators.
Two key components go hand-in-hand with I-Torque: Volvo's new D13 Euro-6 engine, which will produce 343 kW (460 hp)/2 800 Nm, and a new dual-clutch version of the automated I-Shift transmission. Dual clutches are nothing new in cars; they've been around for a while. But Volvo Trucks is the first manufacturer in the world to install a dual-clutch automated transmission in a truck.
The benefits are exactly the same as those achieved in cars, as Astrid Drewsen, product manager for I-Torque, explained: "With the dual-clutch system, there is no torque interruption – not even during gear changes. As a result, the engine can operate within its narrow optimised band, delivering faster acceleration and excepti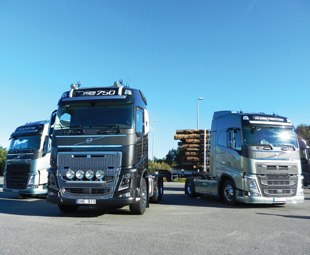 onal driveability. What's more, both noise and fuel consumption drop. It feels as though you have two gearboxes. When you're driving in one gear in one gearbox, the next gear is already engaged in the other one. The actual gear change is lightning quick, and takes place without any interruption in power delivery."
Since the I-Torque Euro-6 driveline will only make its debut in the European autumn next year, the FH will be available with a D13 Euro-6 motor until then. It's an in-line six with unit injectors and selective catalytic reduction (SCR) for the exhaust system. In order to meet the new emissions requirements, it also comes with an exhaust gas recirculation system and a diesel particulate filter. Volvo is already very familiar with this technology, having employed it in the USA and Japan for several years.
4. Happy drivers
Mark Erasmus, MD of Volvo Trucks in South Africa, told FOCUS that some local transport operators are actually heeding the needs of comments made by their drivers. To be frank, this came as news to us; we have come across many local operators who don't give a toss about their drivers.
Well we reckon any driver who gets behind the wheel will be extremely happy indeed. We weren't given the opportunity to drive the truck, so we cannot comment on aspects such as ride quality and handling. But that cab is a good place to be. All the controls are easy to read and accessible (which bodes well for safety), there's oodles of visibility (ditto on the safety factor) … and, oh that bed. It beats the bed in Lufthansa's business class hands down.
And the cab is just so incredibly spacious! During the gala banquet, Volvo held a competition, asking how many truckers could squeeze into the cab. I thought 34 – and, to be honest, I thought I was being overly optimistic. Wrong. It gobbles up 39 truckers.
When we viewed and climbed into the truck the following day, I asked Erasmus to hop behind the wheel – because he is of above-average height. Well, he looked like dwarf behind the wheel.
5. Clever features
The final aspect about the FH that impresses is its battery of clever features. For instance, it incorporates new technology for remotely monitoring component wear and the vehicle's overall condition. This means a workshop can remotely check the actual wear of various components via the computer. As a component approaches the end of its service life, the workshop can get in touch with the haulage firm well in advance to schedule a service. This can, of course, translate into more uptime. Then there is a really clever remote control gadget, which allows the truck driver to confirm axle weights, raise and lower the suspension, operate the rear tail lift … and you thought the TV remote was magical.
As Nilsson was apt to note, the new FH is "more than just a new truck; it's a competitive business proposition". We concur – wholeheartedly!
Focus on Transport
November 4, 2012
Published by